Joker's Daughter : Last Laugh
It's been a long time since I collected comic books. It wasn't long before I realized that comics were the geek equivalent of soap operas. While soaps were filled with stories of amnesia, infidelities and once deceased characters rising from the grave, comics were filled with stories of colorful costumes, crises of conscience and, well…once deceased characters rising from the grave. I'm almost positive that Greek folk artist Helena Costas didn't intend for her stage moniker to be confused with a comic book character, and I would have never inferred such a fact until I went searching for material about her. All I kept coming up with were stories about a woman in the "funny books," as my late grandmother called them, who claimed she was the daughter of more than one supervillain. And while there may be no connection between Costas and a comic book criminal, one can hear she is easily as colorful and entertaining.
The appropriately titled, The Last Laugh, is the debut from Joker's Daughter, the collaboration between Helena Costas and, wait for it, Danger Mouse. Usually DM's influence is heavily pronounced and somewhat leaden, stealing the spotlight from whomever is the intended target. Not so in the case of Joker's Daughter, where the acoustic folk of Costas is still front and center, despite the occasional electronic flourish or lush backbeat. Despite the collaboration, which is an interesting one in many cases (i.e., the title track), The Last Laugh is most assuredly an indie folk album. Costas' acoustic instruments are the backbone of every track, and most likely could have existed on their own, without her DJ pal's interference.
The result, however, is an eclectic mix of styles, showcasing the songwriting talents of an artist who should be heeded. One listen to the Donovan meets Joanna Newsom tracks, "Go Walking" and "Lucid" should convince most listeners of such a claim. Further proof come with the Nirvana flavored track, "Under the Influence of Jaffa Cakes" and the reggae rhythms of "Jelly Belly." The latter two tracks are short and infectious bursts of psychedelic pop that will stick with you. Costas' voice is one of the selling points of Joker's Daughter. Sounding like a little girl with a lot of ennui, and a slight lisp, Costas woos with sincerity. She sounds like the anti-Nico, or at least Nico before she smoked a plantation. "Cake and July" is probably the best example of the gorgeous nature of these charmed vocals. True hardcore fans of old school folk should hang around until the mesmerizing "Nothing is Ever What It Seems." It's worth waiting for.
There are times throughout The Last Laugh when I was reminded of several other genre-crossing acts, from Tom Waits to Depeche Mode, and somehow, that eclecticism seems to work. I've always found Danger Mouse to be an incredible character, from The Grey Album to his work with Gorillaz and beyond, yet this, his most subtle presence yet, has me admiring him even more. I mean, after all, if anyone in this collaboration is a comic book character, it's Danger Mouse. But, ever since the two artists began corresponding in 2003, they've understood the nature of each other's strengths and were able to make one astounding record. Excelsior! `Nuff said.
Similar Albums:
Joanna Newsom- Ys
Donovan- A Gift From a Flower to a Garden
Vetiver- Tight Knit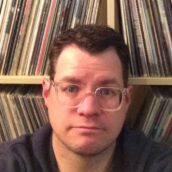 Terrance Terich
Terrance Terich firmly believes that 1985 is the best year for music. He lives near Seattle with his books, movies, and music.