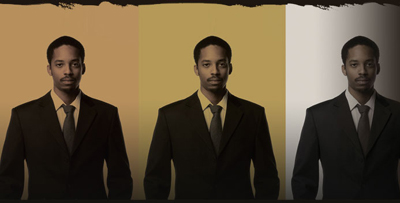 It's only February, which means the pool of great music in 2009 is still somewhat small. Yet that could only mean there are countless new albums to look forward to, which is always one of the most exciting prospects every year. However, a few humble EP releases have slipped in, between Thanksgiving and President's Day, most of which are well deserving of the 12-15 minutes of your time each one takes. They're not all perfect, but hey, a noteworthy release is still a noteworthy release.
Black Joe Lewis and the Honeybears – Black Joe Lewis and the Honeybears (Lost Highway)
His name is Black Joe Lewis, he plays with band members named Sugarfoot Watkins, Wild Bill, Rooster Andrews and McKnight the Night Train, and has a song called "Bitch, I Love You." That information should sell this EP all on its own. But the music on Lewis' debut EP on Lost Highway speaks louder than one might imagine. Produced and recorded by Spoon's Jim Eno, Black Joe Lewis and the Honeybears' four-track release is one of the hottest, most soulful rock records I've heard in a long time. "Gunpowder" explodes with vibrant horns and furious guitar. "Master Sold My Baby" is a trance-inducing Delta Blues rock jam that has the groove-laden cool of Austin contemporaries Spoon, yet the spirit of classic blues. Still, "Bitch I Love You" is a definite keeper, foul-mouthed and fun, particularly when Lewis lets loose with his shout of "Black Joe, motherfucker!" Hearing such an intense, bluesy rock `n' roll record such as this makes me feel almost insulted that a band as half-assed as Jet would ever try to pass of their own watered down version.
Download at

Joker's Daughter – Worm's Head (Team Love)
The story behind Joker's Daughter is a simple, but interesting one—London-born musician and singer Helena Costas, a violin student between the ages of 7 and 13, began sending home recordings to Danger Mouse in 2003. The Gorillaz/Gnarls Barkley collaborator and DJ ultimately comes to form a collaboration with Costas, and first single "Worm's Head" is the fruit of that pairing (as is forthcoming full-length The Last Laugh). Unlike Danger Mouse's other recorded work, however, there's very little trace of hip-hop influence here. Costas is a sweet-voiced songbird with a quirky and carefree style, matched perfectly with ethereal, upbeat arrangements. The EP's title track is a wispy folk-pop tune, brief but impeccably produced, Costas' alluring vocals driving the bouncy, mystical track. Strings and theremin dance around one another while the breezy beat carries the track toward its abrupt finish. "Bouncing Liquirish Bears" is a mischievous electro track, like The Bird and the Bee with a slightly fuzzier tone. "Slayer," meanwhile, is a bit of a throwaway, mostly odd vocal effects and spooky sound effects, but the fact that the A-side is so good renders this irrelevant.
Download at

Cactus – Tropical Terror EP (Beat Crazy)
Maybe I'm dumber than I thought I was, but upon seeing the painted black cactus on the cover of Cactus' Tropical Terror, I thought it was a pitchfork. Bear in mind that there's no writing on the front or sides of the EP, so until I saw the press sheet I had nothing to suggest otherwise. After hearing the explosive rock of "Where Is My Skeleton?", however, Cactus is a name I won't forget anytime soon. The Nashville trio rips through a badass punk rock anthem with a vocal shredding session that can stand up to any of metal's most monstrous. "Daddy" is a bit more melodic, with no screaming to speak of, but given the lyrical weakness of the song, being that they're god awful ("daddy/ I love you/ and I know you love me too"), they could benefit from being obscured by howls. The trick works just fine on "Perverted Shark," yet another furiously rocking song with mind-numbingly stupid lyrics: "fornication TV wants your baby's sex". I mean, WTF? Cactus rocks hard, really hard, but they could benefit from a creative writing class.
Download at

Gospel Claws – Gospel Claws (Common Wall Media)
Gospel Claws' debut EP arrived, complete with comparisons to The Smiths, The Walkmen and Jarvis Cocker, but the Tempe, Ariz.-based band shares little more than a bit of jangle with their British forebears. The Walkmen, however, are a slightly more apt comparison. But truthfully, the band's Southwestern surroundings seep into their music quite a bit, with a reverb-addled twang to their lighthearted guitar pop. The group's debut EP is a catchy, slightly atmospheric indie pop outing, kicking off with the melancholy "God Keeps Me Alive." "Sing, Dance" is dreamy and soulful, retaining the heavily reverbed tone, while vocalist Joel Marquard gives his pipes a bit more exercise. And "You Got It Bad" is a gorgeous ballad, adding piano to the mix, turning the rock club into the starry ballroom where sweethearts dance and punchbowls become spiked. It strikes me that the band really sounds nothing like The Smiths or Jarvis Cocker, but rather like Cold War Kids, if they didn't suck.
Talk Normal – Secret Cog EP (Self-released)
No wave music is something that's somewhat hard to define, but fairly easy to identify. If there's any semblance of tonality or melody, then you're probably not listening to no wave. Talk Normal may not strictly fall under the genre's umbrella, but their abrasive, distorted and gut-wrenching punk face beating recalls early Sonic Youth, Bush Tetras and Mars, with drummer Andrya Ambro's tribal beats lending a consistent and structured backdrop to guitarist Sarah Register's squeaks and wails. "Eureka" actually nearly achieves accessibility, though Register still manages to extract sounds from her guitar that only its creator could decipher. And then "Lemonade" takes it even a step further toward normalcy (certainly an irony, given the band's name). I'm suddenly struck with a brilliant idea: Talk Normal should consider doing a split single with their inverse, Talkdemonic. C'mon guys, at least consider it.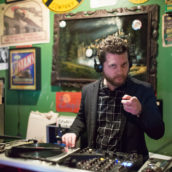 Jeff Terich
Jeff Terich is the founder and editor of Treble. He's been writing about music for 20 years and has been published at American Songwriter, Bandcamp Daily, Reverb, Spin, Stereogum, uDiscoverMusic, VinylMePlease and some others that he's forgetting right now. He's still not tired of it.