Julia Holter : Loud City Song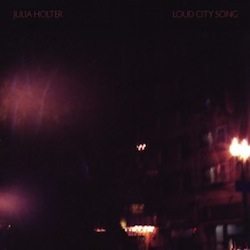 In a sense, Julia Holter's latest full-length is a sort of combination of the approaches she took on her previous two, though one in which the instrumentation and emotional palette move the listener in genuinely new directions. Like Tragedy, a thematic coherence is meant to group the songs into a conceptual whole, although the clarity of the links seems to me a bit harder to catch, even if one has read the interviews Holter has given related to Loud City Song. In short, the idea of celebrity, as well as its absence, binds the songs together, inspired by both the 1958 musical adaptation of Colette's Gigi, a film directed by Vincent Minnelli, and the experience of living in Los Angeles, considered as both the center of questionable, ephemeral notoriety, and a satisfying sense of anonymity in the life of a big, sprawling city.
For all the references to Gigi, which I make no claim to being able to exhaust, and the gravity of the cultural considerations that play out in these songs, each one functions perfectly well on its own, and in this the record is more like Ekstasis, the tenuous center of which was the experience of ecstasy, of going out of oneself. The first song on Loud City Song, "World," is a solemn, nocturnal reverie of solitude, its hymnal harmonies reminding me of nothing so much as Elliott Smith's haunted take on "Because," and, to a lesser degree, the bleak but beautiful space of his "I Didn't Understand." Those being the two songs of his most beholden to a lately found respect for the Beach Boys circa Pet Sounds, it's interesting to think about the sound of Holter's song in relation to that thin, permeable boundary between heaven and hell that both Brian Wilson and Smith seemed to find residing in Los Angeles.
"Hello Stranger," "He's Running Through My Eyes," and "City Appearing" are of a more similar bent to Holter's earlier takes on melancholy, overtly ambient pop music, such as "Moni Mon Amie," the last half of "Our Sorrows," or the incredible "Tragedy Finale." Each is moving and mysterious, fringed with darkness, though none of them touch on the droning, Lynchian witching hour conjured by Tragedy's "The Falling Age." "Horns Surrounding Me" is an insistent, paranoid piece, charging forward with timely increases in intensity, delightful in the sense of disturbance it manages to get across, to surround one with. "In the Green Wild" kicks off with a jazzy bassline, over which Holter delivers a tale of escaping into the wilderness where one can realize "a flavor to the sound of walking no on has ever noticed before." It eventually transitions, breathtakingly, into a floating space, a pure release, pleasure shivering like leaves at its core.
"Maxim's" has two parts and is meant to be the record's centerpiece, the pieces both growing from a scene from Gigi in which the eponymous heroine enters the Paris institution and society takes notice of her. I'm definitely more partial to the first version of the track, a stuttering haze of a moment in slow motion, playing out at speed we normally only have access to in recollection, breaking the passing of time apart into individual sections, each offering its own unique enchantment. The second part is more frantic, blown out with desperation and nervous energy, a shadow self of the earlier song. It's shrill and uncomfortable, and while on some level I simply feel that I don't enjoy listening to it as much, I respect the way it seems to unfold a moment originally experienced as magical and reveal a violence that was hidden in it.
Celebrity and anonymity: does this music tell us about them in its tensions and releases, in the words that Julia Holter delivers theatrically, or detached, or like someone caught up in the thoughts that can come along at any moment, but which grow most fertilely in the still of solitudinous nights? I'm not sure, but there is something impressive about this music that surpasses that theme in any case, something that comforts and unnerves, takes one back to moments that had seemed to have slipped away and opens up vistas onto the world that allow it to be seen slightly askance. Music is a form of companionship, at times, and such companions as these deserve to be kept around for many unpredictable occasions to come.
Similar Albums: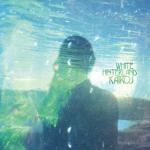 White Hinterland – Kairos

Mirrorring – Foreign Body


Julian Lynch – Lines