Junius : Days of the Fallen Sun EP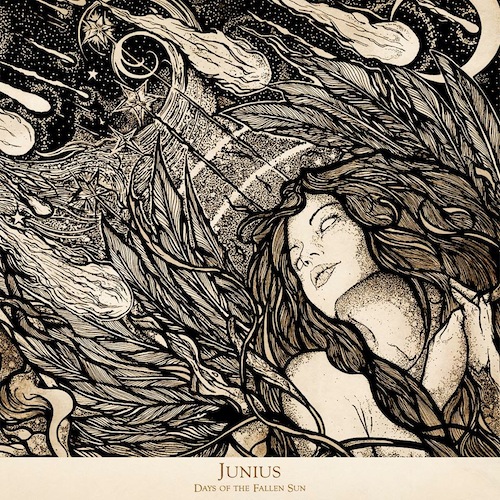 Buy at iTunes | Buy at Insound (vinyl)
Following a prolific output of 5 EPs and 2009's full-length debut The Martyrdom of a Catastrophist, 2011 saw the release of Junius' Reports from the Threshold of Death. That album combined metal textures and emotionally honest art-rock to convey a loose concept about near-death experiences. And while the record's sound was not quite metal in the traditional sense, it channeled several elements of doom and prog for a heftier atmosphere than that of the band's previous releases.
A little over two years after the release of that epic album, new EP Days of the Fallen Sun finds Junius reflecting on their sonic approach. The same elements are still here — art-rock, post-rock, prog-rock, doom-metal — but the pieces are reconfigured and delicately massaged. The transitions are more natural, the dynamics more calculated, the epic climaxes even more pleasing than Junius' previous work. Though it doesn't initially seem like an obvious parallel, comparisons to Baroness come to mind; the two band's styles are not identical, but Junius seem to have developed a similar knack for complex song structure. Just as Baroness amaze with their ability to jump between genres without losing focus, Days of the Fallen Sun throttles through its various modes without disconnecting the listener from the album's mood. Hell, even the epic cover art (by Adrian Brouchy) commands a similar aesthetic as John Baizley's Baroness cover illustrations.
There are only four proper songs on Days of the Fallen Sun, but Junius give each one space to breathe via short, transitional tracks. As a result, the textures on this record drop and swell with intensity, all in support of the EP's post-apocalyptic storyline. "The Time of Perfect Virtue" combines Morrissey-esque verse with thundering instrumentals. The awe-inspiring hook of "A Day Dark With Night" builds into an overwhelming atmosphere of guitar overlay. "Battle in the Sky," the most straightforward rock track on the album, builds off a screamo-style guitar lead, bleeding into an energetic, shout-driven chorus. Slow burn closer "Forgiving the Cleansing Meteor" combines doom with post-rock sensitivities, bringing the short set to a bittersweet end.
It's releases like this that make the EP format so engaging, with its ability to make a full yet concise statement. On Days of the Fallen Sun, 25 minutes is the perfect length for Junius to re-introduce their metal-infused art rock. Pushing forward stronger than ever, the band is able to restructure their sonic approach in small ways without wearing on the listener, which, with any luck, means this is a glimpse of a deeper dive into epic sounds on their next full-length.
Similar Albums:


Baroness – Red Album


Junius – Reports from the Threshold of Death


The Atlas Moth – An Ache for the Distance