Kate Bush confronted fears of nuclear war in "Breathing"

Fear of nuclear war dominated the music of the '80s. It began much earlier, back in the early days of the Cold War in the 1960s, with songs like Barry McGuire's "Eve of Destruction" offering potential warnings of the inevitable destruction that would occur between two or more countries engaged in a nuclear arms race. But in the '80s, when tensions between the U.S. and Soviet Union came ever closer to a boiling point, Cold War anxiety dominated popular music in a way that sometimes revealed itself in subtle ways, like on Nena's "99 Luftballoons" or Alphaville's "Forever Young," and in more overt ways as well, as on Time Zone's "World Destruction." For a couple years the threat of total annihilation even seemed to preoccupy Prince, who released both "Ronnie Talk to Russia" and the end-of-the-world party anthem "1999." If you turned on the radio in the '80s, there's a good chance you'd be hearing songs about a coming apocalyptic scenario, whether you realized it or not.
It's a terrifying thought. Even more so when taken into account that, at least according to the lore, a made-for-TV-movie made the matter one of utmost urgency for then president Ronald Reagan. But then again who can be blamed when the idea of having your nation destroyed somehow becomes real, however absurd the method of communication. Personally, I find Kate Bush's take on the matter much more devastating.
Five years before releasing her blockbuster Hounds of Love, featuring her iconic single "Running Up That Hill"—which ended up back on the singles charts this year thanks to Stranger Things—Kate Bush released her own song addressing our potential impending destruction, "Breathing." The final track on Never For Ever, an album that also contained the much more playful "Babooshka," "Breathing" looks at nuclear destruction from the perspective of an unborn fetus, one that, if it survives, will inherit a world that's essentially gone, and at best nearly uninhabitable.
True to much of the pop songs with fear of World War III on their mind at the time, "Breathing" isn't scary on an aesthetic level—and Kate Bush can do scary. Check "Waking the Witch" or any number of moments on 1982's The Dreaming for proof of that. It's not tense and climactic like Iron Maiden's "Two Minutes to Midnight," either, though Bush's sense of scale and theatrics at times could stand toe-to-toe with the best of the decade's metal bands. "Breathing" is, instead, a characteristically dramatic ballad for Bush, one of the most powerful songs she'd written just two years into her career, made all the more unnerving by a closer read of the details within the song. Its first line tells us the stakes, the fate of the child wholly dependent on the life of the mother. "Outside gets inside," she sings, at once extolling the safety of the fortress inside the womb, while offering reminders of the vulnerability therein, like breathing in the nicotine from her cigarettes.
The sense of doom and desperation grows deeper into the song, Bush lamenting, "We've lost our chance, we're the first and the last" in its third verse, and in its final chorus—just before the image of a not-subtle-at-all mushroom cloud in its Bush-in-a-bubble music video—she desperately pleads, "Oh God, please leave us something to breathe." Bush scales up from the most intimate and vulnerable to a more universal appeal for mercy, from the fetus that's at the mercy of the life of its mother—which in this scenario is arguably every bit as helpless—to the civilization at large that stands to be wiped out with the press of a button.
It's a masterful kick in the gut. Bush described the song as her "little symphony," and though she'd released songs prior that carried a similar sense of ambition and grandeur, all of that escalated on "Breathing." The thread of fear and anguish, as well as a subtle sense of anger at the power-hungry world leaders in dark rooms that would seal millions of innocent people's fates without remorse, persists at every point, including its spoken-word bridge, describing the differences between a small nuclear bomb and a large one—the irony and even black humor of its placement serving only to emphasize that you'd have to be a psychopath to greenlight that kind of devastation. But ultimately it all comes back to that one very basic idea of defenselessness, whether it's the child, the mother, or simply Kate Bush herself, desperately grasping for air in the fallout, and their pleas falling on deaf ears.
"Breathing," heavy as the subject matter might have been, was the lead single from Never For Ever, and in doing press for the album, Kate Bush described a moment of revelation about the gravity of living during a time of continued threat of nuclear war. "Til the moment it hit me, I hadn't really been moved," she said in a 1980 interview. "Then I suddenly realised the whole devastation and disgusting arrogance of it all. Trying to destroy something that we've not created – the earth. The only thing we are is a breathing mechanism: everything is breathing. Without it we're just nothing."
That same year, Bush also sang the hook ("jeux sans frontieres") on "Games Without Frontiers" from Peter Gabriel's self-titled "Melt" album, which coincidentally, perhaps unavoidably also carried a similar sense of anxiety about nuclear war and brinksmanship between armed nations. And though that concept didn't necessarily follow her to subsequent albums, what did was a similar sense of perspective, bringing a more personal, human identity to darker concepts, whether the inner monologue of a soldier desperate to survive in "Pull Out the Pin," or the conceptual suite of "The Ninth Wave," which follows a person lost at sea whose will to live is the thing keeping them afloat.
In the aftermath of Kate Bush's big Stranger Things moment, there have been jokes about newcomers eventually discovering her song about sexual congress with a snowman. The flipside is a newcomer to her music discovering "Breathing," a beautiful and heartbreaking song whose underlying narrative might just be her most vividly horrifying.
---
Support our Site—Subscribe to Our Patreon: Become one of our monthly patrons and help support an independent media resource while gaining access to exclusive content, shirts, playlists, mixtapes and more.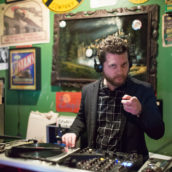 Jeff Terich
Jeff Terich is the founder and editor of Treble. He's been writing about music for 20 years and has been published at American Songwriter, Bandcamp Daily, Reverb, Spin, Stereogum, uDiscoverMusic, VinylMePlease and some others that he's forgetting right now. He's still not tired of it.