10 Essential Cold War Albums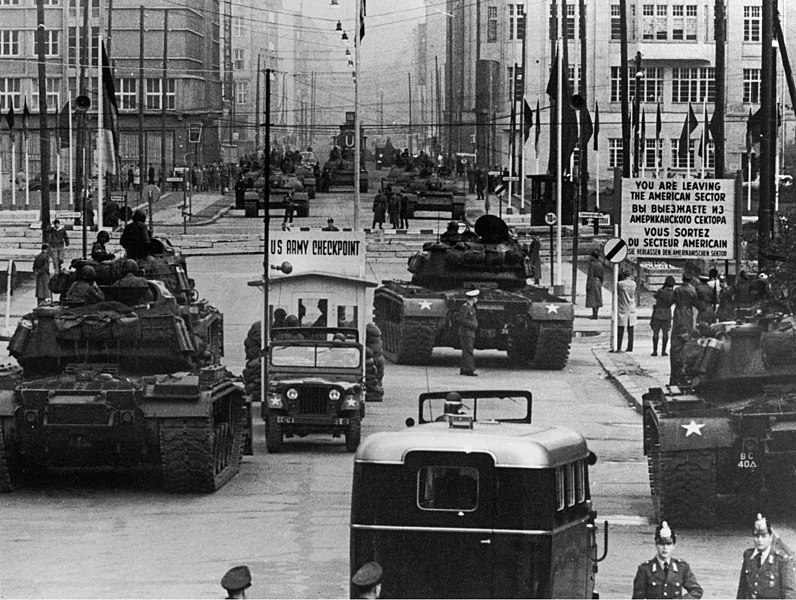 Public Domain
"Yeah, everybody's got a bomb."
In the 1980s, the Cold War was an inescapable aspect of popular music. Nena's "99 Luftballoons" turned nuclear warfare into an international, multi-lingual hit. Time Zone's "World Destruction" brought punk and hip-hop together for an anti-war dance party. And Tears for Fears lamented that "Everybody Wants to Rule the World," whose original chorus was "Everybody wants to go to war." The Cold War anthem is not only prevalent in pop music history, but much more insidious in presentation than you might think. But during that era, entire albums were written in the shadow of Cold War paranoia. Sometimes these album dealt directly with the topic at hand, and at other times they filtered the fear and suspicion into new narratives. We rounded up some our favorite Cold War albums, partially as a result of the return of The Americans and partially because 1999 is still on regular rotation at the moment. It's a chilling playlist, to be sure, but a significant one in terms of history, both political and musical. Party over, oops, out of time.
---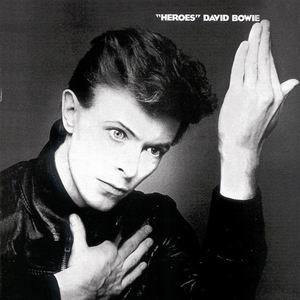 David Bowie – "Heroes"
(1977; RCA)
Much like the similarly mythical artist who passed not long after he did, David Bowie often (and with relative ease) examined the personal and political at the same damn time. "Heroes" arguably straddles this line more successfully than any of his other albums. It's one of Bowie's more challenging records even before it reaches the abstract instrumentals that comprise most of its second half. Bowie's precarious mental state after kicking heroin and the bleakness of late-'70s Berlin (and Europe in general, due to the Cold War) cast a harsh pall over the record, as songs with undeniable grooves like "Beauty and the Beast" and "Blackout" are subsumed in surrealism and darkness. Screaming guitar leads by Robert Fripp and sax blasts from the Duke do battle with producer Brian Eno's synth wizardry for a dense and claustrophobic—but beautiful—experience. And then there's the title track. "Heroes" is at once fully representative of the complex whole to which it belongs and an iconic standalone single, a love-as-protest anthem that can always be shouted in defiance of any tyrannical force. – LG
---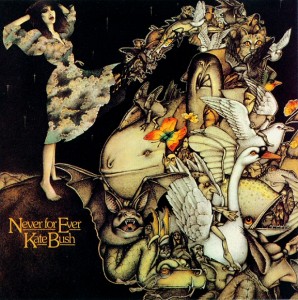 Kate Bush – Never For Ever
(1980; EMI)
Even in her early twenties, Kate Bush had a lyrical sophistication that revealed various layers of meaning upon closer inspection. At first glance, Never For Ever is a more personal album than Bush's first two, with certain highlights like "Blow Away (For Bill)" paying tribute to a deceased colleague, while others took inspiration from film and literature. Never For Ever is anchored by a trio of singles, however, that are closely connected to the fear and paranoia of the Cold War. "Babooshka" is the first, a narrative about a suspicious lover who baits her husband into a trap to test his fidelity. But that mistrust feels weirdly reminiscent of that in "Every Breath You Take," another love song with much more sinister roots. Then there's "Army Dreamers," which puts a personal spin on the human cost of war. And lastly, there's the gorgeously devastating closer "Breathing," about an unborn fetus about to be born into a post-apocalyptic nuclear future. It's terrifying and beautiful, and one of the greatest moments of her rich career. – JT
---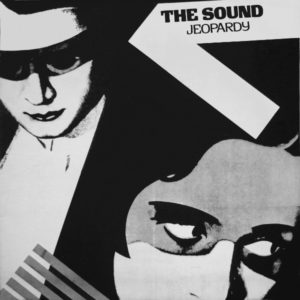 The Sound – Jeopardy
(1980; Korova)
If you own a vinyl copy of The Sound's Jeopardy, you've seen the large, alarming mushroom cloud on the LP sleeve's back cover (and the grim, expressionist art on the front cover). The chilling horrors of the Cold War permeate the 11 songs on The Sound's debut, which is, in itself, a very cold album in terms of the sound the UK act crafted. Throughout The Sound's career, their post-punk melodies have been defined by an ominous darkness, though it's hard to find an eerier moment than the opening drones of "Missiles," a track that escalates toward Adrian Borland's panicked cries of "Who the hell makes those/ MISS-ILES?!" A strange mixture of Joy Division edge and krautrock pulse guides the narratives of national identity ("Heartland"), untimely death ("Heyday") and an inescapable sense of dread ("Hour of Need," "I Can't Escape Myself"). It's an album that looks and sounds like fear and paranoia, but offers you the possibility of temporarily dancing it away. – JT
---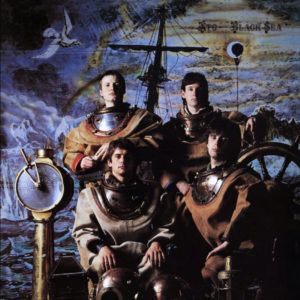 XTC – Black Sea
(1980; Virgin)
XTC's always been a band whose songs spoke to political and social issues, even on their more lushly orchestrated later records. In the early '80s, that came through more explicitly via singles like "Generals and Majors," one of the decade's catchiest anti-war songs and one of their strongest tracks overall. The album it was tied to, Black Sea, is more explicit in its cues from current events at the time, Andy Partidge and Colin Moulding's songs leaning heavy on the power struggles of political leaders and the fallout from the inevitable conflicts that come from it. "Living Through Another Cuba" is the most blatant, its jittery post-punk arrangement a carriage for a history lesson on the Cuban Missile Crisis (despite a slight chronological misrepresentation). "Generals and Majors" is another, lampooning military leaders as destruction-hungry cartoons. Elsewhere, "Sgt. Rock (Is Going to Help Me)" uses similar military imagery in a personal "battle of the sexes." But the final track, "Travels in Nihilon," is perhaps the most unsettling, its intense pulse and dire warnings seemingly foretelling the endtimes. – JT
---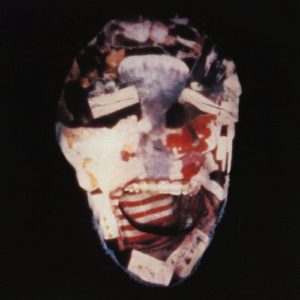 This Heat – Deceit
(1981; Rough Trade)
Of all the albums informed by the possibility of nuclear warfare, This Heat's Deceit is the one that feels as if the button could be pressed at any moment. It's an utterly terrifying statement, the band's noisy and dark compositions adding an urgent, tense backdrop to their lyrical expressions of waiting for that mushroom cloud to erupt over the horizon. "Well what do we expect?" Gareth Williams asks on the post-punk-prog dirge "Paper Hats." "The sound of explosions?" Various rises in volume and percussive clatter only serve to enhance that terror, and it's likely no coincidence that their studio, Cold Storage, evokes imagery of fallout shelters. They're not subtle with their imagery: the Roman empire on "S.P.Q.R.", the Declaration of Independence in "Independence." But the music itself evokes a feeling that few albums have pulled off so well: that the end is already here. – JT
---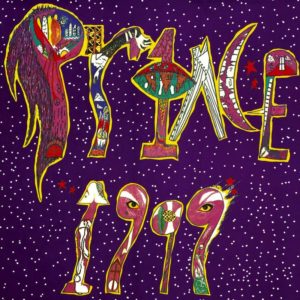 Prince – 1999
(1982; Warner Bros.)
Although 1999 is driven in no small part by fear of what the future might bring, Prince ended up making the year 1999 seem more fun, funky, sexy and bizarre than it turned out to actually be. (We now know that absolutely nothing is as funky and sexy as the Purple One imagined it.) But regardless of the emotions that fueled 1999, it plays out as a party of epic proportions. Largely keyboard-driven but just as hard-rocking as Sign O' The Times or Purple Rain and long but never boring, Prince's fifth studio album stares down romantic and sexual conventions as readily as the matters of race, faith and politics that rumble like an undercurrent through all his work. Songs where he tackles them all at once—the title track, "Something In The Water You Drink," "D.M.S.R." and "Free"—carry particular resonance today. Whether enjoyed for theme and allegory or solely as a wild musical orgy (and a literal one: "Let's Pretend We're Married," anybody?), 1999 is a bonafide classic in which Prince dared the Cold War to try and destroy a human of such grand funkiness. – LG
---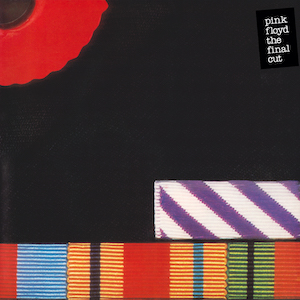 Pink Floyd – The Final Cut
(1983; Harvest)
Roger Waters originally intended for The Final Cut to be a companion piece to the movie, The Wall, but the Falklands War changed that. Waters saw this as an opportunity to express his objections to Britain's response to Argentina's invasion of the South Atlantic islands, and by extension, war in general. The themes throughout include PTSD (before anyone talked about PTSD); society's role in accepting and prolonging wars; and a view of post-nuclear planet. Waters' lyrics are among his most descriptive and haunting ("And as the teardrops rise to meet the comfort of the band, you take her frail hand and hold on to the dream" is but one sample).
The process of recording and producing The Final Cut was a war of its own. Founding member Richard Wright left the band shortly after The Wall. David Gilmour sings lead vocals on half of one song (including the prophetic line, "fuck all that, we gotta get on with this"), and contributed to none of the songwriting. Waters decided that drummer Nick Mason's talents were inadequate, and turned to Andy Newmark for the more challenging parts. It was only EMI's contract that kept it from being a Waters solo album. Wars in the world shaped the concept and lyrics of The Final Cut; wars in the band shaped the sound. – CG
---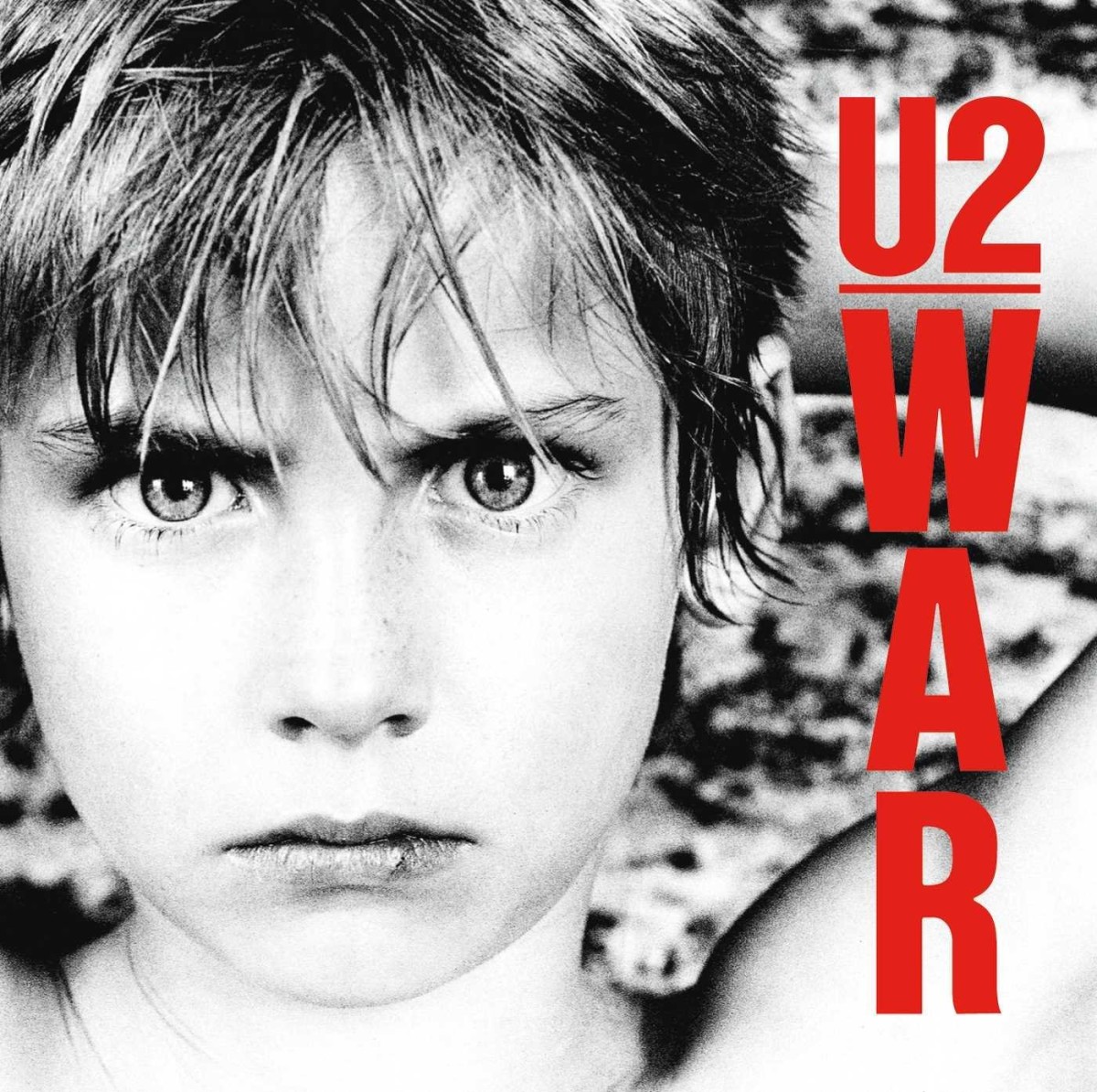 U2 – War
(1983; Island)
U2's first three albums could each be considered concept albums to a certain extent. Boy was about youth and adolescence, October about spiritual themes, and War, naturally, is about war. Its biggest hit, "Sunday Bloody Sunday," is about the Troubles in Northern Ireland, but given the timeframe of War's release, themes of the Cold War and the nuclear era loom large over many of its songs. "Seconds" is the most explicit of these, featuring a sample of soldiers preparing for an atomic explosion and one of the band's most chilling lines, "It takes a second to say goodbye," eerily referencing the sudden impact of nuclear devastation. Elsewhere the band takes inspiration from Lech Walesa and the Polish solidarity movement in "New Year's Day," with a video that likewise features footage of Soviet troops. They add in some love songs as well, and even a Psalm of sorts ("40"), but the chill permeates through the album, the potential horrors looming in the distance in an uncertain but all too real future. – JT
---
Sun Ra – Nuclear War
(1984; Atavistic)
So much of Sun Ra's output existed in the far off realms of other galaxies and universes, that it was a relatively odd thing for him to be bound by earthly tether. In 1984, during peak Reagan-era saber rattling—neither Morning in America nor The Day After, but somewhere in between—Sun Ra released his nuclear-era anthem "Nuclear War," perhaps the funkiest song ever to foretell a world scorched by atomic bombings. "It's a motherfucker!" declares the eccentric jazz bandleader. "You can kiss your ass goodbye." Supposedly, Sun Ra legitimately believed the song to be a genuine hit, despite being an eight-minute jazz vamp about the end of the world. Such was his eccentricity, though it's achieved legendary status over the years, eventually being covered by Yo La Tengo. Weirdly, the other tracks on the album are fairly mellow soul-jazz fare, though all mostly excellent. It seems inconsequential, but after the fallout from nuclear war, perhaps this is his vision of the peaceful calm after unspeakable horrors. – JT
---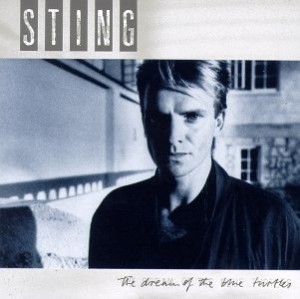 Sting – The Dream of the Blue Turtles
(1985; A&M)
For his first solo effort, Sting returned to his roots as a jazz-loving schoolteacher. The music found jazz taking its first stumbling steps into pop music—a Branford Marsalis-led trek lasting into the next decade—while the lyrics preached on all manner of conflict with help from lessons in literature and history. Sure, there were broadside references to love in the faux reggae of "Love is the Seventh Wave" and the too-hip "If You Love Somebody Set Them Free." But Sting also tied the emotion to Anne Rice's vampire fiction in "Moon Over Bourbon Street," then tied World War I casualties to modern scenes of drug addiction in "Children's Crusade," then went full protest-song for the miners' strike story "We Work the Black Seam." From these to the Berlin Wall imagery of "Fortress Around Your Heart" and the now forever dated and cheesy glasnost demand "Russians," Sting embraced societal critique and artistic activism at an apex of worldwide questioning and dread—even if it was, ultimately, from a safe haven of post-Police celebrity privilege. – AB