Led Zeppelin : Physical Graffiti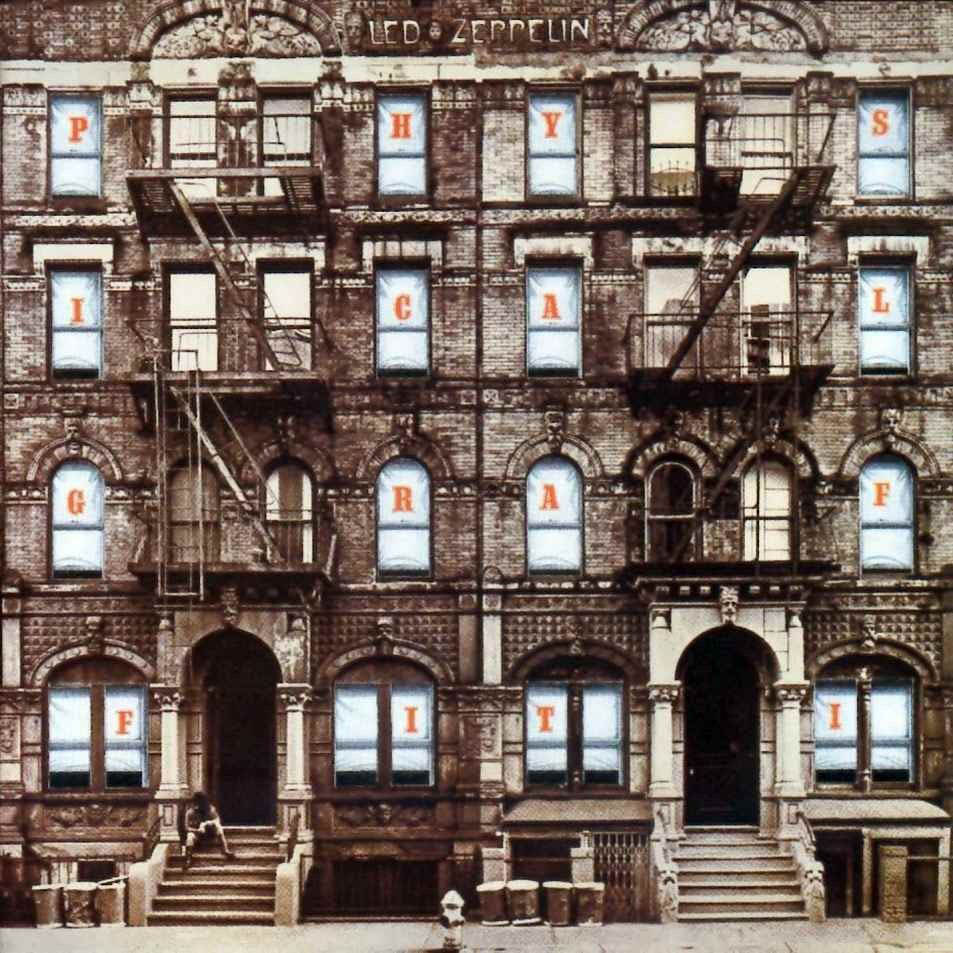 My first exposure to Physical Graffiti came not by way of a high school friend with a tie-dyed Icarus t-shirt, but rather Cameron Crowe. During Fast Times at Ridgemont High, the sage-like advice is given that during a date, one must play the first side of Led Zeppelin IV. While I was expecting to hear Robert Plant's wail of "Hey, hey, mama, etc.," instead I heard the hypnotic "Kashmir." Crowe apparently couldn't get the rights to any songs on Zeppelin's untitled fourth and sided with one of the mesmerizing standouts from the band's sixth release, what many consider their last good album. A few friends and I have since altered the Fast Times rule which now states one must play side two of Physical Graffiti on a first date. And really, what better songs to have playing during that first uncertain meeting than "Houses of the Holy" and "Kashmir"?
Brimming with fresh, vibrant material collected and recorded over the years, Physical Graffiti manages to avoid the shortcomings and acts of rampant fillerism that characterizes most double-albums. As mentioned in the review of Zeppelin's previous release, 1973's Houses of the Holy, Physical Graffiti saw the rest of the band's back catalogue on the Top 200 charts upon its release. The album itself topped the Billboard pop charts. It was voted 28th best album of all time in a 1998 Q Magazine poll who would also name it one of the 50 heaviest albums of all time. VH1 placed it number 71 on their best album of all time list in 2003.
Physical Graffiti was Zeppelin's first release on their Swan Song label, whose roster also included Bad Company, Dave Edmunds and Wildlife. It opens with one of the album's songs never performed live, the sexy, cunnilingus-obsessed sweet sentiment of "Custard Pie." It's followed by the tough riffage of "The Rover." Jimmy Page's southern rock sliding gives way to the type of three power chord metal progression that green-horned would-be rockers cut their Fender Squiers and Epiphone Les Paul 100s on. All the while, Plant sings about traveling and reunion and the simple way things can all be made right, something so earnest about that refrain of "If we could just join hands."
"In My Time of Dying," clocking at a meaty 11 minutes and 5 seconds, is Zeppelin's longest song. It's the first of two epics on the first record, starting as a lazy blues slide song you'd expect to have played on the porch of prime bayou-front property. "In My Time of Dying" picks up the pace around the four-minute mark, metamorphosing into punchy hard rock and not letting up until the end of the album. The end of the epic was improvised during the actual recording, explaining the soft, jaunting guitar lick that concludes the song, Plant's singing narration of a hacking cough and John Bonham's background question, "That's gonna be the one, isn't it?" The song was apparently based on the Bob Dylan song of the same name, which in turn was based on Blind Willie Johnson's "Jesus Make Up My Dying Bed."
"Houses of the Holy" — which strangely didn't appear on Houses of the Holy and, stranger still, was never performed live—has always been one of my personal favorites since I heard it back in high school. It's a kooky song for wooing the women, it's got cowbell and Page's spiky punctuations of guitar are impossible to forget. Even suggestive lines like "In my hand a sword of gold / Let me wander in your garden / And the seeds of love I'll sow" are offset by the more innocent intentions of a show and a movie that start the song.
After the funky, dancey jam session stylings of "Trampled Underfoot"—which was inexplicably performed at the 21st birthday of Carmen Plant (Robert Plant's daughter)—is the previously mentioned side two closer "Kashmir." The band unanimously agreed that the song was its finest musical accomplishments; heavy without being classified as heavy metal, an utterly captivating composition whose eight-and-a-half minutes never tax the listener's patience. Plant wrote the flighty, mystic lyrics while driving through the Sahara Desert, a good continent away from titular location. The sand swept sound of "Kashmir" and its psychedelic carpet ride lyrics are tethered to Bonham's thunderous drums, of which Plant said, "It was what he didn't do that made [the song] work."
Sides three and four of Physical Graffiti, while not as epic in scope as the first two, boast a good variety of the soft and the stomping, the sweet or sentimental and the sleazy. The side three opener "In the Light" starts with the type of otherworldly synth sound one would expect The Max Rebo Band from Return of the Jedi to play at Jabba the Hutt's palace. The song eventually begins a crawling, descending guitar riff that creeps over Plant's vocals before its final sonic change: A triumphantly sunny ascension driven by Page's harmonized solos. The song was unfortunately never played live due to John Paul Jones' inability to recreate the exact sound. By now, you should see a pattern developing.
One of the most fun entries on Physical Graffiti is the aggressive "Wanton Song," which bears a close resemblance to the immortal riff and vocal wail of "Immigrant Song." Rather than a tale of a horn-helmeted fellow from the land of ice and snow, "Wanton Song" has more to do with hammering a hot and bothered Valkyrie and getting a sweet slice of custard pie. "Boogie with Stu," the jam session with Rolling Stones road manager/piano player Ian Stewart, is another fine second-half entry. Entirely improvised save for Plant's vocals borrowed from Ritchie Valens' "Ooh My Head," the boogie-woogie blues riff and barrelhouse piano precede the equally enjoyable "Black Country Woman." Another song originally intended to be on House of the Holy, "Black Country Woman" was recorded in Mick Jagger's garden with the abandoned subtitle "Never Ending Doubting Woman Blues."
The masterpiece of second half of Physical Graffiti is the emotionally charged "Ten Years Gone." It's the type of desolate tune you put on while rummaging through that shoebox of stuff you kept from an ex-girlfriend or ex-boyfriend. Plant's lyrics on the song are the most poetic he's ever written and a perfect compliment to both the sparse melancholic moments and the heavier, full-bodied flourishes. Plant wrote the song about a lover who made him choose between her and pursuing a music career. Looking back at his decision 10 years on, the lyrics reflect the missed opportunities at an actual connection, dwelling on what could've been as the song dreamily drifts away.
The crux of any review of Led Zeppelin's first six albums is always interesting. What they all inevitably amount to is some rephrasing of the idea, "This is what hard rock is supposed to sound like." Being a bit of a traditionalist and agreeing wholeheartedly with the sentiment, Physical Graffiti is that last hurrah of Zeppelin's best hard rock. Its meditative moments are aptly placed next to more meditative moments, achieving four-sided perfection like some shaman's mystic square. The Golden God, Page, Bonzo and Jonesy put one last loving stamp on an album that, indeed, is what hard rock should sound like.
Similar Albums / Albums Influenced: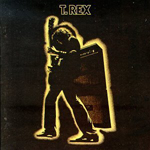 T. Rex – Electric Warrior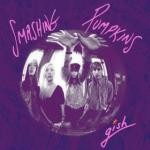 The Smashing Pumpkins – Gish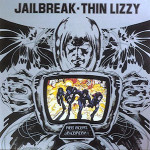 Thin Lizzy – Jailbreak