Leonard Cohen : Live In London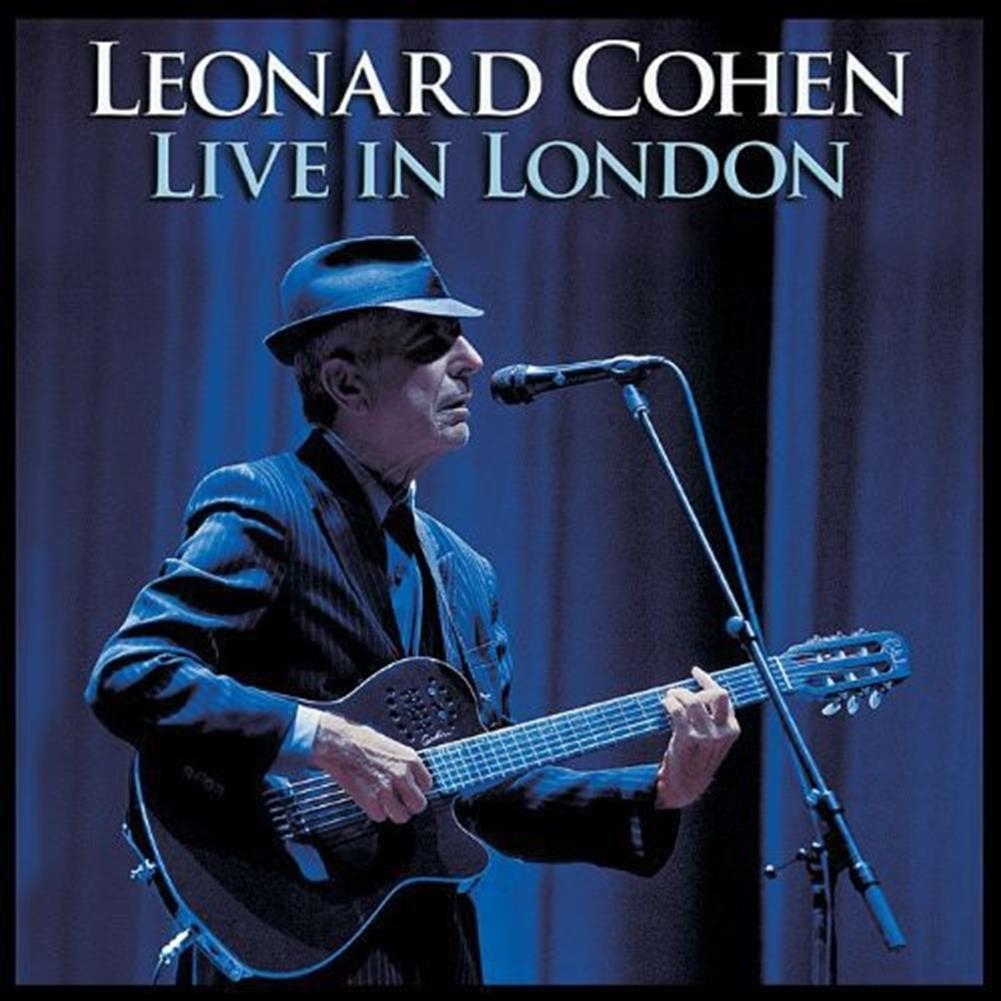 I remember standing in the darkness of Tower Records in Lincoln Park, Chicago. We were about to close and walk out the door about four years ago, and I had just read the news that Leonard Cohen was coming out of retirement because of his financial situation—Cohen was also suing his accountant for embezzling his funds. I was so disgusted that I stopped and turned around to face my closing crew and said, "Who in the fuck would steal from Leonard Cohen?" They looked at me like I was crazy. "Whoever did is going to hell."
Four years later, because of this criminal, we are blessed in witnessing the return of a living legend. Leonard Cohen is touring again. If you're like me and can't afford to go see Mr. Cohen in concert because you're feeling the aching effects from this current financial crisis, you'll be will be happy to know that there is an alternative—a double live CD and DVD called Live in London. This may be the closest I will come to hearing or seeing Mr. Cohen on stage, but what a delight this live document is.
It's hard to believe that Mr. Cohen is 75 years old, because his voice sounds resurrected and alive in this London setting. You would think someone who has been robbed by someone he once trusted would feel some kind of animosity, but not Leonard Cohen; he has a graceful and humorous presence on stage. You can tell he's having the best time on the road during this time.
From the opening strands of "Dance Me to the End of Love," you realize that this isn't just another live album for the sake of album sales. I myself considered purchasing this concert collection, because four years later I can't believe that someone would steal from this saintly poet. Now that I have it, Live in London is one of the best live CDs I've ever had the pleasuring of owning. It's up there with Bob Marley's 1975 Live at the Lyceum, in the same setting in London. Those Londoners sure know how to appreciate the great ones.
All the old favorites from Leonard Cohen's vast and eternal canon are represented on Live in London. One of my favorites is Mr. Cohen's poetic recitation of "A Thousand Kisses." Sounding like a universal poet laureate, the way his deep voice recites this classic will send shivers throughout your musical soul. Cohen also shows the music world who originally wrote and recorded his classic "Hallelujah." Leonard brings it back home in the voice we know and have loved for all of these years. "Sisters of Mercy" soars angelically in this live setting. Speaking of angels, the Webb Sisters shine with Cohen as they take on "If It Be Your Will."
I do have a few complaints, however. Some of the backing vocals are turned up too much and at times may seem to be mixed higher than Cohen's voice. There's one too many sax solos. I would have loved to have seen and heard an all-acoustic show, but Cohen does have an awesome backing band whose arrangements equal Leonard's legendary vocal delivery.
So if you're not going to have the opportunity to go see Leonard in concert, you must go out and invest in the next best thing, this breathtaking double CD collection, Live in London. Just hearing Cohen's voice coming out of your headphones will soothe and inspire you as it makes your year. Powerful and poetic, Leonard Cohen returns, and we all are witnesses.
Similar Albums:
Leonard Cohen – Old Ideas
Tom Waits – Orphans: Brawlers, Bawlers and Bastards
Nick Cave – The Abattoir Blues Tour (Live)