Let's Wrestle : In the Court of the Wrestling Let's
A sense of humor can be a dangerous thing in the wrong hands. When used well, it can make the difference between being in on the joke or actually being the joke. Where a group like McLusky or Pavement may have injected a winning smirk into their indie rock anthems without sacrificing songcraft, an overtly heavy emphasis on a punchline can mean the difference between The Fall and The Bloodhound Gang. Certainly, with their hideous cover art, pun-tastic album title In the Court of the Wrestling Let's and a tendency for tackling topics like a daily schedule of mundane tasks, U.K. trio Let's Wrestle offer no shortage of smart-assery or tongue-in-cheek charms. Thankfully, the band isn't interested in placing gags on a higher pedestal than their songwriting, and because of that, In the Court of the Wrestling Let's is a wonderfully charged indie rock record with a few good one liners, rather than vice versa.
Let's Wrestle, a band whose members are each about half a decade younger than the average Treble staffer, exude all the snot and spunk of youth on In the Court of the Wrestling Let's, as well as a fair bit of the angst, for that matter. Yet their songwriting chops reveal a band that has their shit together, which should definitely be the case for a band with a five-year history. Finally landing on U.S. shores with their Merge Records debut, they make an impressive splash with this 16-track set of manic rockers and strummy folk.
Frontman Wesley Patrick Gonzalez has been compared to J. Mascis, more for his lethargic baritone than for his squealing guitar. Yet, while screaming solos aren't necessarily the group's forte, tuneful noise pop most certainly is. The band crashes through the gates with a furious wah-wah crunch on leadoff track "My Arms Don't Bend That Way, Damn It!", which finds Gonzalez reciting uncomfortably confessions such as "My friends are in prison, and that's where I want to go/ because I hate everyone." His hard-luck, self-loathing slacker tomes continue on "I'm In Love With Destruction," as he declares, "I'm gonna sleep off my shame." And in "My Schedule," he makes a mundane series of errands and shopping trips sound positively soulful.
Of all the lines on In the Court, it's the opening verse on "I Won't Lie to You" that stings most: "No matter how many records I buy, I can't fill this void." Harsh realities aside, Gonzalez & Co. most certainly put their influences to good use throughout the album, from the Kinks-like ode to Lady Diana, "Diana's Hair," to the Wire-like chug of "Insects." The catchiest and most propulsive track, "We Are the Men You'll Grow to Love Soon," is also a self-fulfilling prophecy: try to listen to those "ba-ba-bas" and not be completely charmed and won over. The harmonic interplay between bass and guitar on "Tanks" is utterly sublime, while "Song for Old People" is an infectious chug juxtaposed against Gonzalez's goofball meditations on aging.
Silliness abounds on In the Court of the Wrestling Let's, but never at the expense of a good song. Let's Wrestle provide grand hooks and riffs in ample supply, showing that you can rock hard while laughing with your audience. Seeing as how their next album is titled Trout Mask Wrestlica, that isn't bound to change anytime soon, but above all, Let's Wrestle is a spectacular young rock band, writing fists-in-the-air anthems that, even after a few spins, never fail to elicit a chuckle or a grin.
Similar Albums:
The Wedding Present – Seamonsters
Dinosaur Jr. – You're Living All Over Me
Brakes – Give Blood
Video: "We Are the Men You'll Grow to Love Soon"
Download at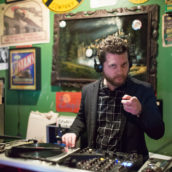 Jeff Terich
Jeff Terich is the founder and editor of Treble. He's been writing about music for 20 years and has been published at American Songwriter, Bandcamp Daily, Reverb, Spin, Stereogum, uDiscoverMusic, VinylMePlease and some others that he's forgetting right now. He's still not tired of it.