Long Winters : Putting the Days to Bed
I'm not sure if this is a national standard, or just something that my elementary school instituted, but fourth grade history was all about the home state (in my case California), fifth was the rest of the United States, and sixth was world history. In fifth grade, we all had to choose a state on which to write up a report, and I chose Alaska, partly because it was mostly a mystery to me, and partly because it was by far the biggest state in landmass, but one of the smallest in terms of population (in fact, only three other states have smaller populations). I've forgotten most of my report, but I will always remember that the purchase of the land was called `Seward's Folly,' in honor of the Secretary of State in 1867 who urged that the transaction be completed, and mainly because the land was thought to be entirely useless (take that oil-drilling nature-killing Republicans!). Besides the oil and wildlife, one of Alaska's most treasured natural resources is John Roderick of the Long Winters. Seattle has since claimed him as it was discovered he was actually born in the city, but as he spent his formative years in Anchorage, I suppose you can take the songwriter out of Alaska, but you can't Alaska out of the songwriter.
Roderick's songs have always been like thoughtful short stories, descriptive and quirky, as is evidenced in his first two albums, The Worst You Can Do Is Harm and When I Pretend to Fall. Whether that comes from the fertile artistic hotbed that is the Emerald City or from the burst of imagination that comes with the lack of stimulation in Alaska I'll never be sure, but the stories continue on Roderick's third Long Winters full-length, Putting the Days to Bed. In between albums, Roderick slowed things up a bit with Ultimatum, an EP with slower and more contemplative songs, mostly acoustic, but Days brings back the instrumentation, volume and jangly hooks, even in the title track from the EP which shone in its stripped down glory. The juiced up new version is still entertaining, but now loses some of its intimacy. The title track and "The Commander Thinks Aloud" made me hope for an all-acoustic record from Roderick, but then I suppose that wouldn't be a Long Winters album. Some have called Roderick `Alaska's version of Michael Stipe,' and the jangle-pop with an affected vocal go to support that, but even Stipe and company made two unplugged appearances!
That said, Putting the Days to Bed is more pop mastery from the Long Winters, again with a new lineup save for mainstays Roderick and bassist Eric Corson. "Fire Island, AK" bounces along with abandon to the cryptic lyrics about a letter that never reached its destination (someone who died in the Air Force, perhaps?). "Teaspoon" features the signature affected vocals and twists on pronunciation that pepper Roderick's songs. In that way, he's like former collaborators Ben Gibbard or Colin Meloy, yet more greatly resembling the legendary Jeff Mangum. "The Sky is Open" again references the Air Force ("Fire Island" only hinted at it) in its mini-story about a former war pilot. "Honest" takes cues from the Flaming Lips in its quirky musical style as Roderick sings about someone who falls in love with a singer in a band, featuring the perfect play on words, "Don't you love a singer (whatever you do)". "Rich Wife" is deliciously vitriolic and snide, while providing more infectious pop.
No matter what Pacific Northwest locale he calls his home; John Roderick is a national treasure. His songs defy the norm of the throwaway pop lyric, provoking thoughts while shaking hips. Putting the Days to Bed will not disappoint fans of his previous work, though I am still waiting for something slightly more intimate. The Ultimatum EP release somewhat resembled giving us a taste of the exotic dish ordered by a dinner companion, and then going on to eat the meal that is the standby favorite. There's nothing wrong with the habitual meal, but for one brief moment, you realized that there's something else out there, and it's damn good.
Similar Albums:
John Vanderslice- Pixel Revolt
Harvey Danger- Little by Little
Neutral Milk Hotel- On Avery Island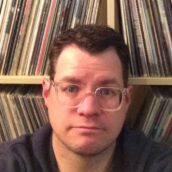 Terrance Terich
Terrance Terich firmly believes that 1985 is the best year for music. He lives near Seattle with his books, movies, and music.