Los Campesinos! : Hold On Now, Youngster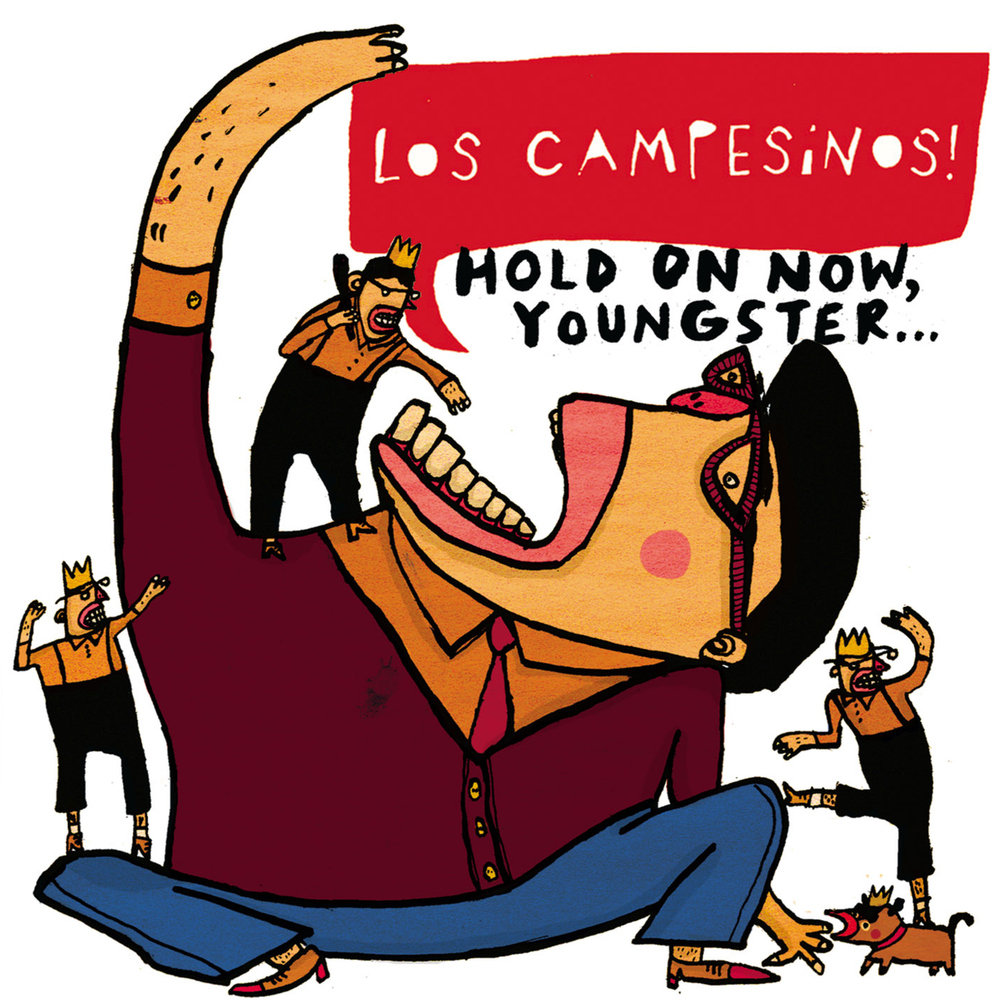 There's a good reason why Los Campesinos! print their name with an exclamation point. In fact, everything the Cardiff group does is punctuated with an exclamation point. Every furiously jabbed guitar riff, every insistent beat, every male/female call-and-response shout is amplified. For! Maximum! Emphasis! The septet hardly ever downplays their youthful enthusiasm, sounding like early Belle & Sebastian and Beat Happening crashing headfirst into a truck full of frosted pastries and coming out of it, not only alive, but with blood sugar levels well elevated beyond healthy. That probably sounds a little annoying, but energy and exuberance are precisely the qualities that make Los Campesinos! such an endearing, not to mention exciting band.
On last year's EP Sticking Fingers Into Sockets, Los Campesinos! made a brief but compelling case for themselves, with tracks like "Don't Tell Me To Do The Math(s)" and "You! Me! Dancing!" (note the additional exclamation points) becoming instant favorites. It's hard to name many indie pop singles in recent years as fun and as spirited as the latter, a six-minute anthem with big riffs and a shout-along chorus. At only 16 minutes, however, Sockets only served to whet already growing appetites for explosive, rock-candy indie pop. Suffice to say the band's first full-length, Hold On Now, Youngster is just the wall-bouncing, hand-clapping stroke of genius that their prior 16-minute release only hinted at.
With the transition from debut EP to debut full-length, LC! keep two songs, "Math(s)" and "Dancing!", to bridge the gap between the two. They couldn't have chosen a better pair of songs to do the trick, and with an extra 30 seconds of build-up and cool-down, the latter only expands its epic feel, its swirling fuzz and stomping bass drum sounding both majestic and oddly comforting at once. That may have something to do with having six or seven months to let it sink in already, but the song seems even bigger and better now. When hearing the lines "If there's one thing I could never confess, it's that I can't dance a single step," I can't help but think that there's no other band with which I'd rather dance awkwardly and erratically.
Opportunities for erratic and awkward dancing are spread evenly and piled high on Hold On Now, Youngster! "Death To Los Campesinos!" practically commands hyperactive jumping and bouncing, yet in its super-speed twee-punk explosion, there's a melody that almost sounds Dinosaur Jr. in nature, given that the band recorded a pretty kickass cover of Pavement's "Frontwards," the influence that North American Indie Rock (or NAIR, if you must) plays on the band isn't all that big of a secret. It's also one of the things that sets the band apart from most successful contemporary UK indie acts. While many lesser-known Brit bands still carry an arena rock sensibility, this sounds far more cozy and personal (in an extremely loud way) than your typical Glastonbury staple.
Aside from displaying their own overwhelming energy and talent, Los Campesinos! are the rare band that sounds like they're having more fun than everyone else, a feeling that easily carries over to the listener. "You said send me stationery to make me horny," goes the opening line to "My Year In Lists," and it's hard not to smile, or even chuckle a bit when you hear it. "Deer die with their eyes wide open" is a clever if dark turn of phrase in "Drop It Doe Eyes," though that certainly doesn't stop the song from being an amazingly gorgeous celebration. The festival-referencing "Knee Deep At ATP" likewise has its own solid gold one liner in "and every sentence that I spoke began and ended in ellip…sis," but its transition from immediate intro to slow verse to furious outro is the truly jaw-dropping attraction. The back and forth bursts of verse and hard-driving instrumental breakdowns in "…And We Exhale and Roll Our Eyes In Unison" are pretty incredible, too.
Sustaining an almost unheard-of level of energy over its 45 minute running time, Hold On Now, Youngster is thrilling, yet exhausting. And having another 30 minutes where this came from wouldn't even seem like overkill. I may not have had the opportunity to dance awkwardly with the band just yet (I wouldn't rule it out, they're great folks and have sent us some kind MySpace messages in the past), but for the time being I'll revel in dancing awkwardly to their music.
Similar Albums: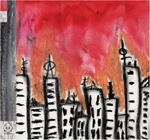 Broken Social Scene – Broken Social Scene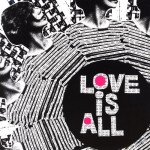 Love Is All – Nine Times The Same Song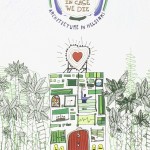 Architecture in Helsinki – In Case We Die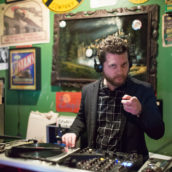 Jeff Terich
Jeff Terich is the founder and editor of Treble. He's been writing about music for 20 years and has been published at American Songwriter, Bandcamp Daily, Reverb, Spin, Stereogum, uDiscoverMusic, VinylMePlease and some others that he's forgetting right now. He's still not tired of it.