Matador Records: 21 Essential Albums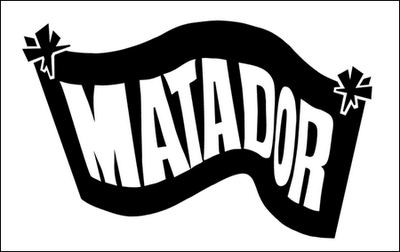 Next weekend, a couple dozen classic indie rock bands are gathering in Las Vegas to play a birthday celebration for legendary underground label Matador Records. Among the names scheduled to appear are Superchunk, Guitar Wolf, Jon Spencer Blues Explosion, Ted Leo and the Pharmacists, Fucked Up, Guided by Voices, Yo La Tengo and Pavement. Man, do we wish we had tickets. (We don't so don't even ask.) But the common thread among all these incredible bands is that they all have released music on Matador during its 21 years of life.
Like Merge and Sub Pop, Matador Records is synonymous with American indie rock music. It was a launching pad for artists like Pavement and Liz Phair, and known for taking chances. In the late '90s, Matador began taking on more than just indie rockers, and sought out artists in other genres, like noise, IDM and hip-hop. And today, it has a roster that's as strong as ever, with groups like Shearwater and The New Pornographers among their latest batch of heavyweights, not to mention those on little sister label True Panther Sounds.
In the spirit of the birthday celebration, we took it upon ourselves to assemble 21 of our favorite albums, from one of our favorite labels. While we would have liked to include other albums from bands ranging from Teenage Fanclub, Ted Leo, Pretty Girls Make Graves, Come, Railroad Jerk, Guitar Wolf and quite a few others, it would kinda ruin the theme to include more than 21. But these 21, without a doubt, changed us for the better.
Happy Birthday Matador!!
Superchunk – No Pocky For Kitty (1991)
Before Superchunk made Merge Records their permanent home, the Chapel Hill indie rockers released a handful of albums on Matador, the most outstanding of these being 1991's No Pocky For Kitty. It's a supercharged jolt of youthful energy that never relents. From the opening blast of "Skip Steps 1 and 3," the band careens on overdrive, and delivers their manic pop-punk with a smile. It's loud and it's fast, but it's also a whole lot of fun. Punk has never felt so good natured. – Jeff Terich
Unsane – Unsane (1991)
In 1991 people who liked pictures of people whose heads were severed from their bodies were in for a massive treat. Not only was a photo made widely available to them in a time in which there was decidedly more rigmarole involved in accessing such things, it also happened to be the cover art for the debut album of a band whose brutal sound manifested a representation of the chaos that plagued their perverted little minds with no greater perfection. The New York variation on alternative was not as popular as other local variations, and for sufficient reason. Bands like Helmet and Prong were combining the artistic anarchy of no wave with the macho brutality of hardcore. But Unsane was by far the loudest and most brutal of these bands, creating a sound that put chaos before technical prowess, capturing the clamor and squalor of their home city. – Chris Morgan
Moonshake – Eva Luna (1993)
Not too many people are familiar with this early release from Matador's discography, but it's a hidden gem if ever there was one. The post-rock duo of Dave Callahan and Margaret Fiedler, whose name was taken from a Can track, crafted a dense and playful sonic landscape that married the effects-laden onslaught of shoegazer with the beats and atmosphere of trip-hop. Leadoff track "City Poison" is the album's most immediately arresting track, but by no means unmatched on the album. "Wanderlust," with spaghetti western intrigue and no wave weirdness, nods to "Lust For Life." And "Mugshot Heroine" predates Portishead's noir-pop but dirties it up a little with some throbbing bass and scratchy guitar. The U.S. version that Matador released has a different sequencing and extra tracks than the U.K. Too Pure version, essentially a combination of the original album and the Secondhand Clothes EP. Either way, you can't lose. – Jeff Terich
Liz Phair – Exile In Guyville (1993)
I've loved a lot of Matador albums, but the one that really strikes me as lightning in a bottle is Exile in Guyville. I honestly don't think that the label, and certainly not the artist, had put out anything like that before or since. It was, and still is, shockingly raw. It is an open wound, vulnerable and disturbing, yet impossible to look away. Phair's voice is anything but polished, as evidenced in songs such as "Fuck and Run," but it is nonetheless mesmerizing, captivating, and therefore beautiful. With Guyville, tongue-in-cheek referring to the Rolling Stones' Exile on Main Street, Phair bared her soul and revealed things about the female psyche that no one ever had before. While guys had Nick Hornby revealing their secrets in the pages of High Fidelity, the girls had Phair opening up their secret diaries. As such, both sexes fell in love with her, and hard. "Never Said," "Mesmerizing," "Flower" and "Stratford-On-Guy" are enough to cement this album in the history books, even though she never did subsequently live up to the promise of her first sprawling, slapdash yet focused effort. – Terrance Terich
Pavement – Crooked Rain, Crooked Rain (1994)
My first Matador purchase, as I recall, was Pavement's Brighten the Corners. My second was Slanted and Enchanted, which at the time had been widely hailed as the band's best. Over time, however, the critical favorite flipped to the band's second album, and my third Pavement purchase, Crooked Rain, Crooked Rain. Not as sloppy, chaotic or as Fall worshipping as its predecessor, Crooked Rain was Pavement's most perfect statement. In a way, it's almost like a classic rock album, chock full of unforgettable melodies and riffs, and singalong choruses that have endured through the past decade and a half. Plenty has been said about this album already, and plenty more will be said, I guarantee you that much. But all I really need to say is that no record collection is complete without it. – Jeff Terich
Jon Spencer Blues Explosion – Orange (1994)
If I remember correctly, and I'm pretty sure I do, I bought my first two Matador albums at the same time. (And yes, this will prove that I wasn't the first in line to discover a lot of Matador mainstays, but I'm okay with that). One was Pizzicato Five's Made in USA, and the other was Orange. While the former flitted around my headphones like magic fairies, Orange beat the hell out of my eardrums and I loved every minute of it. I still do, in fact. Many gravitated to the album because of the track "Flavor," with guest vocals by Beck, but I dug the hard-hitting punk blues of "Bellbottoms," "Brenda," "Full Grown" and especially "Sweat." Between Orange and Scream, Dracula, Scream!, the mid-nineties became a glammy, sweaty, bluesy wonderland, and I loved every minute of it. – Terrance Terich
Guided by Voices – Alien Lanes (1995)
Guided by Voices, and Robert Pollard in particular, earned a reputation for being prolific beyond any practical application. And while only part of their career is represented by their output on Matador, it still adds up to a lot of material when you include singles, EPs and compilations. Their greatest hour, Alien Lanes, is an overwhelming exercise in economy, boasting 28 songs, only six of them spanning two minutes or longer, and a handful of them finishing at 30 seconds or less. But Pollard & Co. found a way to make every second count, and 90 second pop fragments like "A Salty Salute" and "Game of Pricks" become instant classics. And give GBV an extra minute or so, as on the outstanding "Motor Away" and "Watch Me Jumpstart," and they'll give you a classic rock epic, one that demands a cigarette lighter, in less than three minutes. Miller Lite, anyone? – Jeff Terich
Chavez – Ride The Fader (1996)
Chavez's second and final album, Ride the Fader, begins with the sound of a rollercoaster ascending and the inevitable screams that erupt as it begins its hyper speed descent. You couldn't pick a more appropriate introduction to the album, a rock solid collection of post-hardcore raveups and melodic alt-rock that was a bit too abrasive for radio, but far catchier than the band's Chicago contemporaries. Guitars crash and twist around one another while Matt Sweeney's strangely sweet vocals seem just detached enough from the chaos to lend it some pathos. And I have yet to hear a song as simultaneously infectious and pummeling as "You Must Be Stopped." – Jeff Terich
Pizzicato Five – Happy End of the World (1997)
Pizzicato Five's first proper album for Matador after the label released a series of compilations, Happy End of the World is definitive J-pop, and the first to break them in the United States. Pizzicato Five had been around for nearly 20 years in various incarnations, enduring numerous personnel shuffles, and their songwriting was well-honed by 1997. It isn't all kitsch. There's plenty of their trademark 'buh buh buh buh' background harmonies and Shibuya-kei touches, yet it's an understated dance-record, with Maki Nomiya and Yasuharu Konishi blending '60s lounge with tastefully contemporary chill beats, even adding some drill and bass in "The Earth Goes Around," and timpani fills on "Love's Theme." "Ma Vie, l'Ete de Vie" is the most impassioned number, with Konishi's full-throttle shouts leaving a pint of blood. The duo disbanded in 2001, but Happy End of the World remains their high-water mark, and the world continues to spin at 45 R.P.M. – George Hild
Yo La Tengo – I Can Hear the Heart Beating as One (1997)
Having been aligned with the label since early on in the 1990s, Yo La Tengo is practically synonymous with Matador Records. Yet, incredibly consistent and artful act that they are, Yo La Tengo has such a rich catalog that selecting one essential proves a bit difficult. From the dreamy Painful to the softly romantic And Then Nothing Turned Itself Inside Out, the highlights are numerous. But I Can Hear The Heart Beating As One is the album that combines all of the band's strengths best, from their deep grooves on "Moby Octopad" to the giddy fuzz pop of "Sugarcube" and the sweet organ-gaze of "Autumn Sweater." This is Yo La Tengo at their best, which, truthfully, is just the band doing what they've done all along. – Jeff Terich
Belle and Sebastian – The Boy With the Arab Strap (1998)
Under less nitpicky circumstances this spot would be reserved for If You're Feeling Sinister, but Belle and Sebastian's landmark second album was actually originally released on the now-defunct Enclave imprint. No matter, the band's third album and Matador debut, The Boy With the Arab Strap, is every bit as charming and tuneful, if a bit overlooked. The folky Scottish indie pop troupe had amplified their ambitions a bit with Arab Strap, embracing more rhythmic grooves, post-punk jangle, the occasional spoken word piece and black humor galore. When a band begin their album with the line "She had a stroke at the age of twenty-four" and make it into a sweetly catchy refrain, they're clearly doing something right. – Jeff Terich
Cat Power – Moon Pix (1998)
Cat Power has gone through several different phases, most of them while on Matador, from her stark avant rock on 1996's What Would The Community Think? to her soulful reinvention on 2006's The Greatest. Yet Chan Marshall's most impressive collection is one of her simplest. Moon Pix found Marshall backed by members of The Dirty Three on an 11-song set of stark and bluesy late night folk tunes soaked in tears and alcohol. The weird rhythmic inconsistency of "American Flag," the heartbreaking balladry of "Metal Heart" and the oddly catchy "Cross Bones Style" made for some of Marshall's best songs, even if they also make for some of her most antisocial. – Jeff Terich
Cornelius – Fantasma (1998)
In the late '90s, Matador was taking chances on a lot of genres and sounds outside their comfort zone, from hip-hop to IDM and noise. But possibly their weirdest and most surprisingly incredible signing was Japanese sample-pop artist Cornelius. Though he was pegged as Japan's answer to Beck by some critics, Cornelius sounded less like Mr. Hansen and more like a sugar-fueled mixture of The Beach Boys, My Bloody Valentine and Aphex Twin. Fantasma blended a wide range of genres with little disregard for coherence but a strong affinity for melody. It didn't always make sense, but that hardly matters when the album is packed with such gems as "New Music Machine," "Free Fall" and "Clash." – Jeff Terich
Matmos – A Chance to Cut Is a Chance to Cure (2001)
One of the most innovative groups to emerge after Matador increasingly embraced electronic sounds, San Francisco duo Matmos became famous for their wildly creative use of samples, often from found sound or everyday objects. In 2001, they took this idea to a sometimes disturbing but frequently stunning extreme with A Chance to Cut Is a Chance to Cure, an album built around samples of medical equipment and procedures ranging from laser eye surgery to the cages that encased laboratory research rats. A particular highlight is "Lipostudio…and So On," a strangely accessible jam crafted from the dulcet sounds of liposuction. – Jeff Terich
Interpol – Turn on the Bright Lights (2002)
Interpol's arrival in the early aughts may have precipitated a wave of bland nü-gazer acts, but they can hardly be blamed for being the ones who got it right. The band's debut album, Turn on the Bright Lights, was often compared to Joy Division, both for its dark and brooding atmosphere and Paul Banks' deep baritone, which bore a strong resemblance to Ian Curtis. But beneath the surface was a band with great depth, revealing a blissful dreaminess on "Untitled," a jaggedly abrasive rock side on "Obstacle 1" and an almost danceable jangle on "Say Hello to the Angels." It's simple, it's dark and it's quite delicious. – Jeff Terich
A.C. Newman – The Slow Wonder (2004)
Carl Newman makes writing great pop songs look way too easy. Not only has he penned countless standouts with his band The New Pornographers, but on his first solo album, The Slow Wonder, he dished out eleven nearly flawless three-minute masterpieces. A bit more of a power-pop foil to the New Pornos' glam-rock approach, The Slow Wonder balanced Cars-like crunch with Ray Davies wit, and just the right touch of strings to add up to a perfectly balanced and concise pop album that never wears out its welcome. – Jeff Terich
The New Pornographers – Twin Cinema (2005)
The New Pornographers were already a spectacular band by the time they signed with Matador, having released the glam-rock influenced Mass Romantic on Mint Records in 2000. But their second album for Matador, 2005's Twin Cinema, far surpassed anything they had even suggested up to that point. A 14-track epic of power-pop, folk-rock, psychedelia and just good old-fashioned rock 'n' roll, Twin Cinema is the band's masterpiece. Most by now should be familiar with the massive build of "The Bleeding Heart Show," which soundtracked a University of Phoenix commercial. But the highlights never stop, from the title track, to spunky single "Use It," to slow burning "The Bones of an Idol" and gorgeous "Sing Me Spanish Techno."
Mission of Burma – The Obliterati (2006)
The greatest thing about the return of Mission of Burma midway through the last decade is that they sounded pretty much exactly as they did way back in 1982. To wit: 2006's The Obliterati, an uncompromising post-punk album that stands as possibly the most abrasive album in the band's catalog, despite age, hearing loss and two decades of inactivity. Roger Miller's guitars shatter and squeal, Clint Conley's bass rumbles and throbs, and Peter Prescott pounds his set like he's trying to beat out pure evil. Long after they first cast their din upon New England, Mission of Burma proved they still had it and then some. – Jeff Terich
Fucked Up – The Chemistry of Common Life (2008)
Toronto sextet Fucked Up raised the bar high for modern day hardcore, arguably bringing it back from the brink of extinction. However, this album isn't the archetypal hardcore album – no song is under three minutes (the longest, the album's closer and title track, clocking in at about seven and a half minutes) and the level of production is in a different realm in comparison to the classic DIY sound. What is special about this album is that you either get who Fucked Up are and about, or you don't. To some, it is abrasive and tough to swallow, and to others, it is high art, cemented when they won the 2009 Polaris Music Prize, Canada's top album award based solely on artistry. What passes as punk today is rebelling and teen angst and skipping school – what Chemistry did was ask questions that were much deeper and profound, dabbling often in religious and cult related themes ("Magic Word" and "Looking for God"), life and death and even birth ("Twice Born" and "No Epiphany"). Also worth mentioning are the melodies and hooks that lay beneath the sometimes twelve, deathly distorted guitar tracks. "Black Albino Bones" sounds suspiciously like a radio hit, while "Crooked Head" encompasses all the pop aspects of The Cure, yet sounds like a Black Flag song. For awhile back in 2009, Fucked Up was being triumphed in the press as the saviours of hardcore, (which they dismissed outright), but many kids were hearing their new favourite band for the first time. Either way, this album sounds perfect and I am glad I was around to see the saviours of hardcore, save hardcore. – Jordon Chiarelli
Jay Reatard – Matador Singles '08 (2008)
Jay Lindsey's life was cut short just as his endearingly snotty pop-punk was reaching a wider audience. In fact, the first series of singles Jay released on Matador, collected on Matador Singles '08, amounted to one of the best albums released on Matador that year. The endlessly infectious coda of "See Saw" remains one of the best moments in punk of the past decade. And the power pop splendor of "Always Wanting More" showed that there was much more to the artist beyond power chords and sneer. Jay Reatard lived fast, played hard and left behind a kickass body of work. – Jeff Terich
Shearwater – Rook (2008)
The only band I know of that has been able to distill the breathtaking atmosphere of late period Talk Talk and John Cale's art-rock elegance into three-minute rock songs, Shearwater raised the bar for indie rock in the '00s. On Rook, the Austin-based outfit took the haunting aspects of their previous albums and made them more accessible, even hard rocking at times, as on the furious "Century Eyes." And the nigh title track, "Rooks," is the most chilling single to be released in 2008, prophesying an apocalyptic scene via imagery of dying birds. It was creepy, very creepy, but also a thing of sheer beauty.