Matt Pond PA : Several Arrows Later
Some bands just keep on going, putting in innumerable hours of work to ensure that they earn their mealticket and prolong their legacy. An almost puritan-like work ethic, endless touring, countless releases, and these artists are faced with an even bigger challenge: the quest to keep the music interesting. The Fall's been doing it for 25 years, so surely other bands could be capable of a similar feat. Whether or not it's their goal to follow in Mark E. Smith's footsteps, Matt Pond PA have managed to go for 8 years, releasing album after album of beautiful orch-pop, each one with its own charm, many of them maintaining a consistent sound with only slight variations.
For a listener, this could be seen as a blessing or a curse, depending upon how you like your bands to progress. Those who prefer Radiohead's chosen method of starting anew each time may not take to Matt Pond PA's gradual and subtle progression. But every couple albums or so, Pond and his Pennsylvanian melancholy-makers hammer out a truly awesome set. Sophomore set Measure was one highlight, The Nature of Maps found them embracing a more lively pop sound, and their latest, Several Arrows Later, finds them coming ever closer to the upbeat, albeit gloomy rock of bands like Death Cab for Cutie or The Pernice Brothers.
At first, cursory listen, Several Arrows Later may not strike many as that much of a progression from past albums. And on certain songs, like the chamber pop of "It Is Safe" and "City Song," it isn't. And that's just fine. They serve as lovely transitions between more rocking tracks, however, and on this set, there are many. "So Much Trouble" is the first of the set, beginning with a backwards-played riff that explodes into a powerful, driving rock set reminiscent of a dreamier version of Death Cab for Cutie's "We Laugh Indoors." This song alone would make the album worthwhile, but it just so happens to have good company in a whole album's worth of good tunes.
The title track carries one of the band's heaviest melodies to date, with an equally emotional chorus to match. "Emblems," also the title of the band's previous album, specializes in dynamic, angular riffs. And "Spring Provides" takes on an almost post-punk sounding, dissonant guitar scratch, though the song is, ultimately, another standout, accessible pop track, of which there is no shortage on this album. Opener "Halloween," released at just the right time I might add, brings back the cello-driven sadness of old, though it sounds more hopeful and new this time around. Speaking from the perspective of a restless man, perhaps at a party, Pond sings one of the most cathartic choruses I've heard since The Old 97s pledged to burn a nightclub down:
Pardon the intrusion
Could we leave before it gets bad?
I might smash up all the windows
And set fire to the curtains
Matt Pond PA is one of the most recent indie rock acts to find their music on an episode of The O.C.. It only makes sense that they would be put through this musical hazing ritual to find themselves on the way to more widespread exposure. It's comforting to know that not much has changed on Several Arrows Later, however; it's just changed enough to keep it interesting and to one-up their previous album, Emblems. They may have gotten a little extra cash for the soundtrack appearance, but this is still the same hard-working band that won me over five years ago with their graceful, orchestrated indie pop.
Similar Albums:
Death Cab for Cutie – Plans
Rogue Wave – Out of the Shadow
Pernice Brothers – Discover a Lovelier You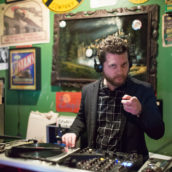 Jeff Terich
Jeff Terich is the founder and editor of Treble. He's been writing about music for 20 years and has been published at American Songwriter, Bandcamp Daily, Reverb, Spin, Stereogum, uDiscoverMusic, VinylMePlease and some others that he's forgetting right now. He's still not tired of it.