Fall Singles/EPs Spectacular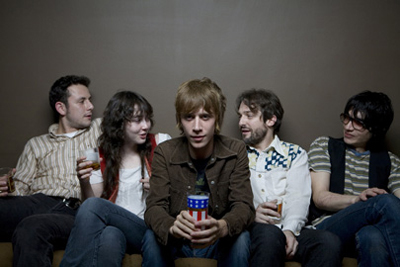 What with the Labor Day holiday cutting into our editorial time this week, we've got a shorter one for you this week. And what better way to fill in our short week with a series of short releases? It's about time for another EP feature anyway, so we wrangled up six new ones to highlight, almost all of them brimming with indie pop goodness. Nothin' wrong with that.
Matt Pond PA – If You Want Blood (Altitude)
Don't let the title fool you, Matt Pond PA haven't gone brutal or vicious. On their new EP, a preview of sorts to forthcoming album Last Light, the group displays the same trademark indie pop pep with lush string arrangements that has come to characterize their six full length albums to this point. With the initial push of first song "Reading," however, there does appear to be a bit more rock behind their elegant pop tunes. "Magic Boyfriend" is a front porch hoedown with acoustic guitar and banjo, one that sounds a bit silly as Pond affects a sort of southern accents in certain places. The title track is the real kicker though, a big, bombastic pop song with not only the right amount of energy, but a huge arrangement, augmented by a bit of country twang for good measure. It's all mostly familiar, but a good familiar. Two years is an extraordinary amount of time to wait for new Pond material.
Rosewood Thieves – Lonesome EP (Rosewood Thieves)
The Rosewood Thieves wowed the hell out of me with their debut EP From the Decker House last year, a set of folk-tinged rock songs that seemed to be informed as much from Neil Young as it was by The Kinks. Since then, their label V2 folded, leaving the group to move on and find a second home. Since then, they've kept making music, labels be damned, and have emerged with yet another great new release, titled Lonesome. Where Decker had a bit more of a rock sound, this one is far more stripped down, largely acoustic, and falling heavily on the folk side of things. A little less Kinks this time around, a bit more Vetiver, and considering Andy Cabic of that very band has collaborated with the group, it's not too far-fetched a comparison. "Murder Ballad in G Minor" is one to play on repeat, a dusty and dark folk rocker with a Southwestern vibe that's as badass as it is eerie.
Newspapers – Lake View EP (Montgomery)
Goodness, is the Newspapers' new EP Lake View ever so beautiful. Beginning with the title track, the Portland four piece ushers in a gentle acoustic melody, touched up with a vibrant dressing of glockenspiel and mandolin. Of course, one song later, the group seems to distance themselves from such a Boy Least Likely To sound with a rockabilly rave-up in "Devil's Dance Blues." Here, the band sounds decidedly more badass, blazing a trail of awesome riffs, attitude and swagger. With "Forest City," however, the band seems to combine the two perfectly, charging up for a streamlined, emotionally charged pop song with some undeniably great falsetto vocals, space-age synthesizers and disco funk guitar riffs. I know it's become cliché to say that a release like this really makes any impending full-length seem all that much more tempting a proposition, but for this band in particular, I'm definitely marking my calendar for the day it happens…whenever that may be.
New Motels – Domestic Life (Prison Jazz)
It almost seems oxymoronic to call an EP Domestic Life while featuring song titles like "A Thousand Isles" and "Drama of the Hollywood Scene," but that's a pretty easy aspect of this release to get past. The Philadelphia four-piece is quite the fun little pop band, slinging buoyant and twangy pop-rock songs that fall somewhere between Elephant Six and Wilco. Leadoff track "Modern Thinker" mixes fuzzy pop with honky-tonk riffs, while the title track is a jangling standout of soaring guitar chords and sweetly layered vocals. "West Coast Brawl" is not the skull-crusher of a song you might expect it to be, but rather a bluesy acoustic song that's among the quieter moments on the record. The aforementioned "Drama of the Hollywood Scene" ends the EP with vigor, borrowing the breakdown from "Space Oddity" as its intro before surging into peppy distorted pop that would make Robert Schneider proud.
Okay Paddy – Where You Went? (Prison Jazz)
Okay Paddy made a wonderful little pop record in 2006's The Cactus Has a Point, a record whose title should always be accompanied with a rim shot or foghorn. In any case, the group is back again with five new tracks of finely constructed, crunchy, quirky pop. Joined by members of The Spinto Band and Dr. Horsemachine & The Moneynotes, Okay Paddy sound both crisp and full of life, their power pop jangle providing a rip-roaring good time when only a six strings and a bit of overdrive can sustain the high. The bouncy "Dumbwaiter" opens the record with giddy energy and a chorus that demands daily repetition. "Trounce Him" offers a stripped down, acoustic variation on their quirky approach, while "You're Losing Me" finds them veering toward an alt-country Weezer. And that cover image depicting a '70s Christmas vodka gift exchange is priceless.
Rob Crow – Up (Temporary Residence Limited)
To be honest, I'm a bit surprised that Rob Crow is releasing another single from his new solo album, not so much because it's not a catchy set of songs, but because Pinback's new album Autumn of the Seraphs is set to hit shelves in a week. No matter, "Up" is another delightful melodic treat from the San Diegan, one that sounds quite a bit like his full-time band's low-key indie pop. As usual, there are some wonderful bonus tracks, like the short, breezy and acoustic "Three Hundred and Three," the groovy pop number "Forced Letter," and "Three Hundred and Two," which could be seen as a companion piece to its numerical superior.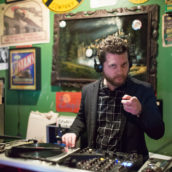 Jeff Terich
Jeff Terich is the founder and editor of Treble. He's been writing about music for 20 years and has been published at American Songwriter, Bandcamp Daily, Reverb, Spin, Stereogum, uDiscoverMusic, VinylMePlease and some others that he's forgetting right now. He's still not tired of it.