Modern Life Is War: Fever Hunting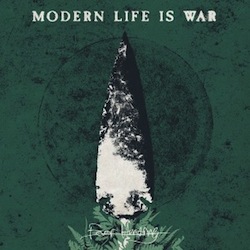 Buy at iTunes | Buy at Insound (vinyl)
Modern Life is War's music is often described as "melodic hardcore," and that's a bit of a misnomer. There is nothing traditionally melodic about this celebrated Marshalltown, Iowa five-piece. These guys don't write "catchy" tunes. They don't make you hum, or tap your toes, or whistle while you work. What Modern Life is War do have, though, is heart — something that's apparent right away on Fever Hunting, the band's fourth album and first since reuniting in 2012. Every chord, every cry, every crack of the snare on this album shakes with feeling. These guys are so thoughtful and so genuine that even their most bruising moments feel good.
Fever Hunting is an album of pure punk fucking rock. Non-punks could dig it; surely, they'll notice that guitarists John Eich and Matt Hoffman have a flair for triumphant, emotional chord-play the likes of which was once heard from Jim Ward and Omar Rodríguez-López of At the Drive-In. But I doubt Fever Hunting will end up being some grandiose crossover sensation, à la Relationship of Command. First and foremost, this is an album by punks, for punks — a deeply personal statement, it finds the band reaffirming their loyalty to all the comrades in the pit, but also demanding some integrity and self-examination from a community that often looks outward for problems to attack.
Modern Life is War are well-versed in the art of hardcore catharsis, but they take a nuanced, musical approach. Eich and Hoffman show an elegant chemistry on "Chasing My Tail," conjuring a dialogue of chiming chords and beautiful feedback before finally launching into a razor-sharp double-time attack. On "Dark Water," meanwhile, bassist Chris Honeck and drummer Tyler Oleson prove to be a downright groovy pair, their prowling 6/8 rhythm resembling something out of a Black Sabbath blues jam.
Vocalist Jeffrey Eaton possesses a dignified growl that would make any punk-rock granddaddy proud, and he often uses it to beam out mantras and messages with mighty group chants. "We always said we'd be brothers in arms forever!" he cries in "Brothers in Arms Forever," a track about two friends with a rocky history — one sick, the other feeling guilty about his own comfort and privilege — pledging their support for each other. Gang vocals are a staple of hardcore punk — the ultimate statement that we're all in this together. And needless to say, there's plenty of great examples of this on Fever Hunting; many feature contributions from a woman singer, underscoring the fact that true punk rock (despite the message suggested from the above-mentioned track) isn't just a testosterone-charged boy's club.
Still, the most powerful lyrical moments on Fever Hunting come when Eaton is alone in the mix, his voice surrounded only by distortion and drums. While punk singers traditionally scream the gospel of injustice — speaking out against American foreign policy, or free market capitalism, or endemic racism, sexism and homophobia — Eaton takes the far riskier step of looking inward, examining his own issues and those of his friends and community, exposing his vulnerabilities in raw-throated verse. On the brooding, explosive "Currency," he seems to turn his attention towards mental health. Over dissonant guitar chords and a measured beat, he outlines what sounds to me like an enduring depression — "I'm a broken record now / Skipping for a decade now / Still trying not to drown in this dead eye sea" — and wonders if it's the world that drew him into this funk, or his own mind. Soon, the song erupts with deadly riffs and crashing cymbals, and he's reaching a hand out to others in a similar place, offering sympathy but also tough love. "Your friends are precious and they are slipping away! Your time is precious and it is slipping away!" he cries in the track's final cascading moments, speaking as much to his fellow punks as to himself.
Taking a close look at the lyrics, you could also interpret "Currency" as a penetrating look into falseness and empty rhetoric. "I know you were there, but what were you there for?" Eaton asks himself at one point, appearing to question his own motivations for joining the scene. "Fuck your style, I wanna know what you bled for." Looking at the song from either angle, "Currency" makes for a complex, moving listen.
Of course, the band isn't always so intense — for the next track, "Cracked Sidewalk Surfer," they cut loose with two deliriously fun minutes of knee-scraping skate-punk. But even when these guys are shredding the half-pipe, they're engaging in self-examination. "Sincerely sorry if I was a fool, if I acted arrogant or cruel," Eaton yells, not long before launching into a life-affirming chant: "Don't get don't get don't get—don't get lazy! You'll get you'll get you'll get — stuck again!" Clearly, inspiring messages just come naturally to Modern Life is War.
This band may not exactly be "melodic," but in the end, that's just semantics. Plenty of hardcore bands take the easy, cerebral route, spouting radical jargon lifted out of the nearest 'zine or Noam Chomsky volume. But these five musicians aim right for the ticker, and create some truly nourishing music because of it. The songs on Fever Hunting aren't meant to be sung. They're meant to be screamed — at the top of your lungs, in the most shuddering, heartfelt monotone you can muster.
Similar Albums:


Oathbreaker – Eros |Anteros


Converge – All We Love We Leave Behind


All Pigs Must Die – Nothing Violates This Nature