Mogwai announce signature beer, Mogwai Beer Satan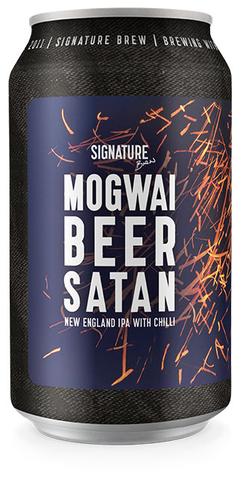 Scotland's post-rock icons Mogwai are no strangers to collaborating with alcoholic beverage producers. In fact, with the release of 2014's Rave Tapes the band teamed up with Good Cask Spirits Co. to develop their own whisky. But now they've moved into the beer market. Mogwai have teamed up with Signature Brew of London to release a new collaborative beer. The best part? It's called "Mogwai Beer Satan," making the best use of a pun referencing their 1997 epic composition "Mogwai Fear Satan." It's a tropical hazy IPA with a hint of chili (that must be where the Satan comes in). The beer launch party takes place on Thursday in London, and is apparently already sold out. As of right now it's not available in the United States, but we're keeping our fingers crossed.
Mogwai's latest release is KIN.
Mogwai's "Wizard Motor" is featured on our list of 30(+) Essential Sub Pop Tracks.