Mount Kimbie : Cold Spring Fault Less Youth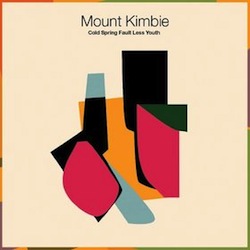 Buy at iTunes | Buy at Insound (vinyl)
From the sound of it, glitchy, sputtering electronic music doesn't seem like the sort of thing you'd want to throw on while trying to relax. And indeed, early pioneers such as Aphex Twin (especially under his AFX pseudonym) used distortion and cut-up vocals to make thumping techno tracks even more hectic, capturing the emotion of the human voice without any of the familiarity that comes with fully formed lines.  More recently, electronic artists have explored marrying glitch effects with downtempo rhythms, creating end productions that climax with a long exhale rather than a jump. Mount Kimbie's 2010 debut full length, Crooks and Lovers, is an example of just how well that relationship can work. The vocal fragments may have been the focal point of the album, but the dense layering of wooden pops and rounded claps became the stamp that Mount Kimbie would carry forward to their follow-up effort, Cold Spring Fault Less Youth.
"Home Recording" is a humble introduction that distills many of the elements that continue to pop up throughout Cold Spring — there's the found-sound tumbling percussion, the slow, mushroom cloud synths, some gentle guitar chords and calm, pensive (and not chopped) vocals. Young British singer King Krule makes two appearances on Cold Spring, the first of which is "You Took Your Time," which builds out and mutates the shadowy synth effects from "Home Recording." King Krule adapts to the rolling landscape with a range of styles, going from slow, deliberate lines to heavy, reverberated growls, before transitioning back to the lethargic, eyes-closed crooning a la late '90s Mos Def.
The first five tracks on Cold Spring are almost so coherent and well-tied together that they sound like a separate effort from the remaining six. After the aforementioned first two cuts, Kai Campos and Dom Maker take a step back with "Break Well," effectively an intermission cut that spends the first two and a half minutes building to a climax that both satisfies and makes room for the album's second single, "Blood and Form." Mount Kimbie's pedigree for patience and savvy for pacing is on display once again with "Blood and Form"; isolated kick drums draw the boarders while spiraling synths and harmonized vocals color within the lines.
"Made To Stray" is technically the album's centerpiece but given the coherence of side A, it feels more like a triumphant closer. Uptempo, spring-loaded wooden chops provide the propulsion for the album's catchiest vocals that once again show up fashionably late to the party. The build and release structure is minimalist yet faintly complex, effectively masking the nearly five-minute run time as a short-lived sprint.
The remaining tracks on Cold Spring are undoubtedly well done but seem to lack some of the experimental confidence of the opening stretch. "Lie Near," for instance, sounds like a clone of the '90s Ninja Tune sound coupled with Kimbie's creaking, hollow percussion. King Krule's second appearance feels less necessary than his first, but the track is enjoyable nonetheless, with lyrics that offer enough complexity to justify a close listening. Cold Spring unfortunately ends with a bit of a whimper: both "Sullen Ground" and "Fall Out" have strong starts and interesting textures but come to a bit of a dead end rather than an interesting final act. That being said, Cold Youth's closing sequence hardly detracts from the album as a whole; the first half is just so good that it's nearly impossible to follow-up "Made to Stray" with something that wouldn't make me want start over on the first track. It's a kind of compulsion that wasn't intended for the full-length format, but also one proves Mount Kimbie is one of the best, most addicting acts in electronic music today.
Similar Albums:


SBTRKT – SBTRKT


Flying Lotus – Until the Quiet Comes


Sepalcure – Sepalcure