Real-time transparency into the creation of an album isn't a common trait for popular musicians, but for two albums in a row, Noah Lennox has let his listeners observe as pieces of those albums have come together as a whole. Much as he did prior to the release of 2007's Person Pitch, Lennox, aka Panda Bear, has engaged in a slow drip of limited-edition seven-inch singles that would eventually come to make up the bulk of his new full-length, Tomboy. To some, this might spoil some of the surprise of the finished product, yet hearing each pair of songs as they've gradually debuted has been a curious and thrilling peek into Lennox's methods, a glimpse of a piece of art crystallizing before our eyes.
Several of those singles, notably "Tomboy," "Slow Motion" and "Last Night at the Jetty," suggested a more pronounced shift toward traditional pop song structures. While Person Pitch was very much a pop album, the way its tracks unfolded from gradually piling loops of Lennox's own voice and atmospheric samples gave it a uniquely atmospheric quality. To some degree, a song like "Slow Motion" isn't a drastic shift from that approach, but Lennox appears to make a greater distinction between verse, chorus and bridge, his ambient loops congealing into more concrete structures and shapes. It's a different enough distinction to feel fresh and interesting, but familiar enough to know you're listening to Panda Bear.
As delicious as those appetizers were, the main course, which features somewhat different versions of those singles, is all the more impressive. Aided by producer Sonic Boom, Panda Bear builds a heady pop album of more dazzling loops and hypnotic beats, made even more immense by the seemingly infinite layers of vocals he stacks in each song. On a recent NPR interview, Lennox confessed that his voice on its own isn't terribly impressive, but here, you'd hardly know it. On "Last Night at the Jetty" he approximates Brian Wilson in a hall of mirrors, his multi-tracked vocals injecting melancholy with joy, and vice-versa, singing, "And I'll call you my dream that I once had/ did I have it anyway?"
Much as he did on his previous album (e.g. "try to remember always just to have a good time"), Lennox lines his songs with life-affirming meditations, cementing himself as indie rock's number one new age guru, and potential life coach. Though a line like "Know you can count on me/ to be so up for it" might come off cheeseball in less capable hands, his soothing delivery on "You Can Count On Me" sells it with sincerity. "Surfer's Hymn" asks philosophical questions in the form of riding waves, as Lennox sings, "'cause if the wise do know what wisdom is/ if I could err on every good side every time." And on the softly billowing closer "Benfica," Lennox taps into competitive human instinct, reasoning "There is nothing more true/ or natural than wanting to win."
Actually picking out many of Lennox's positive and affirmational phrases requires a careful ear, however, as the production on most of Tomboy's tracks is pretty dense, allowing the vocals to become part of the gorgeous landscape they inhabit. In addition to more closely adhering to pop structures, there's a greater bass presence, which gives the album a deep and rich texture that distinguishes it from Panda Bear's other work. The thick synth on the title track lends a fat pulse to an otherwise ethereal psych-pop piece, while "Alsatian Darn" bounces and throbs its way into a truly outstanding chorus. And "afterburner," the longest track at just under seven minutes, is likewise its mightiest, its bassline and steady mid-tempo beat stirring up a danceable and hypnotic euphoria. Only the aptly titled "Drone" is a real misfire, though despite being fairly boring, it divides two halves of the album neatly.
To those following Panda Bear's slow rollout of singles leading up to the release of Tomboy, it probably shouldn't come as much of a surprise that the finished product is splendid. Much the eccentric art-pop architect that released Person Pitch, not to mention his recent forays into electronic psychedelia with Animal Collective, Panda Bear has offered up an album that is identifiably his own, right down to the multiple vocal tracks and self-help philosophy. It's just a little bit catchier, a little bit more direct, and it hits with a more tactile impact.
Similar Albums:
Animal Collective – Merriweather Post Pavilion
Atlas Sound – Logos
Glasser – Ring
Stream: Panda Bear – "Last Night at the Jetty"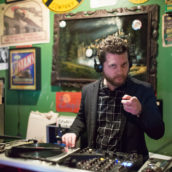 Jeff Terich
Jeff Terich is the founder and editor of Treble. He's been writing about music for 20 years and has been published at American Songwriter, Bandcamp Daily, Reverb, Spin, Stereogum, uDiscoverMusic, VinylMePlease and some others that he's forgetting right now. He's still not tired of it.