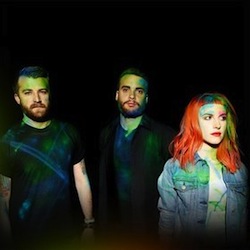 When a band goes through a major line-up change, the results are unpredictable at best. This is especially true when founding members of a band that are part of the songwriting process go AWOL. Often times, artists will regroup from the loss and release a record that is a shadow of their former selves or simply just break up. Fortunately, Paramore's new self-titled effort, their first full-length without founding members Josh Farro (guitar) and Zac Farro (drums), sees the band return with an unpredictable and satisfying album.
Given all the drama that's encapsulated the band for the last few years, it would be easy to assume that Paramore would have a grey cloud hanging over it. But from the minute the swinging drums kick in on "Fast In My Car," it's apparent that Hayley Williams & Co. are dead set on having fun. The upbeat pop-punk found throughout Paramore's past albums is still present on "Grow Up" and "Proof" which should satiate fans longing for the group's classic sound. But what make this new self-titled album so intriguing are the new elements they've added to their sonic repertoire. "Aint It Fun" is a bouncy, new-wave masterpiece that explodes in a choir drenched finale that's custom built for arena sing-alongs. With "Now," fuzzy guitar riffs combine with a walking bass line, the result sounding like it could've been a track from a long-lost Yeah Yeah Yeahs record.
The biggest surprise of the album is the delicate "Hate To See Your Heart Break." Strings, chimes and mellow backing instrumentation primarily serve to complement Williams' vocals, which have never before sounded so confident and powerful. A few years back, the group would have struggled to create such a beautiful song, but the new lineup pulls it off with such power and grace that it's worth asking why Paramore haven't been writing songs like this all along.
With all the pleasant surprises on Paramore, it's easy to overlook the records few missteps, namely, the three "Interlude" tracks that comprise only Williams's voice and a ukulele. Although the story told in the intermissions is compelling, it feels like filler material and on an album that stretches out over 17 tracks, these three should have been omitted. Also, the pseudo punk roll of "Anklebiters" is a fun listen, but sounds like a leftover from an earlier record — a regression in which they can safely operate in the confines of a sound they've so clearly outgrown. The group saved the best for last with the sprawling "Future." The song begins with a subdued performance before erupting into a swirling mass of pounding drums and howling guitars, finishing off the album with a definitive kick to the eardrums.
For a while, Paramore's future was in doubt after the departure of the Farro brothers — very rarely does a band recover from such a substantial loss. However, the new instrumental flourishes and change of styles throughout show that musically, the band is more diverse than ever. Combined with the powerful vocal performance of Williams, Paramore have created what is easily their finest album to date, proving that change can indeed be a great thing.
Similar Albums:


The Killers – Hot Fuss


Metric – Live It Out


Yeah Yeah Yeahs – Show Your Bones