Personal Best: Albums of the '90s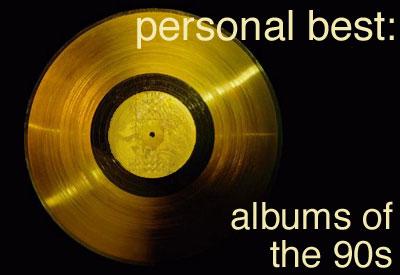 For those of you who might have been wondering what we've been doing with most of our time this summer, you're looking at the beginning of a flood of what's to come. This year, in an annual tradition of musical retrospectives, we will be taking a look at the 1990s. It's a decade that formed much of our musical tastes, and likely those of our readers as well, and it's hard not to make such a statement. So much good music came out in that decade, and not just good music, but genre-busting, influential, monumental (insert hyperbole here) music. Yeah, it was a good time to be making and buying records.
The problem with there being so many good records, however, is that, unfortunately, not everyone gets around to hearing all of them. And because of this, not all of them received as many votes as a few of us may have wanted them to. We pored over several hundred albums, but to make one complete list (to come next week), we unfortunately couldn't include everything. That's not all bad, of course. As editor of this fine 'zine, I'm perfectly happy leaving out Counting Crows, though in the interest of highlighting the best of what the decade had to offer, we still wanted to give some of the underdogs an opportunity to be heard as well.
After the final tallies were made, individual Treble writers and editors dug deep within their lists to pull out some of the overlooked albums that no less deserve our praise. So we offer our Personal Best Albums of the '90s, a solid collection of albums that may or may not be part of the canon as of yet, but definitely should be.
The Jesus Lizard – Goat (Touch & Go; 1991)
It seems only appropriate that the man fronting Chicago's most brutal band be named for a shocked/agonized interjection. David Yow is more of a deranged psychopath with a microphone and a tendency to drop his pants than an actual "singer," but only his erratic yelps sound right at home, coupled with the gut-punching rhythm section of Mac McNeilly and David Wm. Sims, and Duane Denison's noisy guitar thrash. While the band takes you down for a beating, slashing you one minute, kicking you the next, Yow merely hovers overhead, shouting hilariously cruel taunts like "so since the surgery, how's that phantom limb" and "he's a nice guy, I like him just fine…but he's a mouth breather!" Nobody is safe, everybody's a target, and at certain key moments, things just get downright obscene. If you faint at the sight of blood, sexual depravity, sniffing snail tracks…well, let's just say if you're offended or disturbed by anything at all, consider yourself on The Jesus Lizard's victims list. – Jeff Terich
Helmet – Meantime (Interscope; 1992)
Over the years, Paige Hamilton has earned himself a reputation as something of a perfectionist, but it's hard to argue with said perfectionism when it actually produces something perfect. That product is Meantime, the first Helmet album to be released on Interscope, after a long, legendary bidding war. To the victor go the spoils, and while Meantime likely didn't make Interscope all that much money in the long run, it is nonetheless one of the finest pieces of ear-splitting rock ever to grace it, or any other major label for that matter. Focusing on minimalist, drop-D riffs, tight rhythms, squealing skronk-fest solos and alternating pitbull shouts and Ozzy-like singing from Hamilton himself, Meantime is a boost of adrenaline with aggression to spare. I don't know what the hell that is on the cover (a tank? Dude with a hammer?), but that's what this album feels like. – Jeff Terich
Pete Rock & C.L. Smooth – Mecca and the Soul Brother (Elektra; 1992)
The Soul Brother: One C.L. Smooth, a man whose name is all too apt, spreading a coating of lyrical butter over every beat that slides his way. Mecca: Pete Rock, the production wizard, whose beats are peerless save for heavyweights like The RZA, Dr. Dre and DJ Premier. Together, this duo creates a combined presence the likes of which hip-hop hasn't heard since their split, and likely never will again. Over a nearly 80-minute span, the two step up with a sound as "healthy as Ovaltine," with Rock's warm and crackly keyboards and sparkling horn samples serving as pristine urban complement to C.L.'s intellectual, often autobiographical rhymes. With a broad palette over which to cast their sonic brushes Pete and C.L. run the range from philosophical ("Return of the Mecca") to touching ("They Reminisce Over You"). And if there's a more perfect hip-hop song than "For Pete's Sake," I haven't heard it. – Jeff Terich
Ani DiFranco – Out of Range (Righteous Babe; 1994)
I started out with way too many `Personal Best' choices. In fact, my `Personal Best' albums nearly doubled the number of albums I was already reviewing. Inevitably, some had to go. I began to whittle down by asking myself the tough questions. Is the entire album worthy, or just a few songs? That eliminated a few. If an artist was already represented, which of theirs is truly their best? A few more fell. Finally I asked myself, what albums on this list do you feel you absolutely HAVE to write about, specifically the ones that most likely no one else will? My `Personal Best' list is now down to four, and if I were forced to limit myself to only one, this would be it, Ani DiFranco's Out of Range. – Terrance Terich
Drive Like Jehu – Yank Crime (Interscope; 1994)
For a city with year-round sunshine and a tourist population that rivals the number of actual residents, San Diego sure seems to be responsible for some of the most brutal music of the last 20 years. None, however, match the power and sheer complexity of Drive Like Jehu, whose second album Yank Crime is essentially the blueprint for seething, dizzying, West Coast post-hardcore. A sharp contrast to guitarist John Reis' other band, Rocket From the Crypt, Drive Like Jehu nonetheless got major label backing behind this vicious outing when Interscope agreed to sign both bands. Perhaps they didn't know what they were getting into–Yank Crime doesn't sugar coat or gloss over its raw power. The crisp production merely brings greater attention to the jackhammer basslines and breakneck rhythms, and highlights the barbed-wire steel cage match between Reis and Rick Froberg's guitars. In three minutes they could deliver a straightforward shout along ("Human Interest"), in six minutes they could jerk you violently until your vision blurs and your head throbs ("Here Come the Rome Plows"), and in nine minutes they could slowly dunk you into a churning vat of dissonance and poi ("Luau!"). Suit up! – Jeff Terich
Nas – Illmatic (Columbia; 1994)
Illmatic, the debut of Queensbridge MC Nas, has been considered a masterpiece of hip-hop. That assessment is wrong. It is the masterpiece of hip-hop, the rare conflation of great beats and great rapping. In a mere nine songs, Nas takes the entire genre to a level often grasped at and rarely reached. This is, simply, the greatest rap album of all time, and a staggering omission from Treble's list. – Tony Ling
Manic Street Preachers – The Holy Bible (Epic; 1994)
The Manic Street Preachers' art derives just as much from circumstances as it does from actual creation of word and sound. Without something to react to, it's possible that little would become of the band. This is not to say that these were untalented fellows seemingly lacking in vision entirely, but having four Welshman up against what seemed to be the entire UK rock scene, not to mention their own personal crap (mainly Richey Edwards' personal crap) made them perhaps one of the most formidable rock acts in the `90s UK. – Chris Morgan
Morrissey – Vauxhall and I (Sire; 1994)
It seems anytime after Morrissey has suffered a personal loss in his life, he makes a memorable album. After his musical collaborator Johnny Marr left The Smiths, in 1988, Morrissey made Viva Hate. After the rousing success of Your Arsenal, Morrissey was looking forward with a long lasting musical partnership with former Bowie stalwart Mick Ronson. But sadly, Ronson died of liver cancer after producing Your Arsenal. Two other close confidants died in the same year, and the emotional mourning Morrissey felt he poured into the making of Vauxhall and I. – Adrian Cepeda
Shudder To Think – Pony Express Record (Epic; 1994)
I haven't met a whole lot of Shudder to Think fans. There was an ex in college, a coworker at a record store, and aside from my brother, that's about it. That kind of scarcity of fans doesn't always bode well for the legacy of a rock band, nor does the recollection of seeing them open for Fugazi at the Palladium in Los Angeles. Fans booed them mercilessly and even threw stuff at them. Singer Craig Wedren scolded them at first, but then realized that the object that nearly hit his head was a quarter and instead thanked the person. The thing is, Shudder to Think was probably the most unlikely and least fitting band to be on Ian MacKaye's Dischord label. Although there was an underground punk aesthetic to some of STT's songs, that was only one element. Shudder to Think's music was equally derived from pop, operatic arena rock, avant-garde jazz and many others. – Terrance Terich
Fugazi – Red Medicine (Dischord; 1995)
There comes a point in the life of every punk band when being a punk band simply isn't enough. After laying out the blueprint for D.C. post-hardcore with 13 Songs and Repeater and subsequently refining it on In On the Killtaker and Steady Diet of Nothing, Fugazi was ready to strike a path in a new direction. Dubby instrumentals, atonal skronk, weirdly lo-fi intervals, playful melodic arrangements—anything was fair game on fifth album Red Medicine. Though not everyone could have been adequately prepared for just what kind of experimentation and expansion lay ahead, one thing was certainly clear: Fugazi does what Fugazi wants. – Jeff Terich
Genius/GZA – Liquid Swords (Geffen; 1995)
The overused term "cinematic" fits like a glove when it comes to GZA's debut, Liquid Swords. Indeed, Liquid Swords has a rightful place as one of the best hip-hop albums of all time, and certainly one of the best solo Wu-Tang albums of all time. With its dark production and unsparing lyrics, the album comes as close as possible to the heights of Wu-Tang's beloved debut album. Liquid Swords deserves a place on the Treble master list; here's why.- Tony Ling
Brainiac – Hissing Prigs In Static Couture (Touch & Go; 1996)
There was a time before dancepunk became mainstream, infiltrated the airwaves and caused teenagers to wear skinny jeans. Les Savy Fav were still merely art students, Foals just pre-teen brats. Franz Ferdinand was still the assassinated Archduke, and LCD Soundsystem the alarm on your Casio watch at lunchtime. Before disco was the venue for panic and before The 1990s was old enough to be a novel name, there was a young Ohio band challenging the underground's propensity for immobility. That band was Brainiac. – Jeff Terich
Dr. Octagon – Dr. Octagonecologyst (Dreamworks; 1996)
Science fiction, horror and pornography initially sound like the components that make up late night premium cable programming. But add one of the country's premier lyrical surrealist, and you've got yourself one hilariously disturbing hip-hop record. Kool Keith dons the surgical garb, slicing and stitching up freakish narratives about half-sharkalligator half men, visions of blue flowers, destructive rampages (involving feces no less) and touching down to Earth after launching from homebase on Jupiter. Meanwhile, Dan the Automator pipes in the equally bizarre samples and beats, sometimes culled from free-jazz, sometimes rife with '80s synthesizers. This may all sound like a complete disaster of a record, or maybe a Troma film, but somehow this team pulls it together, just enough to both compel and incite a flinch or two. Kool Keith isn't actually a doctor, he just plays one in your oddly comedic nightmares. – Jeff Terich
Neurosis – Through Silver In Blood (Relapse; 1996)
Heavy metal has always been a visceral and intense listening experience, but until Neurosis came along, it had never been tribal and meditative. Beginning their career as a hardcore band in Oakland, Calif., Neurosis ultimately began to stretch out their songs, from 3-minute thrashers to epic soundscapes of maximum density and cavernous depth. With Through Silver In Blood, the band frontloads the album with the 12-minute title track, like a baptism by flame, harrowing and churning, slowly opening up cavernous depths with each creeping measure. Even a (relatively) shorter track like "Eye" marches with a doom-ridden plod, bludgeoning with accuracy and force, though not necessarily speed. And yet, for being such an intense and, quite frankly, loud band, there's a brooding darkness, not unlike Joy Division's Closer or The Swans. Essentially inventing (for lack of a better word) `post-metal', Neurosis pushed the boundaries of what defined metal, making it bigger, broader, more experimental and in a strange way, almost supernatural. – Jeff Terich
David Bowie – Earthling (Virgin; 1997)
Along with Prince, David Bowie is my favorite musical artist on earth. Though, with Bowie, we might have to nix the `on earth' part. Many have called Bowie an alien-like presence in rock and roll, and he even played one in the film, "The Man Who Fell to Earth." But enough has already been said of Bowie's chameleon like career, fitting into and even preceding every trend. All we really need to know is that he's still going strong, putting out music, and reassuring me that life is worth the living. He did the very thing back in 1997 with Earthling. Earlier in the year, he played his 50th birthday concert extravaganza with guests Robert Smith, Billy Corgan, Frank Black, Foo Fighters, Sonic Youth and Lou Reed. Black's duet of "Fashion" with the Thin White Duke was both the coolest and most hilarious thing I've ever seen. And what does Bowie do to top the arrival of an all-new Roman numeral in his age? He releases, in my opinion, one of the best albums of his career in Earthling. So, maybe that whole alien theory is just a hoax, yes? – Terrance Terich
Gene – Drawn to the Deep End (Polydor; 1997)
It was with Drawn to the Deep End that Gene really showed their true talents. Singer Martin Rossiter's voice still retained its sullen baritone qualities, revealing a haughty sadness and an effete depression with every bellow, but some of the jangling chords were replaced with ripping riffs and crunching chords. "Fighting Fit," the first single from the album, charted in the UK thanks to its matching of the quavering Morrissey-like voice of Rossiter and the chugging rhythms of a Jam-like band. The next three tracks on the album were also singles, one sprung from Rossiter's depression in "Where Are They Now?" But, like many artists suffering from depression, it made for great pop music, and in Gene's case, probably only further fueled the Smiths comparisons. "Speak to Me Someone" is similar in pace to "Where Are They Now?" with its opening guitar strains finding kin with R.E.M.'s "Everybody Hurts." – Terrance Terich
Skeleton Key – Fantastic Spikes Through Balloon (Capitol; 1997)
One man's trash is another man's treasure. Or, in the case of Skeleton Key, another man's percussion set. As a trio, Chris Maxwell, Erik Sanko and Steve Calhoon would be one hard rocking combo, to be sure, but with the addition of junk player Rick Lee, whose percussion setup includes propane tanks and pots and pans among other items, Skeleton Key becomes an entirely different, but wholly original outfit. Debut full length Fantastic Spikes Through Balloon was something like a loud and spastic carnival ride, with song titles that reflected such an odd excursion—"Watch the Fat Man Swing," "The World's Most Famous Undertaker," etc. In execution, Skeleton Key was something like Jawbox through a Captain Beefheart lens, scruffy and mangled, but melodic and loud. Not many heard this album upon its release, but I can only hope that its brilliant sound inspired a few to go bang on some metal objects of their own. – Jeff Terich
Jets To Brazil – Orange Rhyming Dictionary (Jade Tree; 1998)
When an album's two most memorable lines are "I'm tired of fighting/ and so I'm demolished/ and that's the way" and "you keep fucking up my life!", chances are, you've got an emo record on your hands. With Jets to Brazil, that's certainly how it appeared on the surface, with members having earned their tenure in bands like Jawbreaker and Texas Is The Reason. Yet with debut Orange Rhyming Dictionary, New York's Jets to Brazil merely created a truly exceptional rock record, with lots of big, crunchy riffs and more hooks than a bait shop. See them turn Smashing Pumpkins-style riff rock into a spunky power pop number on "Crown of the Valley," hear them go new wave on the keyboard heavy "Resistance Is Futile," and feel a tug at the heartstrings on the powerful standout "China Town." Whether or not it's appropriate to call Orange Rhyming Dictionary an "emo" record may be up for debate. While it's an album that is, certainly, driven by emotion, more than anything, it's a pop record, and it's as perfectly crafted as they come. – Jeff Terich
Refused – The Shape of Punk To Come (Burning Heart-Epitaph; 1998)
Though the title of Refused's The Shape of Punk To Come may be presumptuous, even arrogant, it was 100 percent true. The Swedish group blended complex melodic textures, unhinged hardcore aggression, experimental atmosphere, leftist politics and a visual presentation that seemed more mod than hardcore. And those components most certainly spilled into the punk to come: The Bronx, At the Drive-In and Blood Brothers in sound, The Hives in every other aspect (save for the Communism). The Refused took jabs at their guitars like machetes to man-eating snakes, and pounded rhythms like machine guns on concrete. Yet they did it with style, looking sharp, but a little dangerous. And they were a hell of a lot more fun than hardcore ever seemed like it was supposed to be. – Jeff Terich
Beulah – When Your Heartstrings Break (Sugar Free; 1999)
If the ideal of indie rock is to make the most out of limited resources, and for the quality of your songs to trump their recording quality, then Beulah took that idea to a new extreme with second album When Your Heartstrings Break. On debut Handsome Western States, the San Francisco-based band, one of a handful of West Coast Elephant Sixers along with The Minders, played a fun and sloppy brand of indie fuzz-rock, a la Guided by Voices or Pavement. But in their first incarnation as a full band, When Your Heartstrings Break found the Bay Area group keeping the fuzz-pop aesthetic in tact, while tightening up their playing and piling on layers and layers of instruments, making it the biggest possible record one could make on a small budget. – Jeff Terich
The Dillinger Escape Plan – Calculating Infinity (Relapse; 1999)
It's been nearly ten years since this goddamn album was made available to the public, which, considering I was in high school at the time, is hard for me to believe. It's furthermore unbelievable that the very same band ten years later, still active despite having only one original member in the lineup, is so popular that it charts on the Billboard 200 and makes music videos that get some play – whatever that means in the YouTube era. Now I am not so stupid as to think that such a band would never achieve respect and some popularity beyond the underground at some point, but knowing what I and many others know they have achieved this by leaving a significant chunk of the band's mystique behind. This is something that took me a while to admit. I'm all for artistic growth and exploration – my love for Cave In will attest to this – but one must admit that Dillinger hasn't really been Dillinger since their long incubation period between Calculating Infinity and Miss Machine. There are those who feel the need to push aside the post-Patton Dillinger as they remain transfixed by their debut album, and for this there is good reason. – Chris Morgan
Smog – Knock Knock (Drag City; 1999)
Since Bill Callahan began home recording in the late '80s, he had been pegged with several appropriate, but limiting tags: lo-fi sad sack, uncomfortably intimate, etc. With time and maturity, however, Callahan's own methods began to morph toward better recording fidelity, less personal lyrics, more accessible songwriting and, hey, why not a rock song or two? Knock Knock, arguably the best Smog album Callahan recorded (some would also argue Red Apple Falls and that's certainly a close contender), is Callahan at ease, more comfortable and confident, and as such, he sounds better than ever. He still does the indie folkster thing beautifully, as evident on the cello-driven "Let's Move to the Country," but he truly shines when kicking up the distortion and turning everything up. Callahan cranks up the heavy metal crunch on "No Dancing," eases into the hand-clapping grooves of "Cold Blooded Old Times," and conjures up a larger-than-life guitar hook on "Held." In that last song, Callahan sings "for the first time in my life, I let myself be held, like a big old baby," and in that instant, with all the gorgeous sonic swells swirling around his warm and bassy voice, everything seems like it's going to be okay. – Jeff Terich