Pick Your Poison: Bob Dylan vs. John Prine in the '70s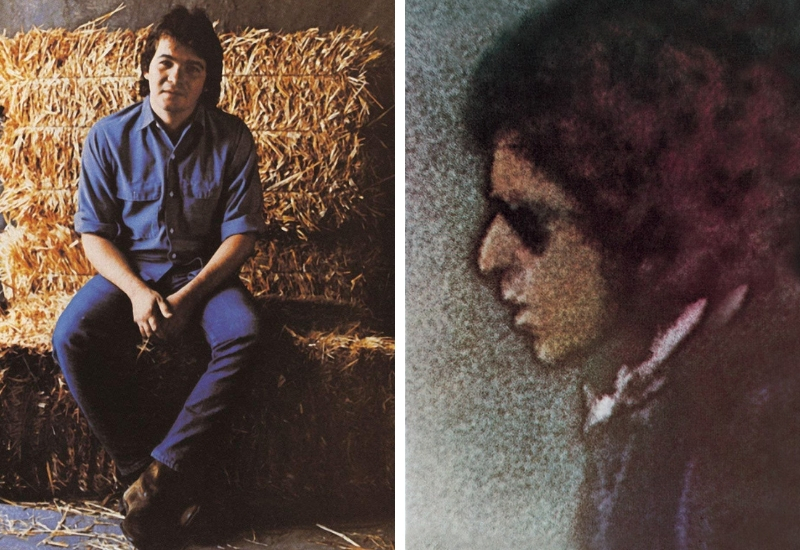 The rivalries between artists, whether literal or fan-fiction, occupy a large space between devoted fans. Comparing and contrasting, holding up careers side by side—these are habits which the most devoted fans spend far too much time on, and perhaps it is completely arbitrary and worthless. But, then again, why are you reading this in the first place? Welcome to "Pick Your Poison," a new column in which we will compare and contrast (and occasionally voice some very strong opinions on) two subjects. This could be one artist's discography, comparing eras, or two specific albums. This could be comparing break-up albums, contrasting artistic rivalries which are existent and completely unheard of. This could be two separate artists, putting their careers side by side, or particular artistic periods of the artists. It is anything and everything (so long as it consists of some faux or fathomable rivalry). Today's entry (and the first installment of Pick Your Poison) is Bob Dylan vs. John Prine. But, more specifically, Dylan's 1970s against Prine's 1970s.
***
It would be wildly unfair to attempt to compare anything to Bob Dylan's discography in the '60s. It was a renaissance for Dylan, an era yielding some of the greatest pieces of recorded music, such as Highway 61 Revisited, Blonde on Blonde and Nashville Skyline. Those three albums alone could make an entire career for an artist, but that was a mere four years for Dylan—child's play. Come the turn of the decade, with the Summer of Love a few years in the rearview, the so-called spokesman for the counterculture was at an artistic crossroads. His legacy was slowly cementing, and, in typical fashion—stubborn, cocksure, often relentless—he set out to record an album that could deconstruct his undesirable generation-spokesman title. Enter Self Portrait.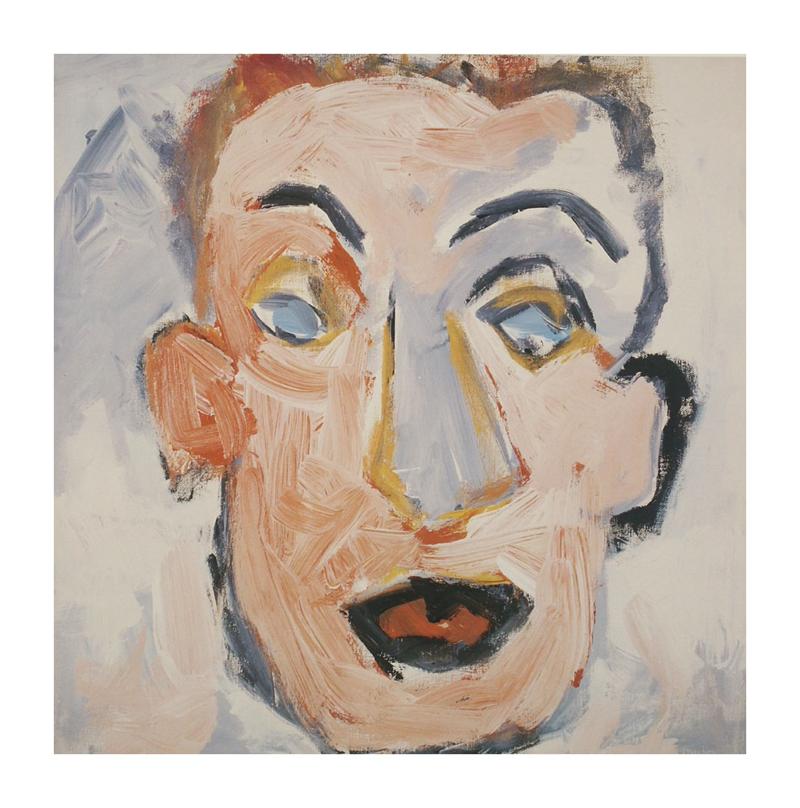 Upon release of Self Portrait, Dylan's first studio album of the '70s, famed rock critic Greil Marcus opened his Rolling Stone review of Self Portrait with four words: "What is this shit?". Timing was everything. For eight years, Dylan proved himself to be one of best songwriters on Earth—arguably the best. Dylan played off Self Portrait like a joke, a creative fluke—critics agreed. Gone were the days of flawless studio albums (for now) and in came the rugged awkwardness that Self Portrait humbly boasts. Dylan, who often covered folk standards, reappropriated quite a few on Self Portrait, such as traditional, uncredited standards "Alberta #1" and "Little Sadie"; Simon and Garfunkel's "The Boxer"; "Boudleaux Bryant's "Take Me as I Am (Or Let Me Go)." These were peculiar choices for Dylan, and it reflects the clumsy mood felt throughout, from Dylan's own watercolor self-portrait featured on the album art to the awkward, off-kilter song choices. Dylan was—perhaps subconsciously—rejecting the fame and dependency the public had placed upon him.
It may be more unfair to compare John Prine's discography in the '70s, an era where his debut wasn't even released until a year into the decade, to Dylan's '70s discography; Dylan had already become an international sensation, his name already hot off the press of American history books. Dylan had fostered a culture for Prine to thrive in. Self Portrait was initially received as a fluke—Prine's 1971 self-titled debut was not only instantly canonized, but an introduction to one of the only artists that could ever come close to rivaling Dylan.
In a recent in-depth and highly personal profile with writer Tom Piazza for The Oxford American, Prine recalled the first time he ever met Dylan:  "I was in New York…a couple of months before my first record came out…I sang 'Far From Me.' And around the second chorus, Bob starts singing along. I almost fell of my seat."
To say the moment one of the world's most beloved songwriters sings along to an—at the time—obscure and unknown folk singer's original composition was the highest compliment he receive would be a gross understatement—there was a subtle but real changing of the guard. Dylan had been listening to the original, rough mixes of John Prine for months.
This wasn't a rivalry. Prine was, in his eyes, more of a fan of Dylan's than any sort of threat. But again, this was following a critically decimated album. Prine stuck to Dylan's early-'60s methods, mixing original compositions with simple but nonetheless remarkable arrangements. John Prine nearly one-upped Dylan in the process. Whereas Dylan took an entire decade to find a sweet spot of folk, Americana and country, Prine found that exact same sweet spot in 45 minutes (which Dylan pave the way for him to do).
Though the '70s was—and I'll elaborate on this later—Dylan's most awkward decade in which he was culturally relevant (at least somewhat), it was also a time where, unlike Prine, Dylan could dish out two or three projects in a single year, each of which were vastly different in structure and production aesthetics. Take 1970's New Morning, the slight follow up to Self Portrait, for example: the bubbly production, the scatting  on "If Dogs Run Free," the intimate, lounge backdrop Dylan fostered, working with a roster of grade-A session musicians (David Bromberg, Al Kooper, Ron Cornelius). Even still, New Morning lacks substance, or, at least significant substance. Its most popular song, "If Not for You," feels plastic, as if a band set out to make a Dylan rip-off, a one-time novelty hit. In fact, most of New Morning sounds this way—forgotten B-sides found scattered in a dusty vault.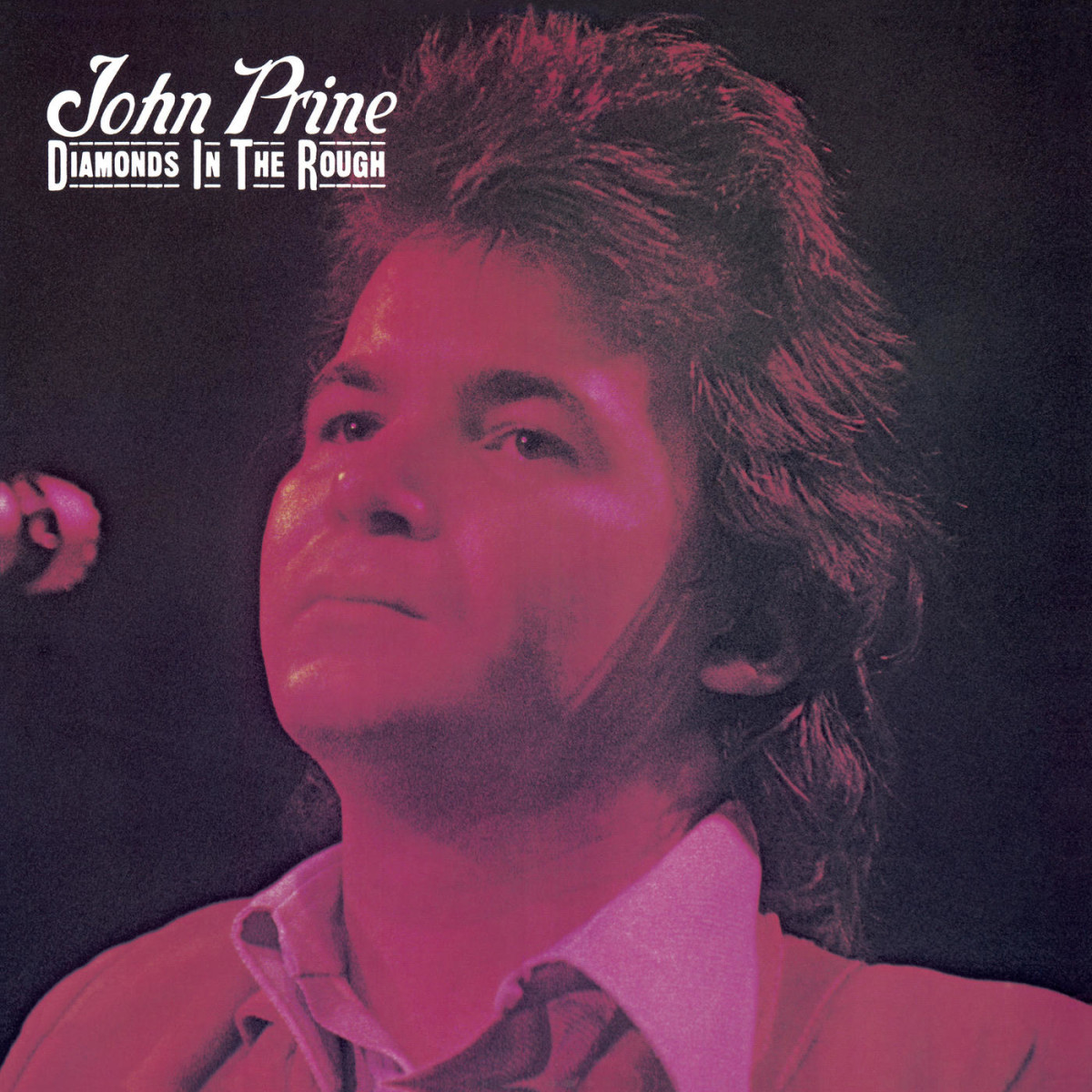 While Dylan was off noodling around with high-end studio equipment and musicians, recording soundtracks (1973's Pat Garrett and Billy the Kid), and having records released without his consent (1973's Dylan), Prine was fresh off his self-titled debut, which sold relatively well (peaking at 154 on the Billboard Pop chart). 1972's Diamonds in the Rough was a further extension of John Prine, as Prine honed down on his Appalachian-bluegrass influences while improving his songwriting, as is the case for Prine's songs— constantly and consistently improving, reshaping, and reforming.
Even on Dylan's finest work (Highway 61 Revisited, Blonde on Blonde), his songwriting was so detached from the everyday experiences of his listeners that they seem like stuffy artifacts, a looking glass within a looking glass, enigmatic in their force but entirely foreign. Prine, on the other hand, regularly improved from album to album, and his songs—even the most vivid and startling, such as "Sam Stone"—feel visceral, emotionally palpable, like the footnotes of the everyman's day-to-day experience. John Prine was for the people, and Diamonds in the Rough precisely captures that. His place in pop culture was much more down to earth. There's a glimpse of reality in each and every one of his compositions.
This is most evident on Sweet Revenge, Prine's 1973 opus, a fluid document of everyday struggle, each narrator in unusually specific positions, such as "Christmas In Prison," where its protagonist reflects on his forgotten love: "She reminds me of a chess game with someone I admire / Or a picnic in the rain after a prairie fire / Her heart is as big as this whole goddamn jail / And she's sweeter than saccharin at a drug store sale." Prine released three flawless albums in three years, a continuous stream of literary excellence and highly meditative thought.
"Dear Abby," one of Sweet Revenge's standout songs, and, one of the defining moments of Prine's observational prose, finds itself in epistolary form, recorded live at New York University (Prine later stated this was because they couldn't capture the humor in the studio quite like they could in a live setting), and it showcases Prine's humane sense of humor: "Dear Abby, dear Abby / My fountain pen leaks / My wife hollers at me and my kids are all freaks." Similarly, "Grandpa Was a Carpenter," a song dedicated to his late grandfather, Empson Schobie Prine, brings Prine's eye for detail down to earth. It places you right there, next to the man who "Voted for Eisenhower / Cause Lincoln won the war."
Dylan's first studio album after label issues, the aforementioned soundtrack, and a live album, 1974's Planet Waves finds Dylan in rootsy territory. It also highlights a strange attribute of Dylan's: he is the master of the opening track. "Blowin' In the Wind" (1963's The Freewheelin' Bob Dylan), "Like a Rolling Stone" (1965's Highway 61 Revisited), "Rainy Day Women #12 & 35" (1966's Blonde On Blonde), and "Tangled Up In Blue" (1975's Blood On the Tracks) are all among Dylan's finest opening tracks. The problem? Sometimes those are the the album's climaxes. Prine, on the other hand, built upon whatever energy he begins with. Dylan occasionally plateaued. Planet Waves hosts a handful of great songs, such as "Dirge" and "Forever Young," but the sheer volume of Dylan's work can oftentimes feel crowded and messy—Planet Waves reflects that.
Blood On the Tracks (1975), on the other hand, is the one album in Dylan's '70s discography that's absolute and immaculate. It isn't just Dylan's rare, diamond in the rough "return" from a stream of lukewarm compilations and studio albums. Blood On the Tracks is beyond that, and, as far as "break up" albums go, indisputably one of the most superlative pieces of heartbreak music. Rumors and misunderstood oral stories blur the line of fact and fiction, but the most popular, and depending on what headspace Dylan is in, true backstory of Blood On the Tracks is that the songs were conceived following marital strife with his then-wife Sara. Dylan befriended the late painter Norman Raeben, who subsequently taught Dylan how to paint—Dylan later recalled that "[Raeben] taught me how to see." The perspective offered on Blood On the Tracks indicates that claim. It is a vision, one unlike anything recorded to tape.
The usual highlights of Blood On the Tracks are considered to be "Tangled Up in Blue" and "Shelter From the Storm," incredible songs in themselves, but deeper cuts such as "Idiot Wind," "You're Gonna Make Me Lonesome When You Go," and "Meet Me In the Morning" hold together Blood On the Tracks like Gorilla Glue on a piece of fine china—rough and worn on the outside, as broken marriages often go, but it's recognized that at one point the shattered object was once something beautiful and pure. It's Dylan's conceptual piece de resistance.
Nothing is quite as storied as 1975's The Basement Tapes. And there's a good reason for such—it could be said that The Basement Tapes contributed a great deal to the lo-fi aesthetic, now inescapable in both indie and popular music; that it openly displays a strange period of avant-folk music for Dylan; that it's a historical document of Dylan's greatest artistic transition; that it's The Band's greatest work, helping Dylan recover from the infamous motorcycle accident in July of 1966, seamlessly paving the way for Americana music as a legitimate genre rather than a niche cultural phenomenon.
But does that mean that The Basement Tapes—with its stark organs, bouncy, roots grooves, its humorous and more often than not perplexing lyrics— is good? What, exactly, makes art good? Depending on who you ask, aesthetics matter just as much as the literal substance. By that loose definition, The Basement Tapes is incredible, supremely one-of-a-kind, never to be matched. But that's not exactly the case here. It consists of 24 songs, a third of which are either folk standards or The Band's originals, most of which Dylan's voice makes no appearance. Within those eight songs lies a handful of duds ("Orange Juice Blues (Blues for Breakfast)," "Bessie Smith") and some stunners ("Yazoo Street Street Scandal," "Katie's Been Gone").
The Basement Tapes is structurally verbose and compositionally excessive. Mixed with its idealistic charm of scruffy tape-hiss and its background story, that could explain exactly why it's so praised and beloved. Dylan's everyman folk stature finally gave into excess, excess being the downfall of music in the '70s and '80s. But, at the time (1966-1967), excess was foreign to popular music. It's that very approach, that first of its kind charm, that makes it "good."
John Prine wasn't quite as lucky, and, the fact that The Basement Tapes was released a decade after its recording is, in some way, cheating. Even so, The Basement Tapes barely lands in the top three albums of Dylan's '70s discography, and he had The Band to pick up his slack. John Prine didn't have these resources on hand—though if he did, he might have made a name for himself as a man of excess—but that's not the artist he was, nor the one he'd later become. There's a notable divide between the two at this particular time (1975-1976), a creative dichotomy proving Dylan as an already lauded—and most likely absurdly wealthy—musician, and Prine as the artist who, despite a steady stream of well-received albums, constantly had to prove himself, as if he was caught in Dylan's monstrous shadow.
Dylan had an excellent year in 1975—come January's end, he had released Blood on the Tracks; Prine's output wasn't quite as remarkable in 1975, which saw the release of Common Sense, a homegrown collection of Americana that used a flat interpretation of funk as its backbone. It's one of Prine's finest records, on paper. Bonnie Raitt, Jackson Browne, Glenn Frey, and Steve Goodman all make appearances; long-time Booker T and the MGs guitarist Steve Cropper produced it. But there's a slightly monotonous feel, a stale cohesiveness that swallows Common Sense entirely, regardless of whose fingers were on it. Prine's songwriting sounds as if it's stuck in quicksand, each time he tugs his feet and attempts something off the wall, he sinks deeper, like the honky-tonk-ish rockabilly on "You Can Never Tell." Even still, it's far superior to Dylan's '70s duds. Common Sense was a slight misstep in Prine's lengthy discography of mostly solid-to-great albums.
Some of Dylan's finest post-Blood On the Tracks songwriting can be found on his 1976 album, Desire. Dylan sticks to the everyman-troubadour vernacular found on his late '60s albums; that's not to say it's aged particularly well. Part of Desire's charm was that it acted as a return-to-roots for Dylan, flashier than ever, but still rooted in its predecessors' attention to lyrical detail (Guthrie-leftist politics returned in full), and its arrangements were lavish but not necessarily over the top. Put simply, it was a good Dylan album. That said, the sound of "Hurricane," though politically relevant to this day—and an unbeatable reflection of racial politicization and the justice system failing those it's supposed to defend—is rather difficult to picture in a context beyond a single-shot Dazed and Confused scene or a white nationalist gathering disguised as a political rally.
Even after Desire, which was still a stretch to canonize, Dylan's discography is a flat, empty mess, a tasteless void of nothingness and half-assed projects that somewhat resemble "folk" and more often "rock." Prine, on the other hand, released Bruised Orange in 1978, the same year Dylan farted out Street-Legal (more on that later). Bruised Orange is one of Prine's most eloquent and cohesive albums, slick but simple, polished but humble. Every song glides from start to finish, a studio album that could act as a greatest hits (only if Prine hadn't already done so with 1976's Prime Prine). There is no fucking around, no album filler, no queasy moments. Bruised Orange is 33 minutes of perfected, introspective folk simmered in a slight reduction of stunning country arrangements. The songs are conceptually grand but insular and becoming, beautiful beyond reason.
Even the opening three songs, "Fish and Whistle" into "There She Goes" into "If You Don't Want My Love," (the latter one of the most heart-wrenching songs in recorded music) are hall-of-fame worthy opening tracks, entirely unique and nearly unmatchable. The rest of Bruised Orange follows in similar footsteps. "That's the Way the World Goes Round" is some of Prine's most ornate and flat-out improbable prose: "I know a man who's got a lot to lose / A pretty nice fella, kinda confused / Got muscles in his head that've never been used / He thinks he owns half of this town / He goes out drinkin' gets a big red nose / Beats his old lady with a rubber hose." Prine is a master of subtle commentary, at times realms beyond Dylan at his finest. Is that not a wildly subjective opinion about two of the most revered and respected songwriters in American history? Yes it is. Is it far from the truth? I sure don't think so.
And now we arrive at 1978's Street-Legal, a living embodiment of human feces recorded in the inaugural period of Dylan's worst years to come. Clustered with gospel backing vocals and limp, half-raw guitar riffs, Street-Legal was going for a slacker-meets-bluesman-meets-old-version-of-himself-that-was-actually-good; it was also the point in time where, after going on a bit of a bender, Dylan came home with a woman (not his wife) and, when Sara, Dylan's then-wife came down to the kitchen in the morning, witnessing a strange female sitting at the table with her husband and their children, Dylan got up and struck her across the face, followed by an order for her to leave. The drunken behavior is, in some twisted way, understood for a musician of that much fame (not excused, just understandable)—even Neil Young drove home every night black-out drunk on tequila recording Tonight's the Night, but he was grieving the death of a friend (or two). Dylan was just an abusive asshole with an inflated ego. That personal turmoil reflects the shit-ridden innards of Street-Legal.
This was a sort of make or break moment for the two artists. In 1979, Prine released Pink Cadillac, an album that, despite its corny album art (it was very much of its time), is one of Prine's finest moments, and one of the best albums from a singer-songwriter in the late-'70s. It's a departure from the subtle and raw production of Prine's first handful of albums, but its polished Americana is an incredible exploitation of Prine's musicianship and craft. Folk purists may collapse at the idea of Prine's first "rock" record, but Pink Cadillac proved that, unlike Dylan, when Prine explored uncharted territory, he was capable of building upon that, twisting and contorting the energy—or lack thereof—on his previous albums to fit the model he had built for himself. He never stopped progressing, and that's the defining difference between the two. Dylan had his prime. Prine has always been in his prime. Dylan's complete discography, on paper, is flawless, some household names scattered in the early years. But Prine's discography is about the action—the action of musical movement, the action of progression. John Prine never lost it.
The issue at hand is, really, a matter of cultural relevance. Bob Dylan's legacy has been as commodified as Bob Marley's face in suburban headshops. Dylan was the "spokesperson" for a generation, but, was it Dylan that inspired and eventually influenced the rest, or is it the opposite? Did the literary and cultural renaissance really depend on Dylan? Of course not. Did he help stimulate such, and did he have a large hand in the process? Of course. Prine was a bit late. But when Dylan was making garbage water that passed as a "record," Prine kept his head down and improved his craft from album to album. Prine lacked the personality and image to become as revered as Dylan. Again, timing was everything. But that's no excuse for what was to and later came from Dylan.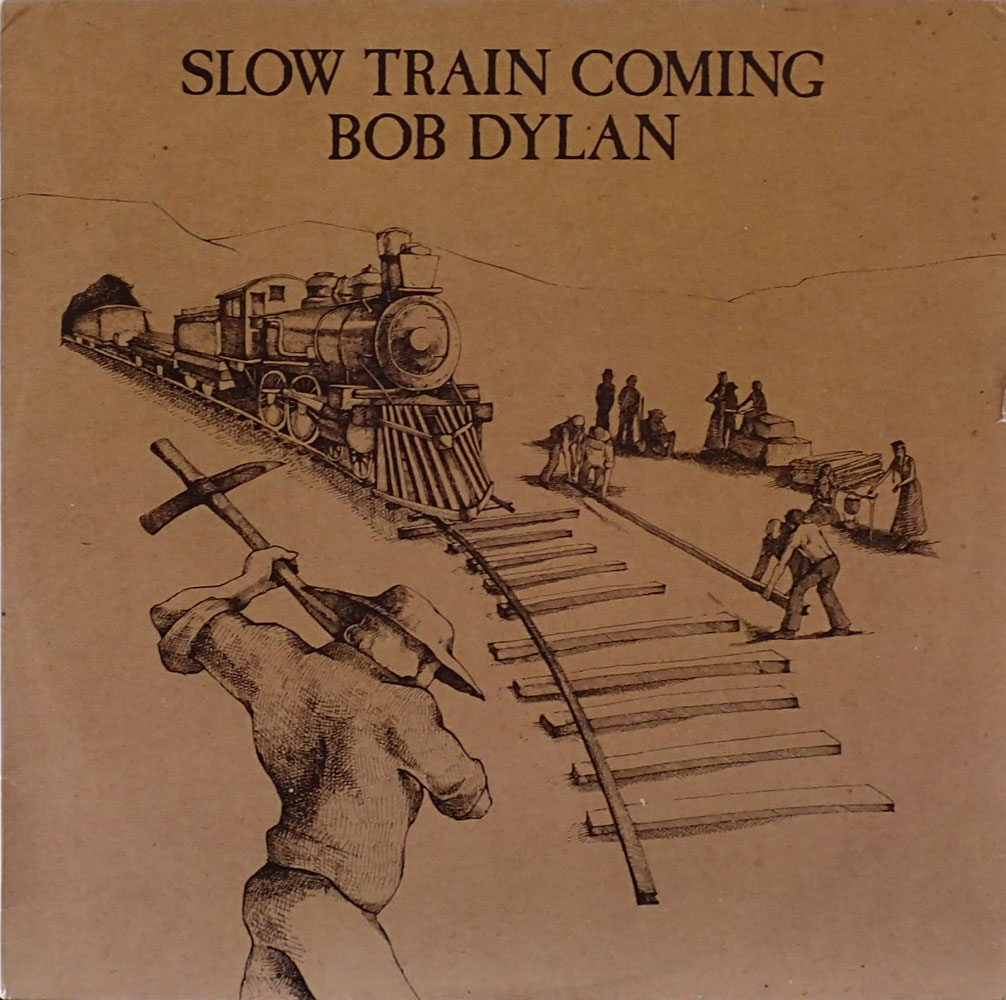 Slow Train Coming (1979), on the other hand, found Dylan skimming through a particularly unusual territory: Christianity. This overlooked conversion could have possibly stemmed from a mid-career crisis for Dylan—and the outcome was a rush of widespread theological paranoia, a blend of schmaltzy gospel-blues suffocated by overtly crisp production; this was, arguably— though some might say inarguably—a massive turning point for Dylan, not just a one-off experiment, but a trilogy of "worship" albums. The provisional representative for the anti-conformist counterculture was now offering himself to the supposed man upstairs; Dylan's newfound faith came from a vision in a Tuscon hotel room. So much for a lasting movement.
Was this a prediction of what was to come in American politics? At this particular time, Jimmy Carter was the president of the United States denouncing American's obsession with consumerism—two years later, Reaganomics, widespread Evangelicalism, and the "second" Cold War were all in full swing. Dylan followed up Slow Train Coming with 1980's Saved—perhaps the worst of the three, from it's gawdy cover art and inwards—and 1981's Shot of Love. Dylan stayed quiet for two subsequent years—within four, he'd shaken an alarming spiritual conversion and reformed to B-list heartland rock.
Prine's steaming train that was Pink Cadillac showed no signs of slowing down with the 1980 album Storm Windows and 1984's Aimless Love. Prine released The Tree of Forgiveness in April of 2018, and it holds up exceptionally well, especially under the political context for which it was released under. Dylan released Triplicate in March of 2017. Prine is still crafting gorgeous, original compositions in 2018. Dylan depends on old American standards to get a paycheck. This matchup in itself is beyond "unfair." Prine has never had the resources or the recognition he's deserved. Dylan always had those, and when it was time for him to buckle up and release something worthwhile, he decided it would be smart to devote his music to god. Prine is the living embodiment of what a true American folk singer is. Dylan has felt washed up for decades, whining and hiding from any sign of trouble. In the long run, the picture paints itself.