Plushgun : Pins and Panzers
As the driving force behind bedroom project Plushgun, Brooklynite Daniel Ingala seeks entertainment value by inhabiting another person's skin as actors once did during the golden age of teen movie dramas. With Ingala's reedy, occasionally trembling insistence that recalls John Waite circa "Missing You," Plushgun turn their debut LP Pins & Panzers into a grand referential tour through the 1970s and 1980s, when music and movies of youthful alienation and acceptance first started making significant forays into popular culture.
The obvious filmic reference in "14 Candles" and namedropping Talking Heads in "A Crush to Pass the Time" are touch points to make some listeners cry foul, having already heard the same revivalism on 2008's brilliant Saturdays=Youth from M83. Where Anthony Gonzalez and company embraced the grungy, gothic, fuzzy side of New Wave, however, the sharper production of Pins & Panzers instead shoots for the glossy synthpop side of it all.
Hidden among the chugging locomotive rhythms, sped up double-time to make Roni Size or Aphex Twin proud, are more skillful conveyances of Ingala's earnestness. Slack-key guitar is the perfect foundation for the campfire song "Let Me Kiss You Now (And I'll Fade Away)." Percolating keyboards in "Union Pool" possess lineage from Depeche Mode's dour/hopeful "Dreaming of Me" days. There's even a curious "Tubular Bells" piano figure in "The Dark in You," unfortunately overpowered by clattering drums and guitars.
The eerie thing about the music—as much eerie-creepy as it is eerie-cool—is the ease with which Ingala embraces the language and scenarios of high school despite being more than a few years removed from his first meaningful cap and gown. Watching a classmate get a new Mercedes from Daddy and counting himself among "the rebels of senior year" in songs like "How We Roll," Ingala's almost too comfortable in this John Hughes-esque skin, as if he dragged out old journals just to get his lyrical jones on.
This endearing false-teenager thing suggests Jon Cryer's masquerade in Hiding Out more than John Cusack just looking old for a teen protagonist in Say Anything. Or maybe we delve into one song's musical excuse, "I'm not obsessed, just impolite," and imagine an undercurrent of weird—Ingala's Johnny Cash-and-Beatles-quoting form of Lloyd Dobler gone quietly, pleasantly psycho, as likely to hold up a boom box for an unrequited love as to bash her head in with it.
Still, like so many outcasts from so many films gone by, Pins & Panzers is sometimes tough to love but impossible to hate. It's a one-note album from an artist who's obviously no one-trick pony, which makes that one entertaining note. Ultimately, Plushgun deserve a shot at a sequel.
Similar Albums:
Depeche Mode – Speak & Spell
M83 – Saturdays=Youth
Pendulum – In Silico
Download at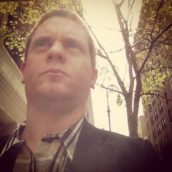 Adam Blyweiss
Adam Blyweiss is associate editor of Treble. A graphic designer and design teacher by trade, Adam has written about music since his 1990s college days and been published at MXDWN and e|i magazine. Based in Philadelphia, Adam has also DJ'd for terrestrial and streaming radio from WXPN and WKDU.