Public Enemy : It Takes a Nation of Millions to Hold Us Back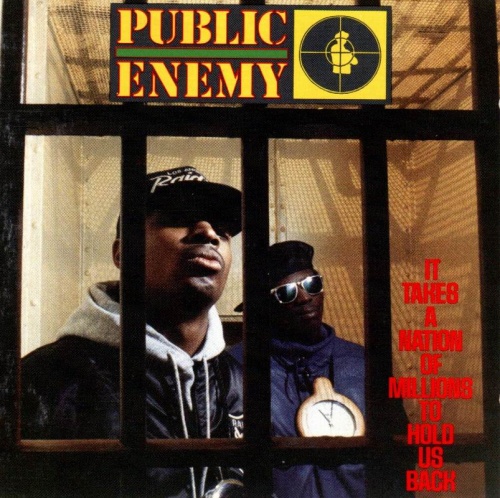 Most people who know me as a fan of singer / songwriters and quirky independent music might be surprised to know that I can nearly recite every lyric to Public Enemy's It Takes a Nation of Millions to Hold Us Back. I had embraced rap along with the rest of the world, not being able to claim that I was into Kool Herc or to have gone to any of the Brooklyn block parties (which is our generation's way of saying they went to Woodstock). It all started for me with the breakdancing craze and songs like Malcolm McLaren's "Buffalo Gals" and Newcleus' "Jam on Revenge." That gave way to Run-D.M.C. and the Beastie Boys, and their idea that rap acts could be considered rock and roll bands. The rap game flourished, and so too did the rap feud, including that of LL Cool J and Kool Moe Dee. Even with all of that behind me, I still wasn't prepared for the full frontal assault of Nation of Millions. Upon first listen, I knew that it was the best rap album that I had ever heard, and even now, it still remains so.
There's a reason why Public Enemy holds the highest spot of any rap album on Rolling Stone's Top 500 Albums of All Time list. It was unlike anything else at the time and still remains a cornerstone and revolutionary hallmark of hip-hop. The group's first album, Yo! Bum Rush the Show acted as an introduction to Chuck D's lyrical style, Terminator X's wizardry with the wax and Flavor Flav's cartoonish antics, but those rhymes about their Oldsmobiles and sophisticated bitches seemed elementary compared to the outright schooling of the follow-up. The cast was the same, Chuck D as the "Messenger of Prophecy," Flav as the "Cold Lamper," X as the "Assault Technician" and Professor Griff as the "Minister of Information" along with the Nation of Islam following dance team, the Security of the First World, or the S1W. The message was somewhat different. PE used its sheer lyrical power to educate its listeners, but knew that every message had to be balanced with entertainment value. Flavor Flav was the court jester who usually filled that role, the hype man to Chuck's political machine, but so too did Terminator X, with beats and samples taken from jazz and rock with equal flair.
The song that broke Public Enemy to a wide audience was "Bring the Noise," a song that would become a hit single for the group twice in their history, once on this album, and once later that would find them collaborating with the band to which they give a shout-out in the song, Anthrax. It's opening lines, "Bass! How low can you go / Death row, what a brother know…" shock the senses with their immediacy every time played. "Cold Lampin with Flavor" is the one song given entirely over to the hype man, and would presage the later hit for the group, "911 is a Joke," which would make Flavor a household name. "Terminator X to the Edge of Panic" had my favorite intro, the declaration of PE's DJ to the music of Queen from Flash Gordon, you know, "Flash! Ahhhhh! Savior of the universe!" The track would also be one of many that would sample from various political speeches made by the likes of Malcolm X, Louis Farrakhan, and other black leaders. PE always knew how to spice their music with the proper propaganda. I'm sure that I learned more about black history and politics from Nation than I ever did in any classroom.
The true standout track from the album, however, is "Black Steel in the Hour of Chaos." In it, Chuck narrates a story in the first person of a man who refuses the draft, is then imprisoned, and later breaks out. Chuck's even and measured tone makes it one of the songs in which he definitely wants to be understood. Every word is annunciated, every line important, the end of every verse updating the listener on the progress of the escape. It's more short story than song, more folk tale than traditional rap, finding likenesses in prison songs by Hank Williams or Johnny Cash, but with Chuck's own political spin. And one has to ponder his point, of a country that would treat him as unequal, yet would expect him to die for it. This single track took the rap song to a whole new level, paving the way for other `storytelling' rappers such as Jay-Z and Eminem. Nothing would ever pack the same punch as "Black Steel," however, nor the sheer power of an album track for track as Nation of Millions.
Public Enemy both opened my eyes to the scope of what rap and hip-hop could be, and would ruin me for everything that came after them. I could appreciate Rakim and his unbeaten flow. I could appreciate Q-Tip and Phife and their jazzy educated rhymes. I could even learn to like the Beastie Boys learning to clumsily play their own instruments in their own groovy way, but nothing would ever rise to the level of Public Enemy and Nation of Millions ever again.
Similar Albums:
Run the Jewels – Run the Jewels 2
Rage Against the Machine – Rage Against the Machine
Public Enemy – Fear of a Black Planet