Raw Poetic & Damu the Fudgemunk : Space Beyond the Solar System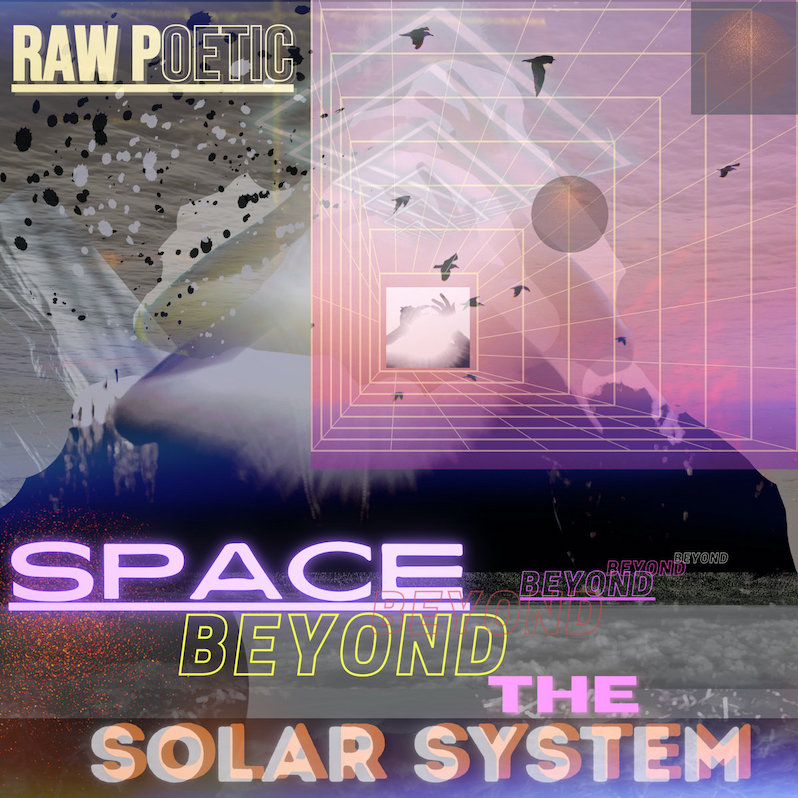 During one of the first times Raw Poetic and Damu The Fudgemunk's secular music with endless possibilities really hit me where I live, I exclaimed aloud to myself, "Oh, we're still making real hip-hop!" No offense to your drill or trap master of the day, but it has a certain worldliness. Adding soul, blues, jazz, celestial buzz, and psychedelic rock energy to the mix with the help of a trusty SP sampler. Then, on the jazz end of things, shooting all that physical media, encoded communication, through a vaulted boom-bap prism. It speaks to hip-hop heads of a certain age who, for the past decade or so, have been forced to eat at the dining table across from the bathroom, far from ringside. Not to say one is superior, different things speak to dissimilar people; it's just a separate group of talents.
Raw Poetic (a.k.a. Jason Moore) and frequent collaborator-producer Damu the Fudgemunk are as accomplished as they are wise. Both artists are humble and play multiple instrument—they've gained access to knowledge and genius in their immediate surroundings. Archie Shepp, an avant-garde jazz legend and Raw Poetic's uncle, got together with the duo for sessions that had no particular direction but became the catalyst for what would become a career-altering wave of Raw Poetic projects, five of which have been released since 2020, including that year's Ocean Bridges.
The two-plus hour, 17-song magnum opus of these sessions, Space Beyond The Solar System, capitalizes on everyone's strengths to deliver a funky questioning and eccentric compendium of hip-hop with jazz DNA, golden age '90s aesthetics, and contemporary musings on this shitposted, yet still wonderful world. These Black Men's observations float grandly throughout the megacosm. This project arose from a conversation between Raw and Damu about their creative chemistry, with Raw comparing their direction to the album's title. In a press release, Raw Poetic stated, "I think we've been exploring music beyond our limits for a few years…It's difficult to predict where we'll end up, but we're constantly pushing ourselves outside the norm."
Moore's emcee blitzkrieg stream of conscious flow—smooth talker, educator, street corner poet and observer, vocalist, and our album POV—makes a difficult task lavish. Damu, the producer, is in his damn bag. Flipping from strange Can-style prog atmospheres to lush symphonic waves where oboes and ouds wash up next to Jaco Pastorius-style bass playing—from Luke Stewart of the mighty Irreversible Entanglements—soak those sung-spoken takes on a still cruel and beautiful world, in the muted harmonics of the damned blues. Archie Shepp is officially on five tracks, but his 85-year-old spirit is guiding this ark.
"Mile In My Head", a 9-plus minute celebration of a day in the life packed with sofa-king orchestration, begins with Shepp properly skronking us in, directly to the kick-drum soul Damu programs, and Moore hops on the call, poetically guiding us through the city along with its distinct gist. After all that Pete Rock-type energy, about 5 minutes and 20 seconds in, Shepp returns, setting forth some sort of Alice Coltrane aspect, where we just listen to the oud, reflect on the passing of Pharoah Sanders this year, and let the following cut "Blank Canvas," a Raw Poetic standout, take us out. Yes, the vibes are strong with this passage, as with the entire project.
Listen, nobody has two hours these days, so take this album piece by piece until it locks, then sit back and strap in for the full mind, body experience. I'm perplexed as to why such an enigmatic album would be released at the end of the year. It should have been released sooner so that people could find it and hopefully have it make a serious run. Space Beyond The Solar System is better than good, it's essential. But, hey, the last few years have been difficult for all of us, so thank Black Jesus it was released at all.
---
Label: 22nd Century Sound
Year: 2022
---
Similar Albums:
John-Paul Shiver
John-Paul Shiver has been contributing to Treble since 2018. His work as an experienced music journalist and pop culture commentator has appeared in The Wire, 48 Hills, Resident Advisor, SF Weekly, Bandcamp Daily, PulpLab, AFROPUNK and Drowned In Sound.