Return to the Valley of Bands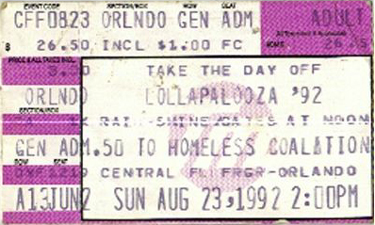 "Here's to not sweating our asses off in the Coachella Valley!"
And we clinked our glasses together, celebrating a comfortable, air-conditioned evening of Mojitos and Euchre. Treble Photo Editor Candice Eley and I, as well as our two drinking buddies of the evening, all attended last year's event to some excitement and even more inconvenience. We went, if for no other reason to see The Pixies and Radiohead, but we caught some Dios, Death Cab For Cutie, Juana Molina, a little Trail of Dead and Q and Not U, all of which were entertaining sets, but somewhat underwhelming on stages stretching further than the blocks we lived on. Take into account the unbearable heat, the cost of tickets ($80 for one day, $150 for two), the trek out to the Middle of Nowhere USA, the endless lines for buying water or taking it straight from the tap and the single file line of cars out to the freeway that stretches for miles, and you've got a long series of annoyances that can often outweigh the benefits.
So we skipped out on Coachella this year. No biggie. But there was still that nagging sense of regret inside that ached every time we would look at the line-up. Gang Of Four! Bauhaus! New Order! Bloc Party! The Arcade Fire! MIA! Wilco! Spoon! Mercury Rev! And we're supposed to just sit back and miss out on all of this? Sigh… Such a shame to have to miss out on so much good live music in one weekend. What's more, New Order, Bauhaus and Gang of Four aren't playing any other Southern California dates this summer. And being a local, I find it disappointing, nay, tragic to have to sit back and watch them all pass us by. Yet, as I look at the Coachella web site's schedule, I notice that almost all of the bands I wanted to see have conflicting time slots. If you're attending, you'll have to choose between Bauhaus, Mercury Rev and Bloc Party, Coldplay and Spoon, Wilco and Rilo Kiley, British Sea Power and Nine Inch Nails, The Arcade Fire and Gang of Four, The Fiery Furnaces and M.I.A. But hey, at least no one else that's all that spectacular is playing while New Order is!
But Coachella is just the beginning of what will be a long series of Summer Festivals. In May, the Gorge Amphitheater in George Washington will be hosting the Sasquatch Festival, a $55 fest featuring performances by Wilco, The Arcade Fire, Bloc Party, Modest Mouse, AC Newman, The Dears and Smoosh. Then in June, Bonnaroo will be taking place in Manchester, Tennessee. Previously nothing more than a giant haze of marijuana smoke and body odor, this year finds the festival hosting hipper acts like Modest Mouse, M. Ward, Iron & Wine, Secret Machines and Mouse on Mars. But Trey Anastasio will still be there and it's going to be at least $146, so why bother?
In Chicago, we have even more festivals, as for some reason, the Gods favor the Windy City over the rest of the country in terms of festivals, even allowing Treble peers Pitchforkmedia to curate their own Intonation Festival in July. Though we like to give Schreiber and his minions a good-natured ribbing here at Treble, they have a good thing going here, as ticket prices are just $10 a day and for that price you get to see The Decemberists, Out Hud, Go! Team, Andrew Bird, Death From Above 1979, The Wrens, Broken Social Scene and The Fiery Furnaces. On the other hand, there's the return of Lollapalooza, which has transformed from a touring festival to a one-weekend two-day festival set in Chicago. Tough luck, rest of the country. If you want to fly out, though, you can get tickets for $85 a day. Even more than Coachella! Hooray! Here's who you can see there: The Pixies, Dinosaur Jr., The Arcade Fire, Blonde Redhead, Walkmen, M83 and the dubious inclusions of Widespread Panic, Dashboard Confessional and Sound Tribe Sector 9.
There are also UK and Japan festivals to speak of, but there's no way in hell you're actually going to fly to Tokyo to see TV on the Radio and My Morning Jacket. So seeing all of this here, you must be thinking to yourself, "Do I dare attend any of these festivals? Do I want to spend the money? Do I want to take time off work to travel to Chicago, Tennessee, Washington or wherever else these gigantic weekend fests are taking place?" Probably not. People do, and I can understand their reasoning, but we have a better suggestion: pick and choose any of the bands playing these festivals that you want to see and check their tour schedules to see when they'll be playing near you.
Oh, you don't want to do that yourself? Fine, we'll do the work for you. Most of these festivals' highlights will be playing a number of other surrounding dates, thereby increasing your chances of seeing them on your own terms. First off, let's look at Coachella's best acts. Bauhaus, unfortunately, doesn't have any touring plans at this time. They did, however, play a warm up show at The Glass House in Pomona, CA on Apr. 28. You missed it. Sorry. But Gang of Four will be hitting up San Francisco, Portland, Seattle, Vancouver, Minneapolis, Chicago, Toronto, Boston, New York, DC and Philly between May 2 and 21, so you still have a chance to see them. Tickets are probably sold out, but what are you going to do?
New Order is playing select few dates in the US, the only ones left on the agenda being Chicago on May 3 and New York on the 5th. They're playing several UK festivals and just released a new album, so if they don't plan on coming back, they're a bunch of jerks. Coldplay will be playing in San Francisco, Chicago and Toronto this month, while Nine Inch Nails is doing an eleven-city tour in May, which includes two dates in San Diego. For once, somebody is thinking of us! Bloc Party is also touring, including two dates in Los Angeles, with a venue yet to be confirmed, but we're all over that shit regardless. M.I.A. is touring with LCD Soundsystem, which will be quite a treat, I'm sure. The Arcade Fire is doing a European tour but will return to Los Angeles in June to open for David Byrne at the Hollywood Bowl. Now that will be quite a show.
Most of the Intonation acts are touring as well, including The Decemberists, The Fiery Furnaces and The Go! Team. But if you really want to see a kick-ass show, head to Central Park in New York to see Broken Social Scene play a show with Dinosaur Jr. As for Lollapalooza's acts, well, the only act you care to see that's touring is The Pixies and they'll be making a stop in Maryland with Bloc Party opening! If I was anywhere remotely near Maryland, I'd go.
There is also the upcoming free Siren Festival in Coney Island, put on by The Village Voice in July. But as of yet, no acts have been announced. Nonetheless, it's free. And the next US edition of All Tomorrow's Parties has yet to be announced, though it has taken place later in the fall the last couple years and tends to be a much more interesting mix of bands with not as much sunstroke or parking issues. So don't feel down, you have options! Perhaps you won't get to see every band you want. And you definitely won't be able to see Bauhaus. Bummer. But we've set up a little itinerary for you if you plan to travel the country for a few months. Chances are you won't, but pretending is fun. So here:
5/3 — Chicago, Illinois – New Order
5/11 — Minneapolis, Minnesota – Gang of Four
5/15 — Los Angeles, California – LCD Soundsystem w/ M.I.A.
6/13 — Columbia, Maryland – Pixies w/ Bloc Party
6/26 — Hollywood, California – David Byrne w/ Arcade Fire
7/14 — Central Park, NY – Dinosaur Jr. w/ Broken Social Scene
7/21 — West Hollywood, California – The Go! Team
And here are some other noteworthy bands touring this summer that won't be at any of these festivals:
Trashcan Sinatras, Supersystem, Mahjongg, Caribou, Out Hud, Enon, Thunderbirds Are Now!, Mountain Goats, Built to Spill, Sufjan Stevens, …And You Will Know Us by the Trail of Dead, Mike Doughty, Earlimart, Okkervil River, Caesars, Monade, Sam Prekop, The Go-Betweens, Electrelane, Xiu Xiu and The National.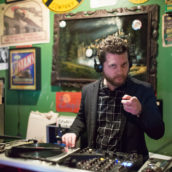 Jeff Terich
Jeff Terich is the founder and editor of Treble. He's been writing about music for 20 years and has been published at American Songwriter, Bandcamp Daily, Reverb, Spin, Stereogum, uDiscoverMusic, VinylMePlease and some others that he's forgetting right now. He's still not tired of it.