Rock 'n' roll needs Queens of the Stone Age more than ever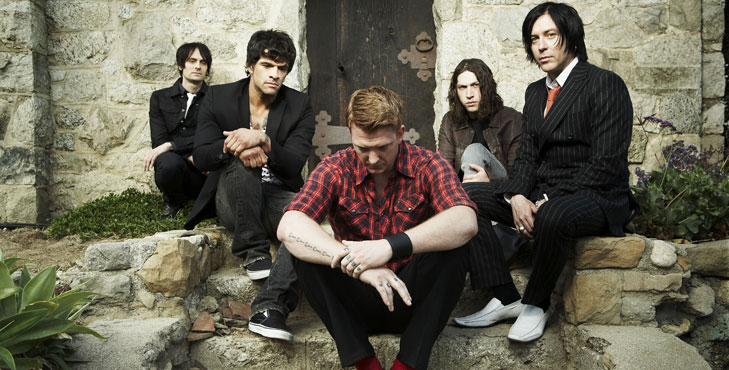 The biggest band in the world right now, if festival lineups and oft-repeated thinkpieces are any indication, is the one people are most nostalgic about at any given moment.
Depending upon which vast expanse of trampled dirt and stadium-sized stages you're heading toward later this year, there's a good chance you'll end up in front of a legacy act — Nine Inch Nails, The Cure, Guns 'n' Roses (whose name probably should be in quotes) or The Breeders, whose newly reissued Last Splash has inspired a lot of ink spillage, even in an age when everybody has too much to say about everything. And that's before even getting into the Rolling Stones' against-the-odds 50th anniversary tour and Black Sabbath's Bill Ward-less stadium cavalcade.
It's perfectly natural to gravitate toward the music that meant so much at a particular time and place, to rekindle, if only briefly, the youthful feelings inextricably tied to that very era. I, for one, didn't hesitate to catch live sets by Quicksand, not once but twice on the eve of the 20th anniversary of their classic 1993 album Slip. But even so, it's worth asking whether or not there's a contemporary band — and for that matter, current rock band — with both the commercial appeal and creativity to stand up to the lure of those who can get by on catalog and memories alone.
And no, I'm not talking about Mumford & Sons.
Generally speaking, there's nothing wrong with rock music right now, and as far as indie rock goes, it's probably never been stronger on a commercial level. A band like Vampire Weekend, for instance, can sell more than 100,000 copies of their new album Modern Vampires of the City and land at No. 1 on the album charts. (That probably says something worse about what's happening in other genres, but for Vampire Weekend, as Ron Swanson would say, "bully.") And on a creative level, there's just as much to celebrate in guitar-centric territories, be it in the furious post-punk of Savages' Silence Yourself, or the blistering party hardcore of Kvelertak's Meir.
Not everyone agrees, of course. Last month, Zachary Lipez wrote an article with the eye-grabbing headline, "Rock and Roll is so boring, it's making Kurt Vile seem interesting." Not that Lipez is necessarily saying that Kurt Vile is the problem, but rather that in order for rock music to stay interesting, it needs to stand for something. The problem, however, is that I'm not sure that it ever really did. Punk? Sure — sometimes. But rock 'n' roll? From the beginning, all it ever really stood for was youth and the pursuit of a wild time, and, particularly in the eyes of those who don't quite get it, a whole lot of danger. And if that's the case, then the standard bearer of rock music shouldn't be like Rage Against the Machine, it should be more like AC/DC (and if we're talking danger, probably the Stooges as well).
Well, I'm not sure why nobody bothered to point this out before, but that band exists, and they're called Queens of the Stone Age.
In all fairness, Queens of the Stone Age, themselves, spent a bit of time on a nostalgia kick in the past five years, having reissued both their self-titled debut and 2000's Rated R, and even performed the former in full a few times in 2011. Likewise, the band's upcoming album …Like Clockwork is their first since 2007's Era Vulgaris, and for a while there, it probably looked a lot like the group was heading toward a hiatus, so if anyone forgot about them while asking Dave Grohl for all the answers, that's why (and he drums for them a lot — he probably could have told you). Yet, for a band whose lineup is essentially fluid, revolving around frontman and central songwriter Josh Homme, Queens of the Stone Age can, essentially, never break up, so long as Homme is still interested in continuing to tour and record.
Like essentially every other Queens album before it, …Like Clockwork features a revolving cast of guests and ensemble musicians, which includes Grohl, Trent Reznor, Arctic Monkeys' Alex Turner, frequent collaborator Mark Lanegan and Sir Elton John. Yet, for how many headlining names show up, it's still very much Homme's show, and half the time, those guests are hardly even detectable. Some critics, like Stereogum's Michael Nelson, see this as a waste of good talent. Yet this is par for the course for the Queens, who have never operated as a firm, unbreakable unit of four or five musicians, but inevitably come across with a singular vision, one that generally sticks to the basic premise of writing tightly wound pop songs, ratcheting up the volume and stacking some kickass riffs on top. And that's pretty much exactly the case with …Like Clockwork.
The songs, of course, are the important thing, rather than the guest list, and celebrity, volume and expensive equipment don't matter a lick if you haven't got the chops to make 'em worth a damn. Queens of the Stone Age have always packed their tunes with heavy metal riffs, but if anything, they're Sabbath bubblegum, a pitch-perfect pop group that just happens to rock really, really hard. Much of the band's new album keeps up that muscular pop sound on dark disco groovers like "If I Had a Tail" or the ominous lurch of "Keep Your Eyes Peeled," yet there's no getting around the fact that this desert-born riff factory can still craft lightning better than most. "My God Is the Sun," for one, blends stoner rock heaviness with a fiery flamenco stomp. And "I Appear Missing" is an epic, gothic dirge, which only deepens an already cool set of tunes. Yet the five albums that precede it haven't lost any of their shine, either. I'll be damned if Songs for the Deaf ever gets old.
Homme & Co. write excellent songs, certainly, though they can certainly command a huge-ass audience on the strength of their thunderous riffs — just check their performance of "My God Is the Sun" from Lollapalooza Brazil earlier this year and see about 100,000 fans and onlookers looking mighty stoked. Not to mention Josh Homme's jerk-ass-older-brother-in-an-'80s-comedy stage banter. And at a recent live debut of …Like Clockwork material at The Wiltern in L.A. (streamed by NPR), the band performed in front of screens with rotating images and animation from artist Boneface, whose art adorns the album cover, as well as the short film that debuted recently, featuring five tracks from the album. And this marks one of the most important aspects of Queens of the Stone Age's vitality — they seem to actively give a shit about entertaining.
None of this is to say that …Like Clockwork is the best album of the year, nor even the best Queens of the Stone Age album. It's, pretty simply, a fun rock 'n' roll record. And as far as the mainstream goes, that's a too-rare commodity. The presence of Queens of the Stone Age is absolutely necessary in a time like this. When everyone else is too earnest, too introspective, too quiet, or just too old, it's good to know there's a band out there whose first priority is kicking ass.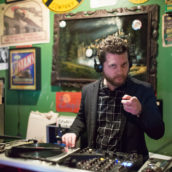 Jeff Terich
Jeff Terich is the founder and editor of Treble. He's been writing about music for 20 years and has been published at American Songwriter, Bandcamp Daily, Reverb, Spin, Stereogum, uDiscoverMusic, VinylMePlease and some others that he's forgetting right now. He's still not tired of it.