A Beginner's Guide to the kaleidoscopic music of Stereolab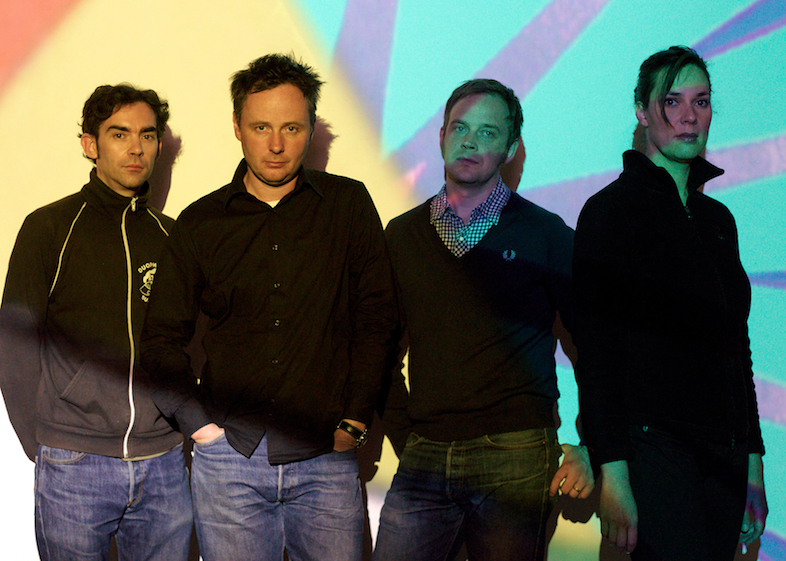 John McEntire of Tortoise once said that Tim Gane possessed a "totally encyclopedic knowledge of everything—and that is not exaggeration at all." This is an important fact to remember when diving into the voluminous, eclectic and seemingly overwhelming catalog of Stereolab. The UK-based band, formed in 1990 from ex-McCarthy members Tim Gane and Laetitia Sadier, could be accurately described as the product of their influences without being dismissive of backhanded; when your record, art and film collections go as deep as theirs do, it's nearly impossible to create something that's simply "derivative."
Put a different way, Stereolab listened to a lot of the same records as every other band in the early '90s—The Velvet Underground, Suicide, Can, Neu!, Silver Apples, The Beach Boys—but their interest wasn't in recreating those sounds. Their name, particularly in the stretch of records in the second half of the '90s, takes on an almost literal significance; to Stereolab, the studio was a venue for experimentation and discovery, each track a balance of sonic compounds and fluid integration of seemingly disparate parts. That they later named an album Chemical Chords only further winks at this idea of the band as lab-coated DIYers intently focused on finding the proper formula for musical euphoria, delivered with playfulness, vision and, more often than not, a dose of Marxist/Socialist theory. They made revolution sound like a blast, but they did so coming from a similar background as their own listeners. That they turned a pure and unquenchable thirst for music and art into something so kaleidoscopic and boundless is what makes their music incredible.
Throughout their career, Stereolab released 11 studio albums, nearly two-dozen EPs, plus a handful of compilations, an art installation soundtrack and various other wide-release and rare recordings. They're an indie record collector's dream—I can speak from experience, having spent a good chunk of the '90s tracking down various singles and EPs for the sake of having access to their b-sides, which were often as strong as their album cuts. But they're also a band whose discography can seem somewhat intimidating for those who haven't yet had the pleasure of experiencing the "groop" (and that's another thing—they have their own stylization and lingo that this article doesn't get into, but you'll pick it up easily). With three of the band's classic albums being reissued next month and a North American reunion tour taking place this fall, now is the time to do it right and offer up a beginner's guide to the band's music, starting with five of the best Stereolab albums and onto the next steps.
---
Emperor Tomato Ketchup
(1996; Elektra)
The critical consensus has long held that Emperor Tomato Ketchup is Stereolab's finest moment. And while I'm loath to uphold conventional wisdom as indisputable fact, this is one of those rare cases in which it's absolutely correct. On paper, every idea on Emperor Tomato Ketchup existed somewhere in Stereolab's catalog—the gorgeous French orch-pop of "Cybele's Reverie" had a bubblier predecessor in "Lo Boob Oscillator," the psycho-ear-candy of the band's early noise pop singles achieves hi-fi hit-single potential on "The Noise of Carpet." And by and large the album is still a patchwork of pop cultural and political influences that the band wore proudly—title borrowed from a Japanese film, lyrics referencing Marxist theory, an album cover patterned after a Bartók performance recording. In practice, Emperor Tomato Ketchup felt like a pretty significant leveling up. This is kaleidoscopic pop that twists and turns and grooves and shimmies its way toward the infinite. This is a big album with big ideas, overstuffed with elements that work in harmony and counterpoint, but never in opposition. "Metronomic Underground" lurches forth in its motorik rhythm as a being that emerges from the primordial soup, but near the end of its eight minutes, emits a cosmic and godlike chorus of organs and keyboards, all building up stormy and tense drones that consume the entirety of its landscape. "Percolator" initially feels like a curious and quirky bit of synthplay, but it too takes an anxious journey toward one of the band's most magnificent climaxes. And the title track is Stereolab at their funkiest. Kind of. There are essays to be written about this album that might better get toward what it's about, but the truth is that you'll really only understand that with 60 minutes to spare and a good set of headphones.
---
Dots and Loops
(1997; Elektra)
If Emperor Tomato Ketchup is Stereolab's most cohesive collection of songs and overall strongest moment as a band, its follow-up, 1997's Dots and Loops, is their most impressive production. Everything feels bigger, brighter, more lush and luxurious. I recently heard the single "Miss Modular" while drinking cocktails in the lounge at Palm Springs midcentury resort The Parker and it felt perfectly placed—a soundtrack for impossibly stylish cool. Yet there's more than big-budget takes on bossa nova and exotica throughout Dots and Loops. It's Stereolab dialed to their most saturated, the album sounding pretty expensive when you get down to it—and that includes personnel numbering in the dozens. String sections, horn sections, members of Tortoise, The High Llamas and Mouse on Mars are all part of the widescreen studio experiment. And it is very much a studio experiment; certain tracks, like the four-part, 17-minute side-long centerpiece "Refractions in the Plastic Pulse" have never been attempted live. But what's here is mostly gorgeously orchestrated, stunningly layered and innovative art-pop, whether in the form of planetarium jungle-jazz in "Parsec," brassy glitch-funk in "Ticker Tape of the Unconscious," or the breathtaking exotic waltz of "The Flower Called Nowhere."
---
Mars Audiac Quintet
(1994; Elektra)
On their earliest records, Stereolab alluded, nodded and touched upon various entry points of note in the hipster vinyl canon—Krautrock, droning noise-rock, '60s French pop, lounge/exotica and slowcore—though they might have most accurately been called Neu!gaze. But Mars Audiac Quintet is the album on which those disparate yet complementary elements congealed into a more cohesive and maximalist whole, not so much changing their formula as giving it room to breathe. In other words, it's the album on which Stereolab became the Stereolab we now know today. Or at least a somewhat pure form of it. Stereolab, of course, kept evolving, reshaping the textural elements in their sound, redefining what it meant to be this curious, eclectic, politically radical and decidedly outside-the-mainstream band—one with a major label contract at that! But it's easy to hear what made the band so exciting in the '90s, as they were beginning to advance their creativity into something that both embraced and discarded pop sensibilities in an unpredictable swirl of sound. Mars Audiac Quintet is essentially one highlight after another—the infectious drone-pop of "Wow and Flutter," the Canned Heat buzz-and-groove of "Transona Five," the space age yé-yé of "Des étoiles électroniques," the anti-capitalist/anti-imperialist lounge pop of "Ping Pong," amusingly misinterpreted back around the 2008 election by Meghan McCain. Everything that made Stereolab special can be heard on Mars Audiac Quintet, and it's in ample, unpredictable supply.
---
Cobra and Phases Group Play Voltage in the Milky Night
(1999; Elektra)
Cobra and Phases Group Play Voltage in the Milky Night is a peculiar place to start with Stereolab, not the least significant reason being that its title is a mouthful. That doesn't mean it doesn't warrant being early in the queue, however. In fact, it's by far one of the band's most ecstatic and vibrant pieces, an overstuffed realization of the band's creative potential firing in every possible direction. In just a half-decade, Stereolab progressed from a more minimalist drone-pop approach to one immersed in everything from Os Mutantes' Tropicália to the Beach Boys' orchestral pop, and from Steve Reich's Music for 18 Musicians to Jobim and Esquivel. It's the space-age bachelor pad music the band made kitschy reference to early on in their career, only this time they took full advantage of their resources in order to pursue a bigger-budget, imaginative ideal. They're at turns jazzy ("Phases"), rhythmically intricate ("The Free Design"), dreamy ("Infinity Girl"), abstract and sprawling ("Blue Milk"), even psychedelically groovy ("Op Hop Detonation"). If the side effect of throwing so many ideas at the wall means Cobra and Phases is slightly less cohesive than its predecessors, it's a small sacrifice for the sake of showing the full expanse of everything this band can do.
---
Transient Random-Noise Bursts With Announcements
(1993; Elektra)
Two crucial things happened for Stereolab in the years between their debut album Peng! and its follow-up. One, the band signed to major label Elektra, thus giving them a larger platform and wider resources in which to cultivate their hypnotic art-rock. The other was an expansion of the band's lineup, bringing on board Mary Hansen, whose extra vocal layer helped to characterize the band's sound, lending a more playful counterpoint to Laetitia Sadier's stoically tuneful leads up until Hansen's untimely passing in 2002. The result is a bigger, noisier, weirder album than its predecessor—and arguably one of the strangest major label albums of all time. Transient Random-Noise Bursts With Announcements is a dynamic and ecstatic set of indie rock that's, to use the band's own phrase, "super-electric." An ever-present Farfisa keyboard drone looms large in most of these songs, including the single, "Jenny Ondioline," which appears on the album in 18-minute form (its final 9 minutes comprise the b-side of Nurse With Wound collaboration Crumb Duck). That Stereolab are the sort of band to choose the album's longest, arguably least comprehensible track as its "single" (it has a video and everything!) only goes to show just how outside the mainstream the band were thinking, regardless of whether or not a Warner subsidiary was providing money to develop their brand. Funny thing, though—as often as Transient presents pop songs in the form of minimalist noise-pop pieces, it's surprisingly accessible. "Our Trinitone Blast" rides a wave of tension toward stunning climax, "Analogue Rock" climbs toward a raucous finale, and standout "Crest" features an upbeat jangle-pop backing behind a revolutionary chant: "If there's been a way to build it, there'll be a way to destroy it—Things are not all that out of control." A mantra worth repeating 26 years later, when there are seemingly more reasons to panic than ever.
---
Also Recommended: Stereolab's catalog looks considerably less intimidating if you only examine their 11 studio albums and occasional EPs such as The Groop Played "Space Age Batchelor Pad Music" and Instant O in the Universe. But they've got an incredible amount of singles and EPs that were only pressed in more limited quantities, which makes compilations like 1995's Refried Ectoplasm and 1998's Aluminum Tunes all the more necessary. The former features some of the best singles the band ever released, such as the stunning, shoegazey "French Disko" and the hard-driving Jesus and Mary Chain-style "John Cage Bubblegum." The latter is a larger selection of songs covering a period of greater evolution for Stereolab, which means a more fragmented and arguably less cohesive set of songs, but a bolder set of experiments, ranging from the gorgeously lush tracks from their Music from the Amorphous Body Study Center art installation to a Jobim cover with jazz flautist Herbie Mann to remixes of tracks from Dots and Loops.
---
Advanced Listening: This is the part where I tell you that any Stereolab release is worth picking up—and that's true. Even their minor, barely acknowledged releases include something wonderful to hear. (And if you want to go really deep, seek out some of the non-album singles like "Fluorescences," as featured on Oscillons from the Anti-Sun.) But before Pokemon-ing every Duophonic UHF disk, listen to debut album Peng! and its follow-up EP The Groop Played "Space Age Batchelor Pad Music" to better understand where they started, how far they've come, and just how good their ideas were from the start.
---
Support our Site—Subscribe to Our Patreon: Become one of our monthly patrons and help support an independent media resource while gaining access to exclusive content, shirts, playlists, mixtapes and more.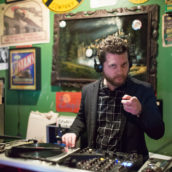 Jeff Terich
Jeff Terich is the founder and editor of Treble. He's been writing about music for 20 years and has been published at American Songwriter, Bandcamp Daily, Reverb, Spin, Stereogum, uDiscoverMusic, VinylMePlease and some others that he's forgetting right now. He's still not tired of it.