Sturgill Simpson : The Ballad of Dood & Juanita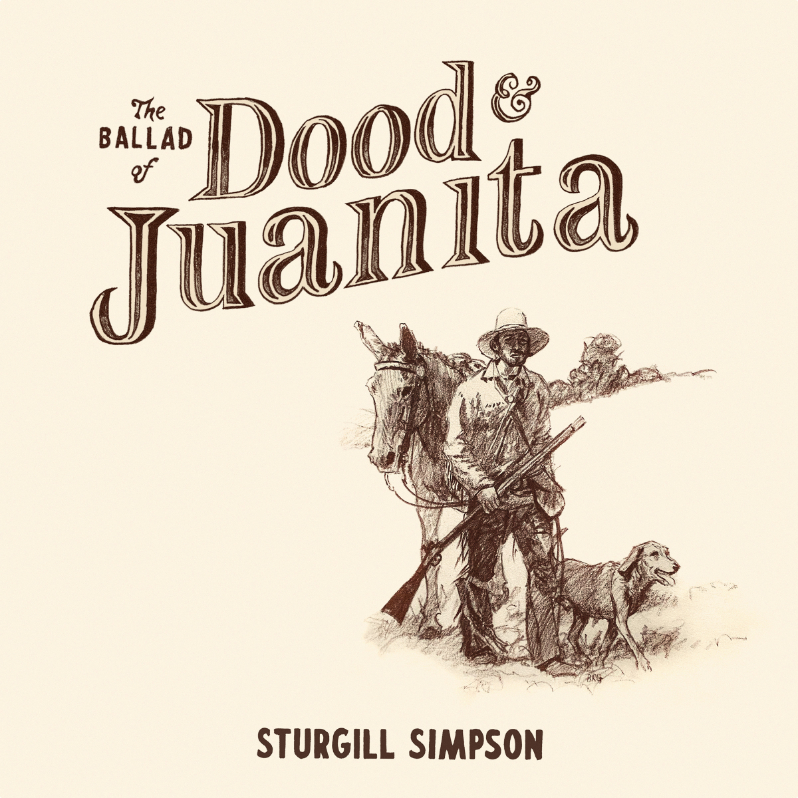 So The Ballad of Dood & Juanita is the end of a five-album arc, and quite possibly the last Sturgill Simpson solo album ever. What are we to make of this? Years ago, Simpson claimed in a since-deleted Instagram post on a since-deleted Instagram account that his discography—minus last year's two Cuttin' Grass records—is part of a "character-based performance art piece in the form of five sequential concept albums all following the traditional narrative of the journey of the human soul and inspired entirely by a Kris Kristofferson chorus I heard one day while stoned out of my mind when I was 33 years old."
It's hard to tell how seriously to take him on the mystical side—some people take it very seriously, and not altogether unconvincingly—but he at least seems to be committed to the five-album limit, telling Rolling Stone he might do "just singles from here on out" or form a band that's "truly democratic in terms of creativity." And hell, his acting career appears to be taking off. Dude's got options.
In any case, Dood & Juanita appears to mark the end of something for Simpson, up to and quite possibly including his entire career. That's a lot of weight for an album to bear, so it's a good thing the 28-minute Dood & Junaita appears blissfully unaware of its responsibility, focusing instead on weaving a simple, familiar plot. According to the five-album paradigm Simpson's laid out, this album is about "returning to the light" and "absolution," Joseph Campbell-style. Lyrically, that checks out. The half-Shawnee Dood, named after Simpson's grandfather but born close to a century earlier, is a mythically violent man—"harder than the nails hammered Jesus' hands"—as likely to scalp an enemy as shoot them. Falling in love with Juanita (named after Simpson's grandmother) helps him to "calm down the rage"—but when she's kidnapped, the rage comes back, and ol' Dood sets off on a grueling path of vengeance.
The obvious touchstone here is Willie Nelson's 1975 album Red Headed Stranger, a gorgeous, stripped-down concept album about a man driven violently "wild" by his wife's unfaithfulness and later redeemed by new love. But while that record used its narrative as a structure over which to drape covers of loosely thematic older songs—some contemporary, some from the 19th century—Dood & Juanita's entirely original compositions all hew pretty close to the plot. It's tough to imagine any of these songs divorced from the album's context—unlike Stranger's self-contained "Blue Eyes Crying in the Rain," for instance. (It's worth mentioning that Willie shows up for a quick guitar solo on the Spanish-tinged "Juanita.")
But even without the bricolage of Red Headed Stranger, Dood & Juanita functions as pastiche. The prologue and epilogue tracks are clearly designed to emulate Civil War marching tunes, while tracks like "Shamrock" have the sort of sing-song narrativizing reminiscent of Johnny Horton. Bluegrass is maybe the heaviest influence here—the Hillbilly Avengers, his backing band for Cuttin' Grass, are back, adding to the Scruggs-y, old-Kentucky atmosphere. If the production wasn't so crisp, it's not hard to imagine hearing some of these songs through the crackling tape of an old field recording taken from a jam on someone's porch.
And hasn't that sort of pastiche exemplified the Sturgill Simpson project, after all? If Dood & Juanita seems like a belated entry into a narrative country genre that's been dormant for decades, isn't that true of Sound & Fury, which often plays like an anime-influenced, Molly Hatchet-style southern rock record? Or of the Muscle Shoals-indebted Sailor's Guide to Earth? Simpson's journey of the human soul makes stops at different eras and genre offshoots like radio stations of the cross—but he isn't really doing impersonal country archaeology, either. Something feels close to the bone about each of these records. A Sailor's Guide to Earth was addressed to future generations, tenderly embodied by Simpson's firstborn, and the anachronisms of Dood & Juanita are a sort of genealogical probe, an attempt to understand or channel a previous generation of Appalachian music to a (probably largely unreceptive) modern country audience. In that way, like the rest of Simpson's career, this record feels defiant on a conceptual level.
I'm sure there's more to decode here. Maybe the right Kris Kristofferson chorus would be the Rosetta Stone that blows this whole thing open. Maybe we should turn to the Gnostic Gospels. Maybe we should smoke the right strain of weed. In any case, it's remarkable that Simpson's been able to imbue such an unpretentious bluegrass record with so many potential lenses for interpretation. You can read it as elevated spiritual allegory, or as a much more earthly, postmodern meta-text. Or, if you like, you can just take it at face value and go on a 28-minute journey of rescue and revenge through the Kentucky wilderness.
---
Label: High Top Mountain
Year: 2021
---
Similar Albums: