Subtle : For Hero: For Fool
"Subtle" and "major label debut" are two phrases that I never thought would ever be used in conjunction. Admittedly, Astralwerks has consistently taken on adventurous and innovative artists in the past—they were, after all, the label that brought electronica into mainstream consciousness. Subtle, though, they're an unusual bunch to say the least. Being part of the Anticon family, whose unifying quality is one more of pushing boundaries than of adhering to one type of sound, they're not the sort of band that takes to easy courtship with commercial radio or hit singles. That said, they're far from inaccessible, and with For Hero: For Fool, have potentially crafted their first true hit, the bizarrely infectious "The Mercury Craze."
Jumping from the subtler (zing!) surrealism of A New White, the Bay Area collective allows their newly studio enhanced sound to swell and expand, burst and explode through the speakers. For Hero is a big step forward, not only in production, but in overall presentation. This is the record that they always had the promise to make, and with the proper resources this time around, have finally realized. The surrealism, somehow, becomes more confusing. The genre-blending becomes even more of an unsettling blur. This music, while at times catchy, and still quite melodic, isn't meant to bring comfort or ease.
The opening riff of "A Tale of Apes I" even sounds like a siren, allowing a warning to reverberate over the scorched, funhouse-like landscape which Subtle inhabits. This world is somewhere between Kafka and David Lynch, an unsettling, stunning and absurdist world where "the air this here ape's in charge of has now grown doubly thick" and "you're peeking through the barred and blackened end of a once and former window." Something clearly isn't right, but when the music is this danceable, it's hard not to be captivated by such momentous beats and hypnotic melodies. By comparison, "A Tale of Apes II" is somewhat more schizophrenic, beginning with serene ambience and disintegrating into static-ridden beats.
"Middleclass Stomp" transitions toward a harder rocking, guitar based sound, almost TV on the Radio-sounding, while Doseone spits the absurd threat, "the fate of your life may very well be determined by how good you look in white." More siren sounds blare on "Middleclass Kill," transitioning into the relatively straightforward hip-hop of "Midas Gutz," a nightmarish second person narrative where "you and ten other guys slit smiles across your then perfectly sturdy stomachs" and the strongman entrails contest is judged by Charles Bronson's gay and angry only daughter, Ice Cube back when he was hard, and a picture of Joe Namath's kneecaps. Of course, Vice magazine is on hand to serve up roast pig and "most happening blood."
That big hit, that major dancefloor banger "The Mercury Craze" is far more exciting than anything else in hip-hop this year, and this comes as no surprise in a genre with such a conservative ethic. Subtle commits to no genre for longer than a few minutes, and during these five, they take Outkast and Gnarls Barkley to task, swapping Mideast crisis and mental illness for a disturbing account of the rich and privileged seeking rare blood. Were it not so danceable and packed with new wave funk sounds, it would be the most frightening single of the year.
Nightmarish visions of nurses, fruit on Corinthian columns and severed women's legs create the atmosphere for "Bed to the Bills," which could be inspired in part by the bus accident last year that rendered member Dax Pierson paralyzed. Doseone shoots rapid-fire verse about villain-on-stilts Angry Dream George on "Return of the Vein," which takes on IDM hip-hop sounds, acoustic guitar trickling above glitchy beats. By the time the light comes through the newly unlocked door at the end of psychedelic epic waltz "Ends," it's a wonder you're alive at the end of this tripped-out sci-fi hip-hop opus. It's an unsettling journey, and a dance-tastic night terror, one that should, at one's own risk, be experienced again and again.
Similar Albums:
Themselves – The No Music
cLOUDDEAD – Ten
Hood – Outside Closer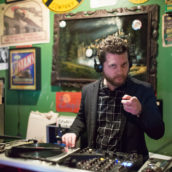 Jeff Terich
Jeff Terich is the founder and editor of Treble. He's been writing about music for 20 years and has been published at American Songwriter, Bandcamp Daily, Reverb, Spin, Stereogum, uDiscoverMusic, VinylMePlease and some others that he's forgetting right now. He's still not tired of it.