Founded by members of dance-punk pranksters Les Savy Fav, one of the most fun bands in the land, Frenchkiss Records' roster is stacked with some of the most ecstatic, pleasure zone-provoking artists in America. It was on Frenchkiss where The Hold Steady got their start. And more recently, it's been home to synth-pop heroes Passion Pit, the reggae-influenced Sean Bones and The Dodos, who currently score a beer commercial. So it's easy to be caught off guard by The Antlers' Hospice. It's not a light-hearted listen. In fact, it's one of the most emotionally heavy albums I've heard in some time, miles removed from anything resembling a party record. And yet, it's also one of the best things Frenchkiss has ever released.
Written by frontman Peter Silberman while holed up in his New York apartment in wintertime (and based on some semi-autobiographical events), Hospice is an album that doesn't merely tug at heartstrings, it holds on tight, threatening to snap them by the end of the album's 52-minute duration. As the title hints, as does the drawing of a hand wrapped in a hospital bracelet on the cover, Hospice is an album that deals with the motions and emotions of taking care of someone in their last weeks on earth. That alone would probably be enough to make this a heart-wrenching listen, but the complex relationship between the caretaker and patient serves to churn even more complex emotions deep within the pit of the listener's stomach.
Heavy as the themes on Hospice may be, they're wrapped in jaw-droppingly beautiful sounds, and melodies so powerful that there's catharsis even at its darkest spots. And like Arcade Fire's Funeral or Neutral Milk Hotel's In the Aeroplane Over The Sea, there are just as many moments of joy and sweetness as there are devastating ones. On previous releases, Silberman was the sole member of The Antlers, but with Hospice, the group has officially expanded to a three-piece band with the addition of drummer Michael Lerner and multi-instrumentalist Darby Cicci. Even with the modest expansion, however, the album sounds more like the work of a ten-piece band than a trio. Though The Antlers do well at haunting, stripped-down arrangements, much of the album finds them opting for the slow build, each song unfolding with a tempered grace, like a more pop-friendly version of Sigur Ros or Explosions in the Sky. When the band reaches an intense climax, as in the latter half of "Sylvia," the song explodes with an intense rush of distortion, horns and percussion, providing a devastating sonic wave for Silberman's high, emotive vocals to soar on.
Across ten magnificent tracks, Silberman tells a vivid and moving story, as clever and playful with his words as he is evocative and aching. On "Kettering," the first song on the album to feature his vocals, he whispers "I didn't believe them when they said you were a hurricane thundercloud," as a soft progression of piano chords rolls underneath, only to transform into a fuzzy shoegazer march after he utters the simultaneously hopeful and devastating declaration, "I didn't believe them when they told me there was no saving you." On "Sylvia," an epic, Arcade Fire-like anthem, Silberman finds an awkward sympathy between his subjects (one of which may or may not be Sylvia Plath, in this case), mightily yelping "Go back to screaming and cursing, and finding out how everyone betrayed you." It's more invigorating than inspirational, but the rush of guitar effects and horns takes the song in an unexpectedly celebratory turn.
The high points on Hospice are stunning and frequent. Just about every song is a highlight, thanks to the consistent level of gorgeous intricacy within each track. "Bear" is one of the album's shorter songs, falling just short of four minutes, and easily one of its most amazing peaks. It opens with a "Twinkle, Twinkle Little Star" riff played on what sounds like a celesta, but escalates into a mesmerizing chorus, in which Silberman sings "we're too old/ we're not old at all." On the slow-burning epic "Atrophy," Silberman declares "I'd happily take all those bullets inside you and put those bullets inside of myself" before the song's quiet majesty descends into noise and disorienting effects. "Two" is one of the catchiest tracks here, simpler and more upbeat than many of the post-rock leaning tracks throughout the album, but its simplicity and directness make it that much more affecting.
Hospice closes with "Epilogue," an acoustic reprisal of "Bear" that serves not just as a closer, but as an elegy. By the time Silberman sings "You return to me at night/ Just when I think I may have fallen asleep/ Your face is up against mine, and I'm too terrified to speak," you may very well have to take a minute to compose yourself. But even when the subject matter gets a bit too heavy, the band's melodies are so gorgeous and the arrangements so soaring and powerful that playing them over and over again is inevitable. Getting lost within the sweeping sounds of Hospice, and their crescendos and choruses and codas and build-ups, is awe-inspiring enough on its own. Yet that it's such an evocative and personal statement of tragedy and endurance just serves to make it even harder to pick your jaw up from off the floor.
Similar Albums:
Arcade Fire – Funeral
Sigur Ros – Ágætis Byrjun
Broken Social Scene – You Forgot It In People
MP3: "Bear"
Download at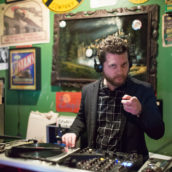 Jeff Terich
Jeff Terich is the founder and editor of Treble. He's been writing about music for 20 years and has been published at American Songwriter, Bandcamp Daily, Reverb, Spin, Stereogum, uDiscoverMusic, VinylMePlease and some others that he's forgetting right now. He's still not tired of it.