The Apples in Stereo : New Magnetic Wonder
I never knew I missed The Apples in Stereo so much. Looking back, it's hard to believe that it's been four and a half years since the group's last record, the raw, garage-y Velocity of Sound. And somehow, in that time, the world changed; more importantly, the world of Elephant 6, the collective that the Apples's own Robert Schneider played a major part in launching. The logo disappeared from the jackets of the albums released by the many varied bands in the collective. Beulah broke up. Olivia Tremor Control splintered into other offshoots. Of Montreal went in a completely different and odd direction entirely. And Neutral Milk Hotel just seems like a weird, beautiful dream this long after the fact. Elephant 6, as far as most were concerned, no longer existed. Something ephemeral and intangible, its nature was difficult to put a finger on in the first place. There were still artists making lo-fi psychedelic pop, but not in the same joyful and giddy way that the Apples did.
In 2007, the logo that adorned so many of the best releases of the '90s has re-appeared on the most appropriate of surfaces, The Apples in Stereo's new album, New Magnetic Wonder. It may not seem like much, but in a way, this design construct signifies a brand new era for both the band and the musicians involved in the collective. Bill Doss and Will Cullen Hart of Olivia Tremor Control appear on the album, as does the ever-elusive Jeff Mangum. These guys have been playing on each other's albums forever, so it shouldn't come as any surprise this time around. But in that span of more than four years, The Apples have returned, brandishing something far more noteworthy—their best album since 1997's classic Tone Soul Evolution.
With a vocoder voice inviting the listener to "turn up the stereo-oh," the Apples launch headfirst into "Can You Feel It?", an amped-up power-pop tune that's nothing if not trademark AIS. Unlike the more stripped down live approach of Velocity or Robert Schneider's side project ulysses, it's apparent that production and detail played a much stronger part in New Magnetic Wonder. With help from Bryce Goggin (Pavement, Sebadoh), there's a much warmer, rich tone on this record, one that has the widescreen sound spectrum of E.L.O. and the crunchy power pop punch of Cheap Trick and the Cars. The ubiquitous Rubber Soul and Pet Sounds influences haven't gone away, they've merely been blended into a thicker stock of bouncy and hearty rock `n' roll.
In some ways, the Apples have taken a much simpler approach. Take the excellent "Skyway," which, with little more than three chords and a plonking piano bassline, stands out as one of the best tracks on the record. However, first single "Energy," as well, sounds simple enough, but the closer you listen, the more there is that seems to surface: bells, mellotron, more vocoder, a gorgeous slide solo, plenty of synths, handclaps and an absolutely irresistible melody overall. Yet the lyrics keep it brief, as Schneider sings lines like "We're gonna see the sunlight" and "the world is made of energy." It may not mean much of anything, but there's a universal prettiness about it, making it a song that's impossible not to like. Pile on all of the in-between transitional instrumentals and the "Non-Pythagorean Compositions" written on a scale Schneider invented (!), and the album quickly becomes a much more complex and grandiose one than any of the group's prior releases. At 24 tracks, it does seem a little bulky, but most of the filler tracks are actually pretty short, and most actually enhance the overall experience, unlike, say Andre 3000's "Where Are My Panties?"
If there's a major difference between New Magnetic Wonder and the Apples' previous albums, it's that it sounds more like an album from the '70s than the '60s. "Same Old Drag" employs sunny A.M. Gold Rhodes riffs and warm, peppy melody, while Hilarie Sidney's two contributions, "Sunndal Song" and "Sunday Sound" (which, come to think of it, have very similar titles), are like crunchier takes on Big Star, not to mention the abundance of cowbell, an instrument synonymous with the decade. Add in the band's turn toward larger, more epic arrangements like "Open Eyes," the four part "Beautiful Machine," and the truly excellent, soaring sci-fi pop of "7 Stars" and it would appear that the band has captured all of the best aspects of the decade into this sprawling effort.
Those, like myself, who have missed hearing new music from the Apples in Stereo should rejoice at hearing New Magnetic Wonder. Cramming together everything that made us love the band in the first place, while adding a few wonderful surprises, Wonder more than makes up for their absence. It's enough to make you feel all warm and fuzzy inside, and it only makes sense; that's exactly how this album sounds.
Similar Albums:
Superdrag – Head Trip in Every Key
Pavement – Crooked Rain, Crooked Rain
The New Pornographers – Electric Version
Video: "Energy"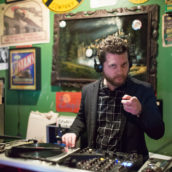 Jeff Terich
Jeff Terich is the founder and editor of Treble. He's been writing about music for 20 years and has been published at American Songwriter, Bandcamp Daily, Reverb, Spin, Stereogum, uDiscoverMusic, VinylMePlease and some others that he's forgetting right now. He's still not tired of it.