The Best Tracks of the '00s, No. 14: Yo La Tengo – "Let's Save Tony Orlando's House"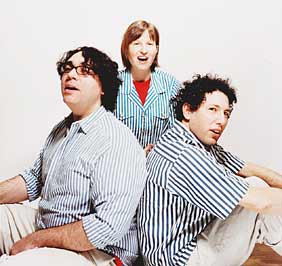 The decade has almost come to an end. And of course, you know what that means-lists, `best ofs' and all kinds of general retrospective features and columns. Treble is no exception, hard at work on figuring out the best albums and singles of the past nine years. Yet, before we get into albums and singles, we're taking a look at the best non-single tracks to emerge since the Y2K scare proved to be a non-event. Every week we'll be highlighting a handful of our favorite tracks of the decade, so keep checking back to hear about what songs remained on repeat on our iPods, CD players, tape decks and turntables since Jan. 1, 2000.
Yo La Tengo "Let's Save Tony Orlando's House"
From And Then Nothing Turned Itself Inside-Out (Matador; 2000)
Some songs are inspired by a great love, a devastating break-up, the death of a loved one or a childhood memory. This isn't one of those songs. Yo La Tengo's "Let's Save Tony Orlando's House" off of 2000's And Then Nothing Turned Itself Inside-Out started out as a sweet instrumental ditty that had no title. A lifelong "Simpsons" fan, James McNew has a habit of titling nameless instrumentals after lines from episodes of the show. For this one particular song, McNew plugged in a line from the episode "Marge on the Lam," where Troy McClure (voiced by the very much missed Phil Hartman) stated: "Hi, I'm Troy McClure. You might remember me from such telethons as Out with Gout '88 and Let's Save Tony Orlando's House." These titles rarely stuck, but perhaps it was the pure absurdity of that line that gave us one hell of a Yo La Tengo song.
The song itself doesn't sound much like Tony Orlando. It has a droning organ melody that's not unlike something Stereolab would do, paired with Georgia Hubley's understated and hypnotic vocals. Using Tony Orlando as a protagonist, the song imagines Orlando's backing singer, Dawn as a lost love of Frankie Valli and years later, a revenge-minded Valli torches Orlando's home vowing to reclaim Dawn. Despite its humorous origins, "Let's Save Tony Orlando's House" is a bittersweet song, taking disparate figures in pop culture and creating a compelling narrative with them. The almost monotonous groove underscore the absurd origins and the song becomes much more than that "Simpsons" song and simply becomes a great song.
Download at