Yo La Tengo – This Stupid World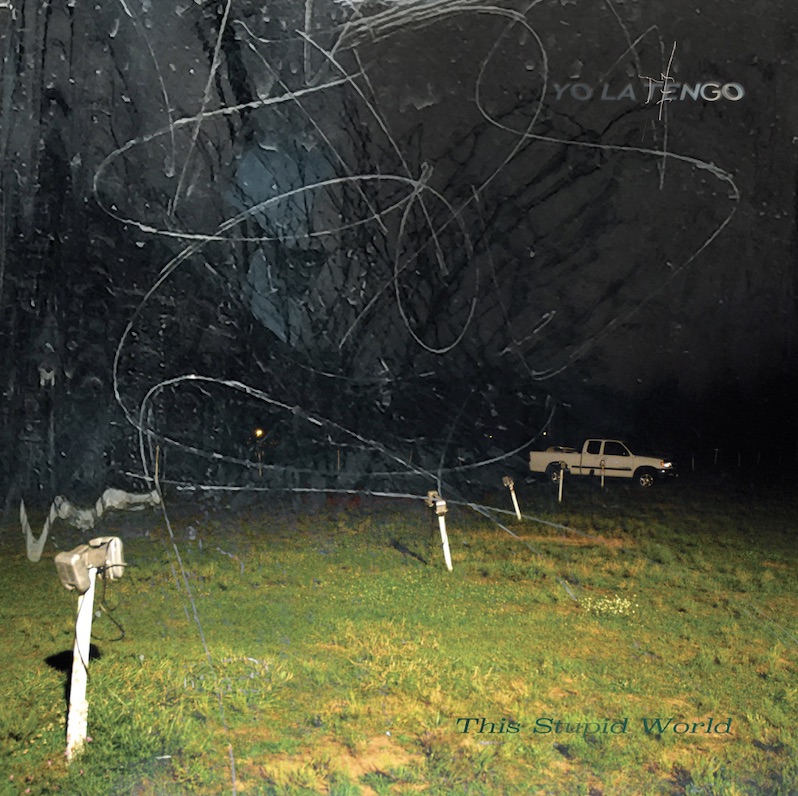 Yo La Tengo are a legendary and globally-beloved band. They are also—resolutely—a local band. Some groups of Yo La Tengo's stature might take being called a local band as a dig, or a diminishment. Local bands, after all, play neighborhood bars, the places everyone seemingly should want to get out of and move on from. They rely on their friends, who are often also in other local bands. They have annual holiday shows, chummy relationships with their local freeform radio stations. They rehearse in cramped practice spaces, and record in them, too. If they're lucky, they might have a little label who will lovingly put out their records. They make mix CDs, even after CD players disappear from cars and computers. They might even get anxious, occasionally, about obsolescence or a world gone stupid—and then they keep playing anyway, because it's a good hang. And more than anything, it's about the songs. Fame isn't, and wasn't, ever really the goal.
This kind of small stuff might not matter to most people in today's big, stupid world. But for Yo La Tengo, the pleasures, pitfalls and steadfast priorities of being in a local indie rock band are what it's all about, what it's always been about. Georgia Hubley, Ira Kaplan and James McNew have committed to music-making in and around New York City and Hoboken, New Jersey as a raison d'être together for decades. Their latest record, This Stupid World, finds them embracing their long-held independence in new and affirming ways.
Yo La Tengo produced This Stupid World themselves, building on the self-reliance of their previous LP from spring of 2020, the raw, diaristic and durational We Have Amnesia Sometimes. Recorded in the heart of COVID lockdown, that album was generated by placing a single microphone in the center of the band's Hoboken practice space, starting to jam and seeing what stuck. The band keep to a similarly open-ended vibe on This Stupid World. Many of the songs here have sloppy pick-up starts; jams end only when they feel like they should end. But with some more deliberate design and direct intentions, these relatively raw songs become something layered and elevating.
There's a low-key anxiety that courses through This Stupid World. At the fore is "Fallout," the record's high-strung lead single and a new classic in the YLT canon. The track blends candid power pop songwriting with mesmeric playing, and it feels alive and electric, like sparks flying from a tangle of live wires. But it's not all just disarray. Like "Sugarcube" or "Tom Courtenay" or any number of Yo La Tengo's biggest catalog songs, "Fallout" feels sharp, too, attuned to its moment. The band sound like they're totally dialed into their own sound and vision, to the consequences of making a commitment to their music—the fallout from "falling out of time" together. Musically, it's a refreshing embrace of the restless energy that's been hovering around for years.
But this is Yo La Tengo we're talking about, a band who've made eccentric humor and all-around musical hi-jinx into an annual eight-night live-show tradition. Subversive little jokes have long been a core piece of the band's recordings: knowing local references, classic pop cosplay, funny lyrics mashed against wiry guitars. Though the prevailing mood of This Stupid World is darker and vaguely more confrontational than YLT's last couple of records, there's plenty of the chipper funny stuff baked in. "Tonight's Episode" sounds like a bubblegum-pop B-side, run through distortion pedals and coming at you live; McNew pairs heady monologuing with a bouncing-ball Monkees bass line and a decidedly ominous "Mrs. Robinson" acoustic guitar reel—the sound of feelin' groovy, while also quietly tweaking out. Elsewhere (and more incidentally), I chuckled upon confirming that "Aselestine"—a wistful country ballad in its own right, and one of Hubley's best vocal features—nearly shares its curious title with the brand-name of my longtime antihistamine of choice. (Maybe Yo La Tengo are also collectively allergic to local New York City pollen and dust mites.)
These are the sort of personal trimmings that might seem wholly like fluff if they weren't also so essential to Yo La Tengo's formula. Like many of their past records, having the extra-credit reading on-hand while listening to This Stupid World—learning what makes YLT tick, what they find funny—feels as key to the experience as what's there in the songs themselves. It's less about being a know-it-all as a listener, though, and more just Cheers-y: the band has an enduring and endearing familiarity, accreted over many years. Call it Yo La Tengo's little corner of the world.
There are other signs of lightness, too, sunshine poking through the clouds. Despite its dire title, opener "Sinatra Drive Breakdown" feels breezy and loose. McNew's bass is nimble on its feet; Georgia's on brushes, instead of bashing with sticks; and a nervous incident on the Hoboken waterfront becomes something steadying. (The song is, like many on This Stupid World, also over seven minutes long, some combo of blissful jam and steadfast Krautrock.) Later, "Apology Letter" takes things to a similarly and surprisingly cool-handed place. The band have written in this mode before, but rarely have Ira's confessional vocals sounded so brave and unfettered. And "Brain Capers," at the record's midpoint, feels like yet another kind of levity. The track avoids the pointed focus of the album's Side A, cranking up the phasers and blurring the spoken-word vocals into an indistinguishable wall of (whispered) sound. But its emotional punch is still as swift and bracing, like helicopter blades chopping the air. "Brain Capers" leaves most all of YLT's trappings behind, the record hopping upward in a sudden whirl.
This Stupid World stays in this high-up, frenzied space for its final pair of songs, a peak sequence in the overall YLT discography. The title track is heavy, hitting somewhere between Acid Test freakout and classic Velvet Underground: spun-out drones, hypnotic vocals, a crude bass drum thump keeping the pulse, harrowing feedback thrown around a cramped room. This is Yo La Tengo at their mightiest, riding electric waves and finding some kind of universal truth in the process: "This stupid world/is killing me/this stupid world/is all we have." They sing together in a cool Zen whisper, hovering over the pure chaos. It's an acceptance that's as defeated as it is defiant. The band ride a long tail with "Miles Away," the album's final and lengthiest track. Hubley puts down her sticks and brushes to make way for a sublime slice-and-dice drum machine—taking the mic and bowing out. The track has more vast open space than the entire rest of the album combined, the band fading away in a backwards focus-pull. It's a grand and graceful way to close a record that began, far away, at a grungy street-level practice space in New Jersey.
Recently, the bands Lambchop and Low—Yo La Tengo's longtime peers, occasional Hanukkah residency guests, and partners in parallel journeys to the vanguard of indie rock—have made similarly bold statements on new records of their own. On HEY WHAT, as well as Showtunes and The Bible, released by Low and Lambchop in 2021 and 2022, respectively, these musicians deployed jagged, radical electronic sounds in transformative ways—not too dissimilar to what happens towards the close of This Stupid World. For many listeners, Low and Lambchop's peaks have been a thrill to witness. They've earned deserved critical acclaim, and renewed enthusiasm. But for the bands themselves, it seems to be something more drastic that's altogether happening: a knowing detonation of decades of aesthetic continuity, a chance to confront harder truths. At a point when many would be keen to settle, these are musicians who are really going for it—taking true creative risks. (For Low, this high point coincided with the band's final album featuring Mimi Parker—their indomitable drummer, vocalist and songwriter, who passed away from ovarian cancer in November 2022.)
What Yo La Tengo offer on This Stupid World is not as harsh or anarchic as their friends' recent pivots. Rest assured, Hubley, Kaplan and McNew are still playing it cool as themselves, relying on the magic combos that have long made their albums compelling. What's shared, though, is the same spirit of openness, of having little to lose—letting go and then, especially on the album's back half, landing on new high ground. For 39 years, Yo La Tengo have known the realities of what it means to be an independent band. But they're still finding ways to press on, facing a stupid world in their own humbly defiant way: tuning in, doubling down, dropping out.
---
Label: Matador
Year: 2023
---
Similar Albums:
Ben Easton
Ben Easton is a writer and musician based in Brooklyn, NY. He's a member/producer of the rock quartet The Academy Blues Project, with whom he has made six records, and plays Live Piano Karaoke in-residence at Sid Gold's Request Room, New York City's flagship modern piano bar. Beyond Treble, Easton is a staff writer at Cover Me Songs, the web publication devoted to cover music of all genres.