The Blood Arm : Lie Lover Lie
In 2005, The Blood Arm's "Suspicious Character" became my favorite single of 2006. It would have been the winner last year, had it actually been released, but it took another 12+ months for that infectious, ass-kicking anthem to finally make its way onto wax. Without any prior knowledge of the band, I had witnessed their awe-inspiring, joyous and highly energetic performance opening for Maxïmo Park last May, and what I saw, and experienced, made them my new favorite band, and I say that without the slightest hint of hyperbole. After an amusing introduction about how they were they only band to outrace a locomotive (delivered by unofficial fifth member Benjamin Lee Handler), the L.A. foursome pounded through an intense set of rockin' tunes, as vocalist Nathaniel Fregoso spent much time in the audience, embracing audience members (including me). The whole set rocked, and left me practically giddy, but that one song stayed in my head for months to come.
When I finally hear that "Suspicious Character" is being released as a single, it turns out just weeks later would come the band's second full-length, Lie Lover Lie (their first being the rough, self-released Bomb Romantics). And with that one immense highlight comes ten more, each one showing off the skills of a young band showing up their peers and many of their seniors. This is ecstatic, extravagant rock `n' roll, the likes of which haven't been heard since Franz Ferdinand's self-titled debut. And while we're on the subject, that Scottish outfit counts The Blood Arm as one of their favorite bands. You may have heard that already, so I won't dwell on that.
Listening to Lie Lover Lie, that giddiness I experienced upon first seeing the band returns. No matter how many times a band is credited with "Saving rock `n' roll," it's rare that they're this much fun. Thankfully, nobody's been so cliché as to drop such a bomb on The Blood Arm. Yet they're the band that is giving rock a much-needed kick in the pants. Style, flair, and a little bit of cockiness make up part of the lethal cocktail that is this SoCal powerhouse, and when Fregoso states "I lay down some fuckin' hits" at the beginning of opener "Stay Put!", he's not showing off, he's telling it like it is. Of course, it's not all him—Dyan Valdes' blazing piano, Zachary Amos' clamorous drums and Zebastian Carlisle's distorted six-string screech soon burst in and fill the speakers with a devastating blast of Rock. And. Roll.
An almost fifties-sounding progression colors the punk-soul of the aptly titled "Accidental Soul," which bears the fantastic chorus of "every lover lies…sometimes." Then comes the big fuckin' hit, "Suspicious Character." This too has a great chorus, if a little bit sillier: "I like all the girls and all the girls like me." Even with its absurd sexiness though, Fregoso more than a few times emulates the late Arthur Lee, and that's no small compliment. "Chasers" is more straightforward, with Valdes moving from piano to a bouncy organ. "Going to Arizona" employs a choir vocal on one of the album's "slow" songs, while "Do I Have Your Attention" gallops along, a holdover from the Bomb Romantics days.
Even within a generally narrow frame of reference as is "rock `n' roll," The Blood Arm is a surprisingly dynamic group. Whether it's the Walkmen-like reverb `n' roll of "Visionaries," the discopunk hustle of "Mass Murder" or the dark, chugging post-punk rollercoaster of "PS I Love You But I Don't Miss You," TBA are consistently on point, and in the case of that last one, outright causing mouths to drop agape. Already garnering a bit of attention in the UK, it's only a matter of time before they seduce the United States with their truly awesome sounds. Believe it, they lay down some fuckin' hits.
Similar Albums:
Spoon – Kill the Moonlight
Franz Ferdinand – Franz Ferdinand
Hot Hot Heat – Make Up the Breakdown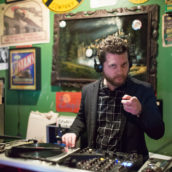 Jeff Terich
Jeff Terich is the founder and editor of Treble. He's been writing about music for 20 years and has been published at American Songwriter, Bandcamp Daily, Reverb, Spin, Stereogum, uDiscoverMusic, VinylMePlease and some others that he's forgetting right now. He's still not tired of it.