Common sense would suggest that there's only so much you can do with guitar-based pop music. Within a basic rock structure you have three or four chords, one basic scale per song (consisting of eight notes), some verses, some choruses, a bridge, an intro, an outro or fadeout, and you're done. That's it. So how many times can you possibly use that formula and not sound dreadfully boring and unoriginal? That all depends on the artist, and how much imagination that particular artist can cram into such tight constraints. And, of course, that all depends on whether or not the artist cares to structure its songs in conventional, linear fashion. Even then, there's the possibility that one of those elements is removed.
Apply all of these limitations, constraints, "rules" and what have you to Chicago's The M's, and they somehow come out sounding like one of the most invigorating bands to ever play a four-chord pop song. Right down to their very fundamentals, it's very easy to argue that plenty of other bands have done what they have on their debut full-length proper, Future Women. But nobody's done it the way that The M's have, and that's how we come to such an exciting piece of music.
I've spun Future Women numerous times by now, seen the band live, even bought a t-shirt, and these songs refuse get old. I even spun it once in its entirety before reaching this part in the review, and what do you know? Still awesome. Josh Chicoine, Steve Versaw, Robert Hicks and Joey King (notice the lack of M's in their names) combine seamless two, three and four part harmonies in most of their songs, whilst maintaining hard rocking guitar interplay, super catchy pop sensibilities and an all around ecstatic vibrancy.
When playing up on their Kinks influences, as in opener "Plan of the Man," these boys create quite a hyperactive ruckus, charging through fuzzy guitars with a garagey, carefree abandon. However, on a strutting, grooving, sexy track like "Shawnee Dupree," the band throws out the idea of chorus and turns the spotlight on their scratchy guitars, rumbling bass and clever ruminations like "Should I tell all my friends of my love for you/Do you think they'd let me be/would they spout off some tale of their broken hearts/are they jealous because you're sleeping with me?" Then, it's quite obvious, that The M's don't let the "rules" dictate how they play their rock music.
They can be dreamy ("Going Over It," "My Gun") or even a bit glam ("Never Do This Again," "Underground"), and in either case they give it their all, maintaining sweet melodies, hard rocking rhythms and a surprising level of coolness despite it all. "Trucker Speed," one of the particularly amazing tracks among this bright and shining bunch, begins with droning guitar feedback, hand percussion and a rolling, funky bassline, a drastic contrast to its predecessors in sequence. Like The Jesus and Mary Chain jamming with Isaac Hayes, the song is peerless, and climaxes in a veritable soul symphony of violins and horns, as if extracted from Shaft itself. Then, The M's outdo themselves again on "Mansion in the Valley," which bounces along on two chords, sounding deceptively simple, until a horn section and a fuzzy organ give way to a gigantic singalong of "la-da-das." With or without the added instruments, it should be noted, this song rips live, which isn't always the case with some overly orchestrated affairs.
Wrap everything up with the simultaneously ethereal and funky "Darling Lucia" and you've got one startlingly inspired and inventive debut, one that, only two months into 2006, has settled into a permanent spot in my top ten of the year. The M's don't shy away from playing a catchy song and they embrace pop music; this makes them good. But they also know how to bend the rules and leave an indelible impression; this, dear readers, makes them great.
Similar Albums:
The Lilys – Better Can't Make Your Life Better
Walkmen – Bows and Arrows
The New Pornographers – Twin Cinema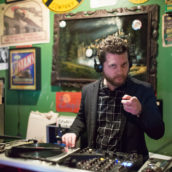 Jeff Terich
Jeff Terich is the founder and editor of Treble. He's been writing about music for 20 years and has been published at American Songwriter, Bandcamp Daily, Reverb, Spin, Stereogum, uDiscoverMusic, VinylMePlease and some others that he's forgetting right now. He's still not tired of it.