The Spores : Imagine The Future
They say you can fool some of the people some of the time, but you can't fool all of the people all of the time. By adding one simple parenthetical word to their initial single release, the Spores gained significant airplay. The trio managed to fool industry insiders with a cosmetic change without altering any of the lyrics contained within the song. What they didn't have to fool anyone with is the strength of their album debut, Imagine the Future, a trip-hop, electronic mélange that comes off as even more of an accomplishment in a live setting.
Los Angeles' the Spores is essentially Molly McGuire. This ridiculously hot frontwoman / puppeteer / performance artist put together a band that would not only feature her mesmerizing visage, but also the guitar playing of Greg "Stunbunny" Biribauer and drummer Kenny Pierce. The idea was to take McGuire's pop compositions, the ones that didn't quite fit in with her previous résumé of playing with such acts as Mark Lanegan and Queens of the Stone Age, and funnel them through puppet alter egos, think the Gorillaz with papier-mâché. But thanks to some strong songwriting, they've moved beyond the idea of `novelty act' and into the realm of indie up and comers.
The music of the Spores revolves around McGuire's bass, Biribauer's intense guitars, and Pierce's hypnotic drums, but is flecked with electro-dance noise, video game effects and vocal processing. The result is like Peaches, Garbage, Cibo Matto, Massive Attack and Portishead all having a Jacuzzi party with jello shots. "(Don't) Kill Yourself" is the song to which I made allusion to earlier, having added the `(Don't)' once hearing that radio outlets found the original title too harsh sounding. The song itself is ironic, sarcastically urging the subject in question to commit suicide, making it sound a ridiculous solution to trivial problems.
"Heat Seeker" is one of the few songs, along with "(Don't) Kill Yourself" that can rock as hard as it makes you dance. Guitars grind along to dance club drum machines and McGuire's smoky voice. The title track is true trip-hop heaven with a bouncy keyboard line in the middle of the song to backup McGuire's echoed vocals. It's as if `imagining the future' finds Moby with a sex change. "Love My Mind" is a fun, processed vocal head trip, in which McGuire is in true possession of her sex appeal, singing, "You don't have to love me for my mind," yet distancing herself from it by having her puppet, Miss Fishnets, perform the song live. "Veal" and "Yum Yum" recall some of Cibo Matto's food allegory songs such as "Beef Jerky" and the punky "Birthday Cake," among others. "El Matador" finds McGuire stoically intoning Spanish lyrics (badly, like a high school freshman in their first oral exam) over buzzsaw guitars.
Imagine the Future is essentially what I had hoped the last few Garbage albums would be, sonically interesting, sexy and artistic. McGuire is both alluring and just a little bit dangerous, which Shirley Manson ceased being after their sophomore album. The tightrope balance of rock, dance and electro-pop is well executed, and made even more of a feat once the live puppet show becomes an extra juggled ball. At some point, one of these bands is going to hit on the next step in the evolution of rock and roll music, the style that will give lifeblood to the dying market of CD's and live shows in the face of downloading. As a longtime fan of Jim Henson's work, I tend to root for puppets, so, to me, the Spores might just be it.
Similar Albums:
Garbage- Version 2.0
Cibo Matto- Viva La Woman
Portishead- Portishead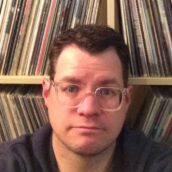 Terrance Terich
Terrance Terich firmly believes that 1985 is the best year for music. He lives near Seattle with his books, movies, and music.