The Treble Election 2004 Mix Project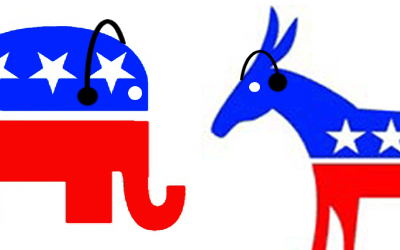 This week, Treble is taking a break from music features to focus on what may be the most important day of the year — Election Day. Actually, that's not true. This is a music feature. It just so happens to be a music feature relating to the election. As we have done with our Album of the Week Mixes and Literary Mix Project, we've decided to come up with a series of mixes to go along with today's political climate. As you head off to the polls on Nov. 2, we want you to take something more with you than a cheat sheet of ballot propositions and the pride in participating in democracy. We want you to take along some sweet ass tunes. Here are seven mixes that somehow relate to issues today.
Oh, and if you want fair and balanced, you can kindly take it elsewhere. Happy listening and voting!
Update: Well, obviously not enough people heard these mixes and understood that they made a big mistake. When we all get rushed off to Camp X-Ray, we'll have something to listen to on the way.
The I'm Moving to Canada Mix
We've all uttered it at one point or another: "If George W. Bush is re-elected, I'm moving to Canada." It doesn't sound bad, actually. They get free healthcare, have fewer instances of handgun-related crime and have consistently schooled us in music for the last few years. Broken Social Scene, Arcade Fire, New Pornographers anyone? Here are some songs by Canadian artists that seem to echo our Stateside discontent with the state of affairs. But some of `em are just really cool.
1.Unicorns "I Don't Want to Die"
2.Constantines "National Hum"
3.Broken Social Scene "Stars and Sons"
4.Sadies "1000 Cities Falling (part 1)"
5.Neil Young "Don't Let it Bring You Down"
6.AC Newman "Better Than Most"
7.The Arcade Fire "Rebellion (Lies)"
8.Junior Boys "Teach Me How to Fight"
9.New Pornographers "It's Only Divine Right"
10.Stills "Lola Stars and Stripes"
11.Dears "Summer of Protest"
12.Death From Above 1979 "Blood on our Hands"
13.Manitoba "Kid, You'll Move Mountains"
You Forgot Poland
One of the silliest moments in the first Presidential Debate this year was during the discussion of coalition forces in Iraq. Senator Kerry was making the point that very few countries actually joined the coalition and disapproved of President Bush's actions. Bush pretty much echoed that fact when he chastised Kerry for forgetting to mention that military powerhouse, Poland. Therefore the mix that I've selected is actually two discs worth of songs. One CD is a mix of songs from bands hailing from those countries that had forces join our 'vaunted' coalition (including Australia, Japan, and the UK [trying not to include England as there is an entire other mix from there], New Zealand, and Norway) and the other is a mix of songs from those who did not join our 'catastrophic success' in Iraq (France, Germany (the two biggies), Iceland, Sweden, and Jamaica (not that we would have asked). There were many other titles that were flying around in my noggin including "The Global Test: Pass/Fail" and "I'm sick of both Polack and French jokes." Anyway, here's the songs:
Side A: Coalition
Australia
Architecture in Helsinki "It's Almost a Trap"
INXS "Different World"
Japan
Pizzicato 5 "Peace Music"
United Kingdom
Franz Ferdinand "Come on Home"
The Frames "Dance the Devil Back into His Hole"
The Waterboys "Be My Enemy"
Travis "The Beautiful Occupation" & "Peace the Fuck Out"
My Bloody Valentine "To Here Knows When"
McLusky "Icarus Smicarus"
Belle & Sebastian "The Boy Done Wrong Again"
New Zealand
The Datsuns "You Can't Find Me"
Split Enz "History Never Repeats"
Neil Finn "Sinner"
Norway
Sondre Lerche "It's Too Late"
Side B: Non-Coalition
France
Phoenix "Victim of the Crime"
Dmitri from Paris "Nothing to Lose"
Cyann & Ben "Neurotic Hope"
Serge Gainsbourg "Rock Around the Bunker"
Daft Punk "Around the World"
Germany
KMFDM "WWIII"
Kraftwerk "Radioactivity"
Iceland
Worm is Green "Love Will Tear Us Apart"
The Sugarcubes "Cowboy"
Gus Gus "Love vs. Hate"
Bjork "Army of Me"
Sweden
The Cardigans "For the Boys"
The Hives "Main Offender"
Jamaica
Jimmy Cliff "Many Rivers to Cross"
Desmond Dekker "Why Fight"
The Gay Civil Union Mix
In one of the most vile and appalling moves of his political career, Dubya endorsed a constitutional amendment to ban gay marriages, an amendment that would be the first since Prohibition to deny people rights, rather than extend them. We think that's a load of crap. Shame on you, W. But maybe he'd change his mind if he heard this, a mix of songs by gay artists and straight artists making homoerotic sexual innuendoes. We're here and we're queer. Well, I'm straight, but you get the picture…
1.David Bowie "John, I'm Only Dancing"
2.Decemberists "Soldiering Life"
3.Franz Ferdinand "Michael"
4.Imperial Teen "Lipstick"
5.Killers "Andy, You're a Star"
6.Le Tigre "This Island"
7.Lemonheads "Big Gay Heart"
8.Pete Shelley "Homosapien"
9.Brainiac "Kiss Me, You Jacked Up Jerk"
10.Plot to Blow Up the Eiffel Tower "For Marcus"
11.Placebo "Nancy Boy"
12.Rufus Wainwright "Beauty Mark"
13.Broken Social Scene "I'm Still Your Fag"
Tony Blair, You Used to Be Cool
Forget calling Iraq or Afghanistan a 'puppet regime.' Tony Blair has been W.'s bitch since 9/11. Coming into the PM position he was touted as a young liberal and now he has Radiohead making fun of him every night on tour. Seeing joint press conferences with Blair and Bush was like watching a mix of "Jeeves & Wooster" and "Green Acres." Blair once was a great thinker and activist and is quite well spoken whereas somehow, the English language mangling President of the USA turned him into a toady. The following mix of songs are all from English bands, with song titles or lyrics specifically referencing T.B. (!!!, Radiohead) or having significant indirect relevance to the same.
!!! "Shit, Scheisse, Merde"
David Bowie "I'm Afraid of Americans"
The Smiths "I Started Something I Couldn't Finish" & "Bigmouth Strikes Again"
British Sea Power "Something Wicked"
Siouxsie & the Banshees "Cities in Dust"
Clearlake "The Mind is Evil"
Rolling Stones "Gimme Shelter"
The Delays "No Ending"
Pulp "The Day After the Revolution"
Gene "Where are They Now?"
Portishead "Sour Times"
Gomez "We Don't Know Where We're Going"
Placebo "You Don't Care About Us"
P.J. Harvey "This Mess We're In"
New Order "Broken Promise"
The Jam "Just Who is the 5 O'Clock Hero"
Morrissey "America is not the World"
Keane "We Might as Well be Strangers"
Massive Attack "Safe From Harm"
The Libertines "The Man Who Would be King"
Radiohead "You and Whose Army"
The Weapons of Mass Destruction Mix
Nope, we still haven't found any WMDs. The UN inspectors even said that the mere likelihood of Saddam Hussein even having access to them was slim. Yet Bush has still won over the trust of the majority in the red states. What's more, several hundred tons of explosives have gone missing in Iraq since the American occupation. Nonetheless, the color-coded terror alerts seem to change according to the whim of the administration. We've assembled a dozen bombs, of our own, in response.
1.Outkast "B.O.B."
2.Ryan Adams "Nuclear"
3.Briefs "Orange Alert"
4.Trans Am "Uninvited Guest"
5.The Faint "Paranoiattack"
6.Sleater-Kinney "Combat Rock"
7.TV on the Radio "Bomb Yourself"
8.Blondie "Atomic"
9.Sonic Youth "Peace Attack"
10.Outkast "War"
11.Yo La Tengo "Nuclear War"
Folk You, Mr. Bush
With the new resurgence of folk music, the biggest since the sixties, it's time that the genre got back to doing what it did best, protest! So, with a mix of folk artists young and new, this mix represents the best of both times and all with relevance to our current political situation, the Iraq war, loss of life, and civil outrage.
Sufjan Stevens "They Also Mourn Who Do Not Wear Black (For the Homeless In Muskegon)"
Iron & Wine "An Angry Blade"
Neil Young "War of Man"
Animal Collective "Whaddit I Done"
Damien Rice & Christy Moore "Lonely Soldier"
Devendra Banhart "The Body Breaks"
Normanoak "How Do You Stay Sane?"
Bonnie 'Prince' Billy "Death to Everyone"
Woody Guthrie "Why, Oh Why?"
Ani DiFranco "Grand Canyon"
Joan Baez "We Shall Overcome"
Espers "Hearts and Daggers"
Bob Dylan "Only a Pawn in Their Game"
Joni Mitchell "The Fiddle and the Drum"
Dan Bern "Jesus Freak"
Simon & Garfunkel "Homeward Bound"
Tim Buckley "No Man Can Find the War"
James Taylor "Fire and Rain"
Sufjan Stevens "In the Devil's Territory"
Iron & Wine "Free Until They Cut Me Down"
The Rock Against Bush Comp That Doesn't Suck
As much as we're glad that the Rock Against Bush compilations exist, we would never listen to them. They're great for the undecided kids in the suburbs, but dammit, us informed webzine types need something a little more listenable. So here are some songs that would fit in well alongside the aforementioned comps thematically, but happen to be better songs.
1.Les Savy Fav "Knowing How the World Works"
2.Burning Airlines "Election Night Special"
3.Rilo Kiley "It's A Hit"
4.Gang of Four "Not Great Men"
5.Q and Not U "Wet Work"
6.Ted Leo/Pharmacists "Shake the Sheets"
7.Black Rebel Motorcycle Club "US Government"
8.Mission of Burma "Wounded World"
9.Thermals "God and Country"
10.Quasi "The White Devil's Dream"
11.Jets to Brazil "Disgrace"
12.Les Savy Fav "Bringing Us Down"
13.Blur "We've Got a File On You"