Shadow of the Horns: Metal's place in the resistance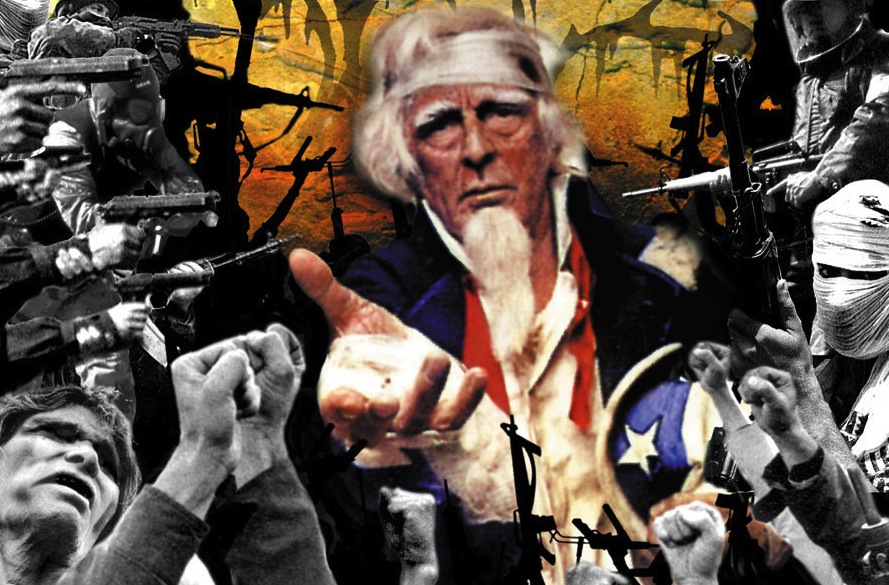 A little over a month ago I started posting daily protest songs on social media, partially as a follow-up to the recent list of Top 50 Protest Songs that Treble compiled in January, and partially as a means of motivation for myself and for others as the United States undergoes repeated kicks to democracy's crotch. We fucked up bad in November, and I think we can get back on track to undoing the damage to civil rights, immigration, the environment, business ethics, access to health insurance and any other cringeworthy, potentially catastrophic policy that's already been implemented or will be in the next four years of the Trump administration. To keep that going, however, sometimes you need a musical motivational tool to help you keep up the good fight.
Just after this project reached the one-month mark, the AV Club ran an article that suggested metal still has a Nazi problem. I found this article annoying for a handful of reasons. Essentially a rehash of old information—much of it dating all the way back to the '90s—the piece offered little modern context outside of the idea that white nationalist art is dangerous in an age when such ideologies are gaining traction in America, to horrific result. The article also mentioned the upcoming EP release from Disma, a death metal band that isn't associated with radical right-wing politics but whose vocalist Craig Pillard previously helmed a Nazi-themed noise project and whose social media statements (like this one after the November election) seem to suggest he's, at the very least, still an asshole. And that's perfectly valid; I, personally, won't be covering Disma on this page as a result of Pillard's sketchy at best—hateful at worst—politics (outside of this mention, natch). But the Nazi talk in metal is getting to be old hat at this point. Everybody knows Varg Vikernes is a racist troll. Phil Anselmo's "white power" statements aren't necessarily news in 2017, though I anecdotally have spoken to a handful of metal musicians who have distanced themselves from him as a result and won't be working with him in the future. Actions have consequences. And in metal, tolerance for fascist cosplay is rapidly decreasing. I don't think metal ever had a Nazi problem, just a small subset of dipshits that got publicity for the wrong reasons. The bigger story, as far as I can tell, is that more metal musicians and labels are, in fact, much more open about their social consciences than they have been in years.
For the last week, I only included metal songs in my daily Soundtrack to the #Resistance posts (some of which are mentioned below), and it really struck me how often people seem to overlook just how political metal actually is. "War Pigs," the leadoff track on Black Sabbath's 1970 sophomore album Paranoid, is an anti-war song, released before the end of the Vietnam War. So the first-ever heavy metal band, after dabbling in the occult, got political within a year. Throughout the '80s, there were likewise politically motivated songs by Megadeth ("Peace Sells"), Anthrax ("Indians"), Iron Maiden ("Run to the Hills"), Queensryche (all of Operation: Mindcrime, essentially) and various releases by thrash, crust and grindcore bands such as Napalm Death, Kreator, Amebix, Discharge and countless others.
The present feels a bit like the '80s in terms of the political climate. With a despotic villain spearheading a deluge of bullshit, there are many metal bands releasing songs in opposition to the rise of right-wing radicalism. Krallice kicked off the year (actually the end of 2016 but who's counting) with new album Prelapsarian, featuring an anti-hate song called "Hate Power," which suggests that whatever Nazi problem there is in metal or America, Krallice is not having it. Likewise, Pallbearer just released the excellent new video for "I Saw the End," an apocalyptic doom metal anthem that warns of our own undoing, with the suggestion in the video that Wall Street is partially to blame. Before the election last year, SubRosa released For This We Fought the Battle of Ages, an album that used Russian dystopian literature as a conceptual parallel to a possible dark future of our own making. Power Trip, whose Nightmare Logic is my favorite album of the year so far (seriously, go get it, it's amazing) likens America's precarious path to being in a horror movie, and in an interview last month, frontman Riley Gale talked about how complicity isn't an option: "If you really want to make a difference you really have to stand your ground." Even the new (awesome) Woe album has a song about Donald Trump.
Couple these anecdotal examples with labels such as Deathwish Inc. and Southern Lord donating some of their Bandcamp proceeds to the ACLU, and it looks a lot like metal has planted its feet firmly in the resistance in 2017. There's no rule that says metal has to be anyone thing. It can be escapist. It can be personal. It can be abstract and weird. And I genuinely love a lot of bands that fall under those categories. But looking back over my best of 2016 list, I also found that some of the music that made the biggest impact on me were the albums by artists that weren't afraid to address real issues. But there's also an argument that all art is political, which I'm inclined to agree with. Saying nothing speaks as loud as saying something.
Before we rehash any tired stereotypes about metal, let's look at the global landscape at large. Is there a problem with white nationalism in the U.S.? Yes. In The Netherlands? Uh huh. In France? You bet. In Great Britain? Absolutely. In Hungary and Poland? Yes and yes. Metal, while more often than not is a magnet for controversy by design, is just a convenient patsy for what's ultimately a much bigger problem. But while there are always going to be a handful of assholes, right now metal bands and labels are stepping up and showing that metal does indeed have a place in the resistance. In 2017, I'm happy to say, metal gives a shit.
The best metal tracks of March 2017
Valborg – "Beerdigungsmachine"
German trio Valborg have earned the praise of none other than metal god Tom G. Warrior of Celtic Frost/Tryptikon, which is reason enough to dive into the group's gothic take on extreme metal. They're as much informed by early '80s post-punk a la Killing Joke or Bauhaus as they are Celtic Frost or Godflesh, which gives them a sense of rhythm and melody that makes them far catchier than most extreme metal bands choose to be. "Beerdigungsmachine" is a good example; it's loud, intense, features some ferocious screaming, yet pulses and grooves rather than pummels or shreds. And indeed, it offers more than a slight nod to Warrior's own dark metal aesthetic. But it's just as easy to picture slender creatures of the night dressed in all black creeping under red lights as it is to imagine heshers headbanging to this sleek slab of metal. That's the kind of cross-genre mixture that works brilliantly on paper and in practice, and though it's not a radical reinvention for many by any means, they pull it off brilliantly.
[from
Endstrand
, out April 7;
Prophecy
]
Foreseen – "Chemical Heritage"
Finland's Foreseen are badass. Full stop. They're raw and ragged, pulling influences from the old school while maintaining a contemporary immediacy. It's hard to hear "Chemical Heritage" and not immediately think of '80s-era classics such as Venom's "Black Metal." And yet the burly, fuzzy depth of their thrashy sound carries a trace of doom. And to top it all off, a speed-metal solo that's dizzying as hell but wild enough to let some of the slop to slosh around to all sides of the fretboard. And frankly, technicality is great but doesn't ensure a great metal record. Yet Foreseen seem to be on the brink of going off the rails at any moment, and they're pretty much outstanding. It's kind of punk rock in that way. And as a metalhead who likes punk just as much, that's some speaker-blowing music to my ears.
[from
Grave Danger
, out April 21;
20 Buck Spin
]
Pillorian – "Archaen Divinity"
It was a bummer when Agalloch broke up. The Portland-based folk/black metal group had reached nearly two decades of pairing beautifully progressive songwriting with black metal's ferocity, and while every legacy eventually must reach an endpoint, it was a shame that theirs eventually had to arrive. In the ashes, however, vocalist John Haughm formed Pillorian with Stephen Parker of Maestus and Trevor Matthews of Uada, and it's fantastic. "Archaen Divinity" has the complexity and melodic sensibility to be traced back to Agalloch's majesty, but this is darker and more ominous stuff. It's a fusion of doom metal's funereal pace with explosive bursts of visceral black metal, balanced brilliantly by some wonderfully dark layers of guitar. It's another band featured here this month that nods to Celtic Frost, or perhaps more accurately, Tryptikon. It's not necessarily purely black metal, and it's certainly not a purely doom metal sound either. That's a more-common-than-ever characteristic of the best metal today; you don't need to stick to one solitary sound to make great metal, you just need strong enough songs. Pillorian most definitely have those.
[from
Obsidian Arc
, out now;
Eisenwald
]
Full of Hell – "Deluminate"
The leadoff track from Maryland grindcore brutes Full of Hell's upcoming album is only 58 seconds long, but god almighty what an insane almost-minute it is. "Deluminate" is noisy and chaotic, true to the band's name—it sounds like, yes, it is indeed full of hell! But it's also incredibly tight and orderly; grindcore to outsiders might sound like an unfathomable ruckus, but it's incredibly hard to play. I'm always surprised when I see a grindcore band that doesn't look like they're ready for the Ironman Decathlon or something, because this is physically demanding music that takes a lot out of both musician and listener. But "Deluminate" delivers a lot in that short span of time, showcasing not just the band's instrumental ability but their talent for conjuring such a dark and eerie mood within that hurricane of harsh sounds. It's menacing and horrifying. It's amazing.
[from
Trumpeting Ecstasy
, out May 5;
Profound Lore
]
Venenum – "The Nature of the Ground"
Venenum is fucking bananas. The German band excels in harshness, riding that corrosive line between black metal and death metal that comes spring-loaded with discordant riffs, blast beats and an overall sense of disorientation that makes everything feel that much less safe. Which is exactly what makes it invigorating. A bit like Krallice or Gorguts in their technical weirdness, and a bit like Oranssi Pazuzu in their psychedelic aesthetic, Venenum offer something new to death metal in that it's not so strictly tied to already familiar sounds. It's not Tampa death classicism, it's not Gothenburg's buzzsaw melodicism, it's not Opeth-style progressivism, it's not technical proficiency up the wazoo. It's melodic and it's raw and it's played proficiently and it's progressive, but these elements all combine in weird ways, leaving something much more mysterious and atmospheric, with tempo and mood shifts that amount to a structure greater than the sum of its riffs. Each minute brings another strange twist, each new chapter in its progression a stunning testament to Venenum's ability to surprise and create something outstanding.
[from
Trance of Death
, out March 17;
The Ajna Offensive
]
Piece by Piece
The best metal albums of the month:
Aseethe's Hopes of Failure: Let's take a moment to offer some kudos to Thrill Jockey for being a pretty badass source for metal these days. I'm extremely stoked to be living in an era when Tortoise and The Body are on the same label. One of the most recent signings is Iowa City's Aseethe, who does epic sludge in a slow, utterly crushing fashion, not unlike the dirty low-end churn of Sumac, who are also a recent Thrill Jockey signing. It's ferocious catharsis with a twist of avant garde. (Thrill Jockey)
Immolation's Atonement: Immolation plays the kind of harsh yet technically proficient death metal that can be advanced for some new listeners. For veterans of death metal, it's comfort food. Atonement doesn't necessarily reach the band's past heights, but the songs are concise, accessible, explosive and kickass. And if it's all of those things at once, it succeeds. (Nuclear Blast)
Power Trip's Nightmare Logic: Thrash. Hardcore. Horror. Politics. Insane riffs. Catchy choruses. I haven't stopped listening to this on a regular basis since the promo showed up in my inbox in January. It could certainly be dethroned as my album of the year (there's still nine months to go!) but that hasn't happened yet… (Southern Lord)
Unearthly Trance's Stalking the Ghost: It took Unearthly Trance seven years to follow up their last record, V, but this long-awaited return to the doom metal fold is well worth the wait. The band not only slings the sludge with gusto, they offer up some of their most immediate songs yet, which makes the return not just gnarly, but a lot of fun. (Relapse)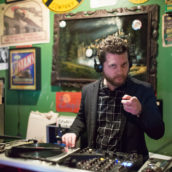 Jeff Terich
Jeff Terich is the founder and editor of Treble. He's been writing about music for 20 years and has been published at American Songwriter, Bandcamp Daily, Reverb, Spin, Stereogum, uDiscoverMusic, VinylMePlease and some others that he's forgetting right now. He's still not tired of it.