The Wonder Years : The Hum Goes On Forever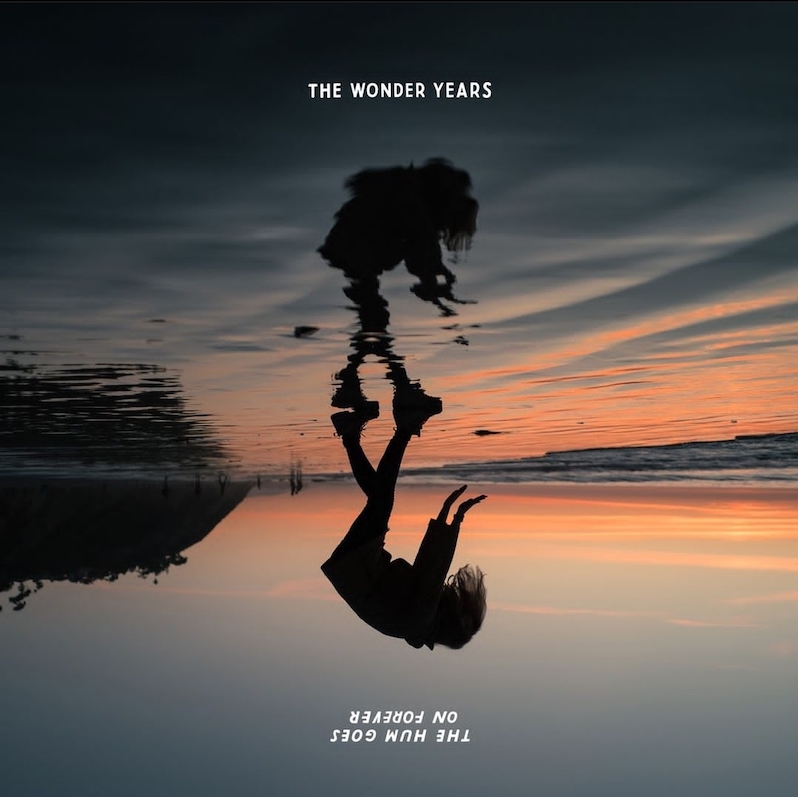 Pop punk has been around for a while (40 years this September, if you consider The Descendents' Milo Goes To College to be the kick-off), and though it was once the chief mode of expression for frustrated teenagers shackled by their fun-hating suburban parents, things have certainly changed. Those disaffected punk youths have grown up, started families, and now, with The Wonder Years' latest release, they're not singing about parents—they are the parents, and they're channeling their ferocious angst of yesteryear into songs about their children.
Lyrically, The Hum Goes On Forever is both affecting and engaging, chronicling the myriad anxieties that vocalist Dan Campbell has around his recent venture into fatherhood (Campbell and his wife had their first son, Wyatt, in 2019, and their second, Jack, in 2021). What makes this album distinct, though, is that it's far more family oriented—and therefore externally focused—than pretty much any of the band's past offerings.
The Hum places characters other than Campbell himself at the emotional core of the music more frequently than any other Wonder Years' record, rivaling even 2013's The Greatest Generation, which in large part comprised Campbell's reflections on his own family history. Previous Wonder Years' songs have been about other people, but the listener is rarely entitled to more of a glimpse of them—we see merely the gap in the wall they leave behind, with Campbell's description of his own internal mental states as our sole means of navigating who on earth this person actually was. The Hum, by contrast, still features Campbell's characteristic and commendable openness about his struggles with mental health, but sees him to wade out of the quagmire of introspection to focus far greater attention on those who are close to him.
"Wyatt's Song (Your Name)," for example, is about his first-born son ("I found glass in the garden / Dug it up with my thumb / I won't let you cut your feet when you run"), while "Oldest Daughter," with its warnings that "Madelyn, I love you / But we both know how this ends," is a song about his absent sister, and a sequel to The Greatest Generation's track "Madelyn." The subject of "Laura & the Beehive" is a little more ambiguous, though it's clearly love song written for some kind of maternal figure who was willing to throw herself between Campbell and an enraged swarm of bees when he was "two or three at the time." These songs, and others throughout, seamlessly run the gamut from being remarkably tender, to heartbreaking, and to utterly joyful—often, like in "Laura & the Beehive," within the space of a single song—and are an encouraging sign that Campbell's soul-stirring storytelling abilities remain as powerful and provocative as ever.
While there are some songs on the album that lean a little too heavily on huge, pounding, stadium hooks—like "Lost it in the Lights," which kicks off the second half of the album with yet another belting, melodic chorus at a time when we're kind of bored with them—there are just as many that pull them off perfectly. "Wyatt's Song (Your Name)," for example, or "The Paris Of Nowhere," deliver fist-pumping choruses with delicious pop melodies that slice through the ebullient cacophony of the band's thundering drums and guitars.
The Hum is a tad more polished than The Wonder Years have been before, occasionally verging on saccharine in tunes like "Summer Clothes." But some of its best songs are also the heaviest, like "Low Tide," with its pulsing half-time chorus and dynamic vocal performance (just try to listen to that final burst of vocals without getting a lump in your throat). "Old Friends Like Lost Teeth" is especially dark, not just instrumentally but for revealing that the album's eponymous Hum in fact refers to Campbell's constant preoccupation with death. "A song about death in my head / And I can't help but hum along."
But the most compelling thing about The Hum Goes On Forever is that it doesn't compromise for the sake of an easy conclusion. If your album details the terror at the weight of the responsibility that comes with parenthood, you can't act like that's got an easy fix—and Campbell doesn't. Instead, the album's closer wraps up a record of neuroses and negativity with the realization that meaning something to the people in his life is what gives him the hope to push past his demons. That makes it possibly the most optimistic ending to any Wonder Years record. It's nice to see them catch a break.
---
Label: Loneliest Place on Earth/Hopeless
Year: 2022
---
Similar Albums: