Thunderbirds Are Now! : Justamustache
There used to be a restaurant in the Hillcrest neighborhood of San Diego called Casa di Baffi, or, House of the Mustache. Its door handles were shaped like handlebar mustaches and inside, celebrity types like Jackie Gleason and Laurence Welk would frequent the restaurant for its famous pork chops in the 1960s. It's been sitting dormant for 20 years, and the owner has no plans to reopen it, but the handlebar mustaches are still there, as well as a giant, vacant building. Though it's unlikely to ever happen, I've often daydreamed about opening up a rock club there, while keeping all of the mustache paraphernalia and maintaining the building's overall facial hair theme, for kitsch factor. And on opening night, I would invite Thunderbirds Are Now! to play a show. Because this band, my friends, knows how cool a mustache really is.
Thunderbirds Are Now!'s new album is titled, Justamustache. And on the inside, a large handlebar mustache stretches across the liner notes. There's a picture of a dude with a large mustache shaving on the back of the inner sleeve and, to be quite honest, I can picture a band of mustachioed gentlemen hopping around, beating their spastic style of herky-jerky post-punk out of their instruments. It's rare to see a rock band look like a barber shop quartet and, not actually having seen a picture of the band before now, I'm somewhat disappointed that Thunderbirds Are Now! actually does not. But they rock hard. And though all the hard rockin' bands of 2004 were decked in lumberjack beards, it's time for the mustache to move in now.
Justamustache is loud, crazy and about as fun than Les Savy Fav with edible props. In fact, the two bands sound somewhat similar, which might explain TAN's release coming out on Frenchkiss. But Thunderbirds Are Now! seem even a bit more new wavey than Les Savy Fav, owing more to the weirdo-punk of Ohio's legendary Brainiac. The Detroit-based band may or may not rock mustaches in real life, but it's all in the attitude. Like the shaggy looking feller that drove up to your college party in his camaro, TAN are a rowdy bunch of dance-friendly post-punkers with one objective in mind: to get your rigid ass moving. Like vocalist Ryan Allen declares on "198090," "We signed up, to get down, so what's with all this waiting around?"
When Thunderbirds Are Now! want to, they can be a big spastic mess, like on the album opener, "Better Safe Than Safari," which, I must say, is one of the best song titles ever. Then, when they feel like it, they can be anthemic and powerful, like on "Eat This City." And, on more than one occasion, they get disco-tastic, as in the gloriously funky "198090" or the über-fun "Enough About Me, Let's Talk About Me," which displays a prime example of Allen's nonsensical wordplay: "Talk to a mother, who hates the nurse/to talk to a baby, who thinks she's worse/talk to a rich man who reimbursed/the first burglar to steal a purse/oh yeah!" Honestly, though, there's hardly a moment on this album that isn't worthy of an "oh yeah!"
Clean shaven or stylishly `stached, Thunderbirds Are Now! rock the party with reckless abandon and righteous post-punk grooves. If only I had my hands on the deed to Casa di Baffi, these guys would be the first band I'd book. This band can surely get a happenin' shindig started in no time.
Similar albums:
Les Savy Fav – Inches
Q and Not U – Power
Brainiac – Hissing Prigs in Static Couture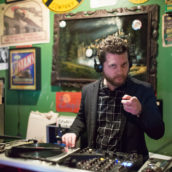 Jeff Terich
Jeff Terich is the founder and editor of Treble. He's been writing about music for 20 years and has been published at American Songwriter, Bandcamp Daily, Reverb, Spin, Stereogum, uDiscoverMusic, VinylMePlease and some others that he's forgetting right now. He's still not tired of it.