Life on Shuffle, Part Four: Party Pit
1. "Ca Plane Pour Moi" – Plastic Bertrand
Right off the bat, my iPod is ready to rock. Rock absurdly, but rock all the same. For some reason, this song appears pretty regularly during my shuffles, perhaps it's the device's own personal favorite. I can't say that it's not one of mine as well. This Belgian singer, with his nonsensical lyrics, punk rock drive and Beach Boys like harmonies, was an odd one for sure, but this song has the power to start a ridiculous, super mega fun dance party anywhere it pleases.
2. "Eat This City" – Thunderbirds Are Now!
The energy from track one spills over into this disco-punk anthem from Detroit's resident spazz outfit. This was one of 2005's most rocking tracks, one that I played over and over again, and remains one of the group's best songs overall. Can Frenchkiss records go wrong? I think not.
3. "Light Rail Coyote" – Sleater-Kinney
The rock just doesn't stop. Sleater-Kinney provides an interesting contrast to Thunderbirds Are Now! however, as these ladies veer away from TAN!'s absurdist dance party with a meatier rocker here. This song always amuses me, particularly because of the album insert, which features a photograph of a coyote riding a Portland train, hence, "Light Rail Coyote." Interesting back story or no, there's no denying this track's intensity.
4. "Don't Get Me Down" – The Walkmen
I'm still somewhat surprised by how quickly the critical wave turned against The Walkmen when they released A Hundred Miles Off. While it's a very different record than Bows + Arrows, it's still a quite good one, and features a good number of fantastic tracks, like this one, which may be more subtle than "The Rat," but isn't without its merits.
5. "Reward" – The Teardrop Explodes
It's interesting how this track fits into the sequence, as it doesn't quite achieve the same level of volume as many of the more recent rockers, but The Teardrop Explodes had a psychedelic intensity and weirdness that gave their songs a unique sort of energy. "Reward" is a little bit like Echo & The Bunnymen meets Curtis Mayfield, as blaring horns meet with trippy organ and Julian Cope's unforgettable opening line, "Bless my cotton socks, I'm in the news!"
6. "The Party Pit" – The Hold Steady
As I was treated to a Frenchkiss favorite earlier, we now transition to a song by a band formerly on the label, and currently on onetime (and for the most part, still) bastion of everything emo, Vagrant. The Hold Steady's rock is a lot more blue collar and, well, "classic" sounding than their dancepunk peers, however. This track wasn't necessarily my favorite from Boys and Girls in America, but is pretty darned good anyhow. The great thing about the Hold Steady is all their shows, even ones with bad sound and imperfect performances, always kick ass.
7. "The Veil Comes Down" – Thunderbirds Are Now!
Another TAN! song? I'm starting to get suspicious. This song rocks, I won't dispute that, but we haven't even gone ten tracks before having an artist repeated. That's no way to make a mix. But hey, two songs by an artist I like is nothing to complain about I suppose.
8. "Obsessed with the Excess" – Les Savy Fav
I'm starting to think this particular shuffle sequence has been curated by someone at Frenchkiss Records. Syd Butler, are you hiding in there? I've actually been told I look like him, so maybe he and I undergo some sort of Jekyll/Hyde transformation and I've actually programmed this without realizing it. Somehow, I doubt that. Whatever. I fucking love Les Savy Fav, so that's all that really needs to be said on this front.
9. "The Cemetery" – Architecture in Helsinki
Now, here's where the iPod takes me somewhere unexpected. After so many tracks packed with distortion, pounding drums and all out rock, here comes a silly, vaudevillian jaunt from Australia's most fun 8-piece. Like the Hold Steady, however, AIH put on a fantastic show as well, convincing me to immediately purchase their album after witnessing the youthful spectacle.
10. "Straight Street" – The Fiery Furnaces
The Fiery Furnaces are a band quite similar to Architecture in Helsinki in their oddball approach and sing-songy sensibilities. Yet The Fiery Furnaces have a tendency to be off-putting in their penchant for the unconventional. I had trouble with Rehearsing My Choir and its narratives by the Friedberger's grandmother, yet for the most part, I love just about everything else they do, like this, a standout from their second album, Blueberry Boat.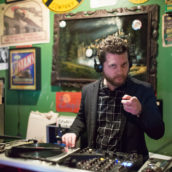 Jeff Terich
Jeff Terich is the founder and editor of Treble. He's been writing about music for 20 years and has been published at American Songwriter, Bandcamp Daily, Reverb, Spin, Stereogum, uDiscoverMusic, VinylMePlease and some others that he's forgetting right now. He's still not tired of it.