Titus Andronicus announce new EP, Home Alone On Halloween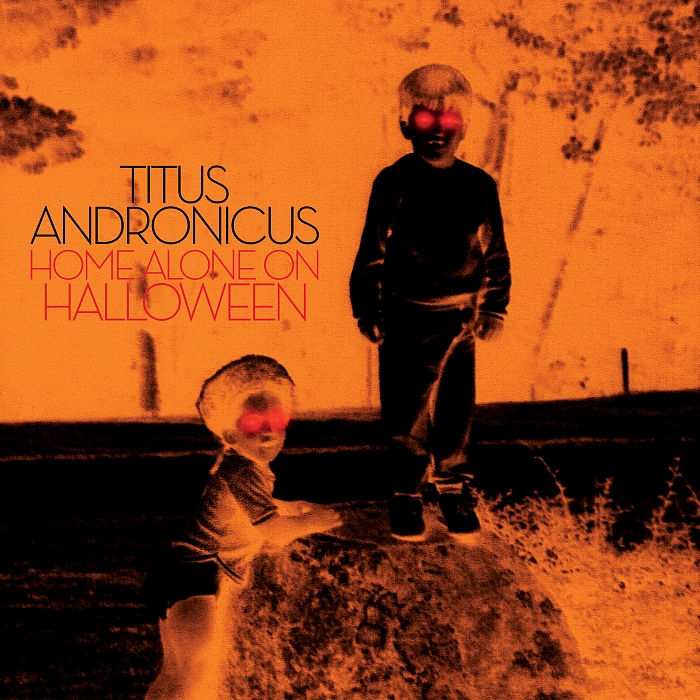 Titus Andronicus have just released a new digital EP, titled Home Alone on Halloween. The EP features three songs but runs about half an hour ("A Letter Home" is 16 minutes!) and is available via streaming services now. A limited-edition vinyl version of the EP is being released this week from Merge Records. Listen to the EP below and take a look at the band's upcoming tour dates.
Titus Andronicus' last album was A Productive Cough.
Titus Andronicus Home Alone On Halloween tracklist:
1. Home Alone (on Halloween)
2. Only a Hobo
3. A Letter Home
Titus Andronicus tour dates:
10/12 New Haven, CT – Space Gallery(SC)
10/13 Northampton, MA – Pearl Street(SC)
10/14 Buffalo, NY – Asbury Hall(SC)
10/15 Pittsburgh, PA – Cattivo(SC)
10/16 Cleveland, OH – Now That's Class(SC)
10/17 Columbus, OH – Skully's Music Diner(SC)
10/18 Bloomington, IN – The Bishop(SC)
10/19 Chicago, IL – Bottom Lounge(T)
10/20 Davenport, IA – Raccoon Motel (T)
10/22 Lawrence, KS – Bottleneck(T)
10/23 St. Louis, MO – Off Broadway(T)
10/24 Memphis, TN – Hi Tone Cafe
10/25 Nashville, TN – Basement East(T)
10/26 Atlanta, GA – Masquerade (Hell)(T)
10/27 Durham, NC – Motorco(T)
10/28 Richmond, VA – Capital Ale House(T)
10/30 Baltimore, MD – Ottobar(SB)
10/31 Jersey City, NJ – Monty Hall(SB)
11/1 Asbury Park, NJ – House of Independents(SB)
11/2 Jersey City, NJ – Monty Hall (SB)
11/3 Brooklyn, NY – Market Hotel(SB)
(SC) w/ Summer Cannibals
(T) w/ Ted Leo (solo)
(SB) w/ Spider Bags
Titus Andronicus' "Fatal Flaw" is on our list of 10 Essential Indie Rock Guitar Solos.