Transatlantic Underground : 2013 Resurrection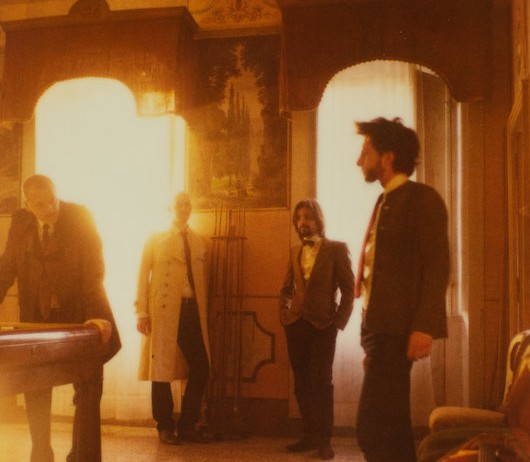 It's good to catch up. I enjoyed writing about unsigned, DIY, and under the radar releases on this column between 2005-2009. I reviewed some music which was great through strength of willpower, and some truly superb and under-appreciated releases by any criteria during this period. I recently heard several things which didn't quite fit the full album review format for various reasons, but truly sparked my enthusiasm. It seemed like an apt time to start typing again.
Italian quartet Soupaczar first came to my attention as one of the standout bands at the 2013 International Pop Overthrow festival in Liverpool's Cavern Club. Ordinary, Quite Contrary came out approximately 18 months ago to comparably scant fanfare beyond their homeland. This is a shame, as this is album is packed with whirring tuneful positivity. "But Her Face" sounds like Alphabetical-era Phoenix with melodies worthy of Daft Punk's Discovery and a hint of Earth Wind and Fire's "September." "Shine White Me" has the sinister glow of Greg Dulli in a lizard skin suit.
"See You Happy" is spellbinding. It clicks and pops with an upbeat energy akin to the Go! Team's Thunder Lightning Strike, and a widescreen ambience like the best moments on the first Sleepy Jackson album. Soupaczar deserve more exposure.
Stateside, St. Louis duo Corkbush Field Mutiny have made outside the radar soundscapes for a while now. Their Night Parade album is a work of uneasy beauty. "Boxcar" is a static blast of chiming guitars and distorted vocals reminiscent of Sparklehorse's Mark Linkous. "I've Never Been Good At Algebra" is lush with tinges of easy listening, Let It Be and Elliott Smith. By contrast, "Cigarettes Are Really Important In Prison" is a slice of sinister electro comparable to Ladytron and Sparks.
Oklahoma City group Aliens Vs Robots have some slightly mournful, but endearingly upbeat lo-fi songs on Soundcloud. "Baggage Claim" recalls Trans Am and the American Analog Set with a Built to Spill sugar rush. "Gotham" has a hissing abrasion reminiscent of Built to Spill with a hint of ? and the Mysterians, while "Invasion" powers through like Favours for Sailors.
Plastic Indians deliver "hazy garage rock" from the burbs of Chicago. Under-produced is an understatement here, but the tunes find a way through. "That Band" possesses all the qualities that Drenge have been praised for in the UK, whilst "Mistaken" has a weird psychedelic edge which is comparable to Guided By Voices and Robyn Hitchcock. "When Your Down" sounds like Drop Nineteens and Daniel Johnston fighting inside a four-track.
Back at home, Londoners Fanzine impressed me while supporting various larger bands in the provinces over the past two years. Their summery lo-fi never seemed to get the same attention as some of their more heralded peers (e.g. Yuck, Stagecoach), but this was not due to a lack of talent. "Roman Holiday" is the best song Pavement and Teenage Fanclub never wrote. "L.A" has brilliant shades of Echo & the Bunnymen, the Pains of Being Pure at Heart and Superchunk. Their EPs and single's can be picked up online, and come highly recommended.
The Machismo's ("misplaced apostrophe intentional") was the solo project of Sam Marsh, who is most known as the singing drummer of cult nineties alt. rockers Jacob's Mouse. Good Things About To Happen was originally recorded in a home studio in 1996 with Marsh self-producing and playing most of the instruments following the demise of his former band. The album is finally set for release on Suffolk indie label Sturm Und Drang Recordings in August.
It's a good thing that this music has finally seen the light of day seventeen years on. The effort put into the recordings, and the quality of the songs compensates for any lack of budget. "Ickworth Park Song" has hints of Papa M, Nick Drake and Seafood. "When You Know It's Real" is a spectral, relaxed pop song. Fans of Mad Action and Kieran Hebden's folkier efforts may find something to enjoy here. "Rogue Males" conjures images of burning pyres and bonfire toffee — and could easily complement the likes of Gravenhurst on a Warp Films soundtrack.
Sturm Und Drang also have a couple of 7-inch singles slated for release. The Vitamins' "Keys to the Limousine" is a concise garage-rock song which chugs along like the Beatings, Milburn and Moby Grape. Fellow Bury St. Edmunds group Horse Party sound more akin to PJ Harvey and Sonic Youth on their "Scarlet and Blue" live release.
It's been good to catch up. While it seems daft to give my best Vera Lynn impression, lots of great DIY stuff is released all the time, and this may not be the last edition of this column.