Transatlantic Underground: Autumn 2007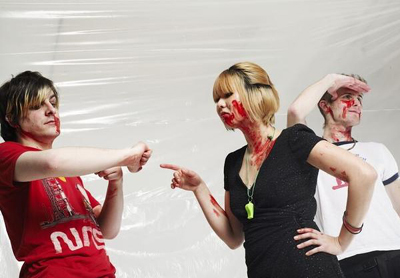 As the Leaves drop, I've been inundated with so much good music. Suffice to say, this instalment constitutes about half of the material I wanted to discuss now, and I already have loads of excellent stuff for winter's column…
I'll break with convention and begin with the UK bands, this time with a spotlight on England's South East and North West. Londoners Time. Space. Repeat. are responsible for some of the most touching drone-tinged rock n roll I've heard in ages. It's more of an emotional than stylistic analogy, but this music takes me back to the kind of mood I was in at the turn of the last decade, when The Sophtware Slump rotated heavily around my bedroom. "Hush" evokes Music for Airports… with a Jason Pierce worthy air of hands having being placed in fires. It's also as vulnerably eye-opening as Agaetis era Sigur Ros. "No Laces" has the awe inspiring scope of refrigerated Radiohead anthems such as "Lift" and "How Can You Be Sure?" Crucially, it also shares their pop element. Imminent download single "End of the World" is like an Ian McCulloch penned anthem for a post-apocalyptic 28 Days Later landscape. It's coming to you as the first of several digital releases from UK webzine God is In the TV. Investigate via the links below.
Preston's Star27 have been touring a set of slightly baroque, infectious material constantly for at least a year now, with far less attention than they deserve. "Bukowski's Secret" has shades of Beirut and Dexy's Midnight Runners running through the hyperactivity. "Welcome Home" is potentially the sort of song that advertises breakdown cover. It's like the twin of Spandau Ballet's "True" that chose the side of Brian Ferry, Select magazine, and righteousness. The heavy sentiment induces a wet eyed smile instead of vomit. Elsewhere in Lancashire, Blackburn's Apes Fight Back are the best kind of startling. This bass/drums/vocals duo rock like early Trail of Dead and Big Black, and their incredibly aggressive music is equally noteworthy for its character and intensity. "Yojo Jo" could make an invading alien mother ship rush for the toilet. "Maybe but Probably" has elements of "Perfect Teenhood," Mclusky and System of a Down somewhere in the disarray. "It Happens to the Best of Us" crushes like the Catheters with some of the misanthropy of Aphex Twin's "Come To Daddy" lurking. These guy's are doing something really interesting, and their live shows are up with the best.
I'll close the UK section with mention of the impressive array of beeps, pops and eccentricities emanating from the capital's Brainlove Records. A catalogue of stylishly humoured and eclectic releases panning from Dalston through Britain and beyond has given Brainlove independent renown. Pagan Wanderer Lu makes synth pop with the kind of friendly fuzz that The Boy Least Likely To do so well. "Repetition 2" carries the Dead Media torch admirably, with Big Brother evictions, old time religion and questioning empathy. "At the Hairdressers" is like a twee casio Tom Waits. Wakefield's Napoleon IIIrd offers hints at a wonderful, surreal masterpiece with the online cuts from this year's In Debt To. "This is My Call to Arms" is propelled by town crier vocals and streamlined beauty which implores the listener not to live their life through the TV. It reminds me of Brian Wilson, Smokey Robinson, Tomorrow, and movie endings that cause deep breathing. Applicants (pictured at the top of the page) offer an enjoyable brew of snotty hardcore and rock n roll with bits of 154 and Parklife thrown in. "Crappucino" contains the brilliant line; "I ordered a latte, and threw it in your face." The effort invested in presentation, design and description by the label owners enhances the whole Brainlove experience. You'll find access to most of what you need below, not least their intriguing vinyl and MP3 singles club.
Stateside, an intriguing mixture of electronic and metallic is coming out of New Jersey. Verona's Bubblegum Octopus are incredible. "Storm of Envy" combines death mental grunting and sped pitched fey pop. "Falcon Breeze" makes the idea of Napalm Death camping it up a reality. "You're a Bad Cat Man" takes Genghis Tron to new romanticism. Triangle Island dweller Haxan's Myspace headings of breakcore, black metal and new wave are accurate. "Orphantises" is disarmingly close to the way I imagine Alec Empire's diarrhoea sounds, while "Alpha Centaur" seems more like Conor Oberst and Andy Bell going nuts over a Nelly Record. "Bring on the Owls" puts Cradle of Filth beats and bleats in the context of Kid Carpet. It's captivating stuff. Long Branch producer Evil Robot Ted uses early Digital Hardcore as a canvas. Tracks like "Painting Your Spaceship" and "Bring the Lulz" are suitable bedfellows to Ec8or and Shizuo, while "Bitches Get Glitches" undercuts a beat barrage with dolphin echoes to sludgy effect.
I've also noticed plenty from groups on Athens, Georgia's Happy Happy Birthday to Me Records. The label began as a result of a compilation for Bees Knees fanzine, and several of its artists remind me why I became so excited by U.S DIY indie in the first place. Cars Can Be Blue specialise in endearingly coarse fish-tank production pop. "Your So Cute" pays homage to shallow romantic dysfunction in a way Moldy Peaches lovers could hug. The Lolligags cross the threshold between irritance and infectiousness. "My Mascara" nods to Cyndi Lauper and Siouxsie and the Banshees with the line, "I touch my eyeballs and they turn bright red" on constant recital. "A Spanner in the Works" is as lyrically beautiful and disjointed as Help She Cant Swim, confessing "I killed the lion and the man made out of tin." "Kitten Come Over" has the best use of a "lavender dress" I've encountered in a song, and the pair are excellent at what they do. Mufreesboro, TN group Velcro Stars are both relaxed and complex. "Lush with a Crush" has traces of the Arcade Fire's early screamy cabaret while "Brand New" propels chilled Magnolia Electric Company country into anthemia. Two cuts from their Hiroshima's Umbrella album exhibit more commendable variety. "Cascade" tinges power pop with Tim Kinsella, and "B side of Love" polishes Daniel Johnston's heartache.
Elsewhere, Chicago's Weightlifter's seem comfortable in their exquisite acoustic skin. "Oblivion Shines" achieves uplifting melancholy worthy of the Shins and Simon & Garfunkel. "Low" is defined by Teenage Fanclub style springiness and an Elliott Smith to Beatles interlude. Their Last of the Sunday Drivers EP is available on iTunes and CD Baby. Another Athens band, The 63 Crayons, are stylish and downright spooky. "Devils" murky twinkles would send the Mystery Machine van and its occupants into a montage trance. "Blood Hand" reels in White Out noise with infectious hums, echoing percussion and snotty chanting. Their more tuneful moments are pleasant as well as interesting. "Revolution Fight Song" evokes the peaks in an Animal Collective set with Owen Ashworth in the background.
Outside of the transatlantic bubble, two Beijing bands recently caught my attention. Carsick Cars do a wonderful line in the discordant and poignant. "Darklands Feedback" recalls Slint, Mono and Peter Hook. I've no idea how the lyrics translate but I get a nice sense of enhanced possibility and hope from listening to it. The radio feedback in the background is almost romantic. "C" could be the sound of Daleks taking over a Swell Maps record, with distortion an additional instrument. "Rock n Roll Hero" completely throws me. It shimmers to the same chords as early Miss Black America with a pastiche Lou Reed narrative before igniting in unison with "Ceremony." They've already opened for Sonic Youth and their Myspace comes emblazoned with the slogan, "enjoy our panda noise." I'm looking forward to the debut album. Hang On the Box produce something akin to '60s girl groups weaned on Bjork, Ono and Cab Voltaire in a strange science fictional context. "Trio" vaguely resembles a Motown take on The Cure's Faith. "You Hate Me but I Love You" is truly scary and beautiful, with wonderful lyrical juxtaposition and interesting emotion. The group have already been praised pretty widely (Billy Corgan, Marilyn Manson, Jackie Chan, and Newsweek, amongst others), but are still looking for a deal to release music in the USA and Britain.
I'll be back with more in winter. As always, feel to contact me with any material or recommendations.
*Applicants photo by Vicki Churchill
**Time…Space…Repeat `The Space Tree' image by Ania Borsuk
Links:
Time. Space. Repeat.
Star 27
Apes Fight Back
Brainlove Records
Bubblegum Octopus
Haxan
Evil Robot Ted
Happy Happy Birthday To Me
The Weightlifters
The 63 Crayons
Carsick Cars
Hang on the Box