Transatlantic Underground: Spring 2008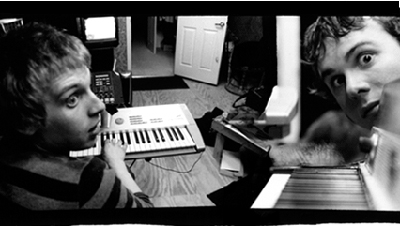 What can I say? Better late than never? I guess it's inevitable that as time progresses I'll have more commitments and less time to pontificate. I'm still doing what I can when possible though. So on to the music.
I'll begin halfway in Treble's home city. Pancakes for Penguin claim residence in Los Angeles and San Diego. They promise "more songs about animals" and deliver wonderful, scratchy lullaby indie. "Elephant Song" is twee as Beck doing the washing up. Vocals and home made orchestrations merge into a hazy marshmallow of sound. "Caution Wet Floors" brings to mind Elmo doing The Boy Least Likely To. It's like music from happy, newborn aliens. "My Little Pony" could be tacked on to Flaming Lips' Finally, the Punk Rockers are Taking Acid box set. You can't quite place the foreboding that lies somewhere beneath the cuddly veneer. The Missing Teeth are fully at home in SD, and responsible for a slightly more doom-laden indie pop. "Dictionary" is an "Atmosphere" pointing take on Rogue Wave that apparently concerns over familiarity with life and literature. "Waiting In Line" contains the creakiness of a Will Oldham demo, and somehow cribs a little of Cockney Rebel's character. There's a kind of audible half-raised eyebrow to the bands in this paragraph that really makes sense in the context of their hometown, perhaps the side of it which is actually superlative worthy. The Donkeys' MySpace exclaims "Is it baseball season yet?" and greets the listener with reference to some great music from 30 or 45 years ago. "In the Morning" is like an Eagles and Zombies-themed take on the Coral song of the same name. "Come on Virginia" has Big Star and Badly Drawn Boy's Have You Fed the Fish? in amongst the Stones' Sticky Fingers. I can really hear the La Posta burrito influence in their work too, and shared inspirations are always nice…
Elsewhere in the Golden State, Ventura's The Spires make romantic indie blessed with excess tranquility. "Ballad of the Spires" brings to mind the La's and Dave Brubeck. It's a love song like Luna's best, with a vinyl-melting chorus admission that "I'll always come back the next day." "I Know Less Than I Did" is perfect for fuzzy relaxation. I like the fact that the hints of Marr, Morrissey and Verlaine can't quite be pinpointed, and the line "like a good haircut you never stick around" deserves kudos. "Grand Canyon Vacation" embraces the lighter sides of Loaded and Love's Forever Changes. The Spires are on local imprint Beehouse Records, who seem to release lots of lovely stuff. Franklin for Short's power pop is wonderfully addictive. "So Long" is packed with Buddy harmonies and Posies hooks. Santa Barbara's Silk Hedge are no less tuneful despite the occasional cacophony. "Model Airplane Glue" sings the praises of wholesome hobbies with solvents in a vein that taps to Hamell on Trial and Cake at a Star Trek convention. "Cheer Up" is a different affair, like Frank Black whispering inane secrets over Sun Kil Moon songs. It's great.
I'll finish the U.S. section by giving props to one of the best things I heard last year. Washington, D.C. duo Jonathan Weir and Adam Cox practice as the Dead Bodies. They released the album Mr Spookhouse's Pink House, incorporating mini epic Granola John's Disappointing Lager in February 2007, although I didn't encounter them until the fall. When it arrived through my letter box, I was deeply perturbed by the business of convincing my examiner to allow me to drive with a stick, and as a result a review never materialised. I need to correct this injustice as Mr Spookhouse's… is a work of demented genius, perhaps the audible equivalent of a smiling eyeball. "Pink Muff dance Party, Vampire Resolve" begins like Disney characters chastising the animal eating undead with fried electronics, before anglophile vocals coo pleasant inanities. "Mr Spookhouse Himself" is just about a folk pop song. This Mystery Machine-driven homage to the local misunderstood bachelor switches between "She don't Use Jelly" and Odessey and Oracle. Meanwhile "Dancing Has No Class" could be the Rushmore take on Tommy, "Tuesday's Juice" makes me imagine Arthur and Ben Lee mangling "Exit Music [for a film]" with flamenco and voicemail. Really, buy this record.
Concerning artists from beyond the USA and UK, I enjoyed a set of ghostly serrated folk from Winnipeg's Old Seed in March. Craig Bjerring's songs brim and quiver with a menace that doesn't seem overtly affected. "You've Got Nothing but Light" could be a fitting off cut from a Dan Bern-led murder spree. "Queen of the French Farewells" emerges through a mist of relaxation and viciousness, as "everything contracts again and we are all alone." It's ideal music for cold 10p.m.'s on the edge of a city centre. Estonia's Barthol Lo Mejor disconcerts me in an altogether different fashion with twilight zone electro, by turns tacky, kitsch and enlightening. "Give Me Chemi Calls" is reminiscent of Telepopmusik's 2001 hit "Breathe," yet appears to have a pitched battle between Miss Kittin and Itchy and Scratchy occurring in the background. The helium warp of "Tutti Frutti" wraps Mike and Rich contrariness over a Buggles backdrop. "Karma Sharpshooter" could be compared to Gescom, Tetris and UK kebab culture. Barthol's sounds are admirable for their incongruity.
In the UK, Hull quintet the Rocky Nest present a really endearing racket that belies the shout outs to the Velvets, Talking Heads and Belle and Sebastian on their MySpace. Their recent CD-R EP Golden Lights comes highly recommended. "This Promising Life" contains hints of Ken Loach style tragicomedy before bursting into a title name-checking chorus. The ambience is akin to a twinkling, sped up "Venus in Furs." "The Good Lord Vs. Sister Lovers" makes like Dufus and the Marine Girls rolling around New Orleans in a barrel while Revolver rotates. "Lenny Does a Good Deed" echoes Tigermilk, Fuzzy Logic and Ralph McTell. The thing I like most about the Rocky Nest's music is that which I can convey least effectively with words. It's fun.
I saw Liverpool's Town Bike in the same pub that I encountered Old Seed within 24 hours breathing space. They're responsible for some pretty special Helen Love plus anthems. Acclaimed McFly tribute "Dougie" is catchier than the subject's band in a bubblegum Buzzcocks fashion. Its "at least he makes my heart go boom, and who can say that about you?" refrain wakes me up. The dirty Shampoo polemic of "Cockmuffbumhole" is overshadowed by "you're a drummer in a band and you've got a metal hand." "Ally Sheedy" is my favorite, though. Turning a Home Alone 2 reference into heartbreak warrants applause. Lastly, Cardiff zine God Is in the TV introduced me to brilliant Londoners Time…Space…Repeat for the fall column when launching their online singles club. Since then they've consistently slipped quality into my inbox. Superman Revenge Squad's "Idiot Food" is a masterstroke, melding MJ Hibbett gravity with Dan Treacy-level romanticism. It sympathizes with "the record companies facing mass redundancies, because the second album fails to do everything it should." Meanwhile, the Sailplanes' specialty in "clanging, banging and awful singing" is a joy to behold. "Remedy" jerks like Meanwhile Back In Communist Russia and Life Without Buildings, while "Indifference" could be 154 in an ejector seat. Globally focused and anonymous duo led collective Small Crew are responsible for wonderful wall of sound tunefulness. "Kamikaze" aches like Brett Anderson in Traffic. "Getting Up" could be a more pronounced unreleased Weather Prophets anthem, and I'm really happy to be acquainted. It isn't offering salvation through "a thousand gloomy days" but assures the listener that they will find their "own way." Sometimes that's all, and only what you need.
Columns are like buses. My catch up TAU based on Italy's Welcome To the Jingle festival is imminent. I'll try and make the gap between installments less spacious next time though.
Pancakes for Penguin
The Missing Teeth
The Donkeys
The Spires
Franklin for Short
Silk Hedge
The Dead Bodies
Old Seed
Barthol Lo Mejor
The Rocky Nest
Town Bike
GIITV Singles club
Superman Revenge Squad
The Sailplanes
Small Crew