Transatlantic Underground: Summer 2007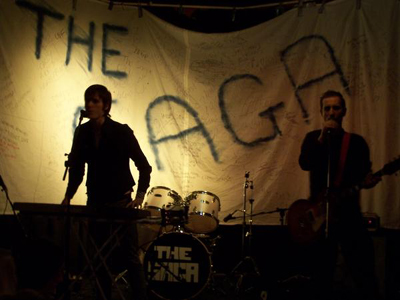 Welcome to the summer 2007 installment of Trans Atlantic Underground. It's another brief column this quarter as I focus on convincing my local examiner to let me drive with a stick shift. I'll begin outside of Brit-America. Istanbul's Flatliners have displayed some virtuoso drum and bass on their Myspace page. "Rainmaker" and "Twisted Funk" are pretty flawless and as good as anything coming out in the mid-`90s. Fans of Rufige Kru and Marcus Intalex will find lots to like here. Luxembourg's Miaow Miaow are making exquisitely polished power pop. Touches of Broken Social Scene and dEUS adorn "Rio," while "Eschington DC" is a propulsive three minutes in the vein of Teenage Fanclub and Annie Christian. Their debut album Summertime for a Lifetime is available over the web now.
Stateside, Columbus band Necropolis have made a name for themselves with imaginative pseudonyms and suffixes (sample: "Mat Bizzarro-…Sea Monster nerd"). Recent long player The Hackled Ruff and Shoulder Mane contains admirable psychedelic, screaming Post punk. "Colors and #'s" creates the mental image of a Germs record heard over particularly bad radio reception while Night of the Living Dead occurs outside. "Innerspace" is almost lounge music as played by the Cramps and Husker Du, and David Thomas would be proud of "To the Bar." The record is becoming a regular on my speakers, and several non-album tracks on Myspace exhibit great snotty intelligence.
I'm also enamoured with the glitchy, melodic electronica of Portland, OR's Small Sails. "Aftershocks and Afterthoughts" manages to be uplifting and melancholically contemplative like Caribou's best moments. The bass line nags your eyelids. In the same city, recent Albuquerque transplants the Gingerbread Patriots have made immaculate Technicolor pop with shades of the Sleepy Jackson, Someone Still Loves You Boris Yeltsin, and The Soft Bulletin. A cosmic Beatles vibe and abundant unrequited whimsy make "The Day I Dies" worryingly addictive. Check out their back catalogue on the links below.
For whatever reason, circumstance has found me featuring three duos on the UK section of this column. Sheffield indie!pop!metal! pairing Oh My Word! do a pretty life-affirming job of obliterating the boundary between standards and brilliance. The sense that those responsible have listened to loads of different music is underpinned by plenty of their own interesting ideas. 2007's 190MPH Shock! EP is an absolute must have. Compact iPod beats, early ring tone worthy keyboards and (really rather good) Bernard Sumner-esque guitar have never sounded so holy. At times it's like The Mighty Boosh with an inverted music-comedy quotient, or Soft Cell writing Roald Dahl style children's books. The title track has Younger Younger 28's knack of utilizing social slight and insight, and a frenetic indie-punk blast that would slot into any John Peel show. If you want glaring examples of all that's good about ramshackle DIY, head to the links below and find something to make noise with.
Sticking with the two's, Edinburgh's Come In Tokyo made an endearingly sardonic racket when recently touring with ex-Beta Band project the Aliens. "Only Valentines" could be a Mark E Smith love note sung over Bukka White records, where the recipient couldn't be lived with or without. "Wake Me Up" merits positive comparison to 1970s solo Iggy, while "I Won't Want You" is as good as Sons and Daughters' on top form. Arthur and Martha are Adam Cresswell (formerly of Track and Field's Saloon), and Alice Hubley (previously singer on Herman Dune and Bilge Pump records). Their spacey, electronic pop from forthcoming album The Microchip Tears made me smile. "Music for Hairproducts" is one of the best songs, simple as Futuristic disco with a Pantene-ready premise. The Gerling echoing "Squarewave to heaven" sounds reassuringly warm.
Finally, Londoners Muchos Perros impressed me lots last year with 2005's From This Side of the Road. Their new Farewell to the Beast EP retains the quality in a more subdued ambience. "The Pressure of Being Right" is one of those indie epiphany moments that you can commute to without restlessness. Fittingly, it arrived through the post on OK Computer's tenth birthday. "Assess the Situation" evokes nineties Fierce Panda signings the Llama Farmers and Truck's Goldrush. Expect more good things in the future.
I hope to provide a more substantial TAU in the autumn. As always, feel free to contact me with music. Have a good summer.
Links:
Flatliners: MySpace
MiaowMiaow: MySpace
Necropolis: MySpace
Small Sails: MySpace; Web
Gingerbread Patriots: Web; MySpace
Oh My Word!: MySpace
Come In Tokyo: MySpace; Web
Arthur and Martha: Web; MySpace
Muchos Perros: MySpace
* Photo of Oh My Word! by Elouisa Huitson