Transatlantic Underground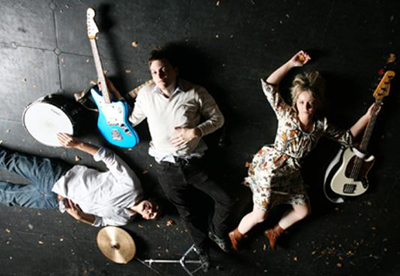 It's been a few months too many since the last Trans Atlantic Underground. Rather than spin eloquence I'll say that it's been a busy few months for this writer, and that I hope to deliver another installment before '06 closes.
Sweden's Stereo Test Kit Records deserves its own celebratory paragraph for the barrel load of melodic treats offered en-web. There's Boy Omega's lush debasement, evidenced beautifully as "By Midnight We'll Give It a Go" echoes the best of Oberst and Luna. Club Eight's "Saturday Engine" has a turn of the nineties spark, somewhere between Madchester and Select Magazine. Audrey add psyche encroaching chamber pop, while Chasing Dorotea twinkle like vintage Mark Kozelek. The samples here suggest that we could be hearing much more about this imprint in the future.
Plenty of inspiring stuff from the East coast has found its way to my letterbox in recent months. The 2AM EP from Tom Fillepp's Cars and Trains project provides five glistening examples of greater New York click and pop. "An Abandoned City Street" has a smoked introspection along the lines of Ben Gibbard and Casiotone for the Painfully alone. The Chief Smiles released Help Us Help You last year. The album has confounded me with a style conscious mixture of complimentary pop-corn, string laden rock. Think somewhere between Garbage, The Corrs, Split Enz and Guillemots and you're in the right neighbourhood. Go on, hum with a red face.
Brooklyn's Please Dept unleash a treasure chest of minor lo-fidelity with most recent effort A Fast One on Julian. Figurehead Chris Hembree has a way with Ben Lee worthy idiosyncrasies, and the band tread a line between novelty and Dali. "A Big Deposit" could be Buggles in a Halloween fun fair. "BPoP" has shades of the Coral and Beck in its jumble sale pirate brew. The protagonist looks for "something to thin my blood." "On this Boat" might be one of Evan Dando's nastiest moments at the back of a very shady joke store. A Fast One may not ooze accessibility, but great pop ingredients are present, bowl of soup rather than melting pot style. Therein lies much charm. Staying across from Manhattan, Pretty Flowers's EP for the incredibly monikered Bananaseat Records is rooted in American punk history. "Riot" chugs shoutingly and self-explanatory for fans of Johnny Thunders and the Ramones. "Knife Fight" has a lovingly muted coda worthy of Rocket from the Tombs. The audible crackle of spit and single mindedness rings palpably. It's helping me type.
Baltimore band Vincent Black Shadow's eponymous half hour is prime psychedelic Sabbath abuse. While very self-assuredly limited at wooing anyone, the brain-frying is so adept that I feel nothing but endearment and admiration for them. The music sounds discordant and raucous in the manner of Blue Cheer and the Eighties Matchbox B-Line Disaster respectively. Redbeards' self titled mini-album rounds up an impressive opening salvo for the same Heart Break Beat label. "Straight to You" is a worthy namesake to the Cave song, approximating classic Pavement impressively. "Fletcher II" rocks dust bin lids like the Catheters with an Explosions in the Sky cascade, and "Bombay Sapphire" combines blistered romance and ironic head beating superbly. Heart Break Beat deserves your anticipation.
Natalie Rose Lebrecht has been making music, often using the alias Greenpot Bluepot, since 1998. She received a Roulette/Jerome Foundation Commission for New Experimental music in 2003 and a BFA Intermedia Art from the University of Iowa in 2005. Devendra Banhart has also been impressed, comparing her to "some intergalactic Nico…unendingly blowin' my mind." Lebrecht's most recent album, Imagining Weather, sounds pointedly ambitious. She's a singer like Tim Buckley was, and her vocals impress on a technical level. Thankfully the music has leaps of offbeat character to accompany this. When she states that "Dr Zinn says war is like crack cocaine," I don't suspect contrivance.
This edition's British round up begins zoning in on the capital. Muchos Perros inject unprocessed emotion into a shale wall of noise. Their attachment to Link Wray, Dean Wareham and Kevin Shields resonates creditably. "Ortigas Del Mar" could be an electrified Papa M take on Galaxie 500, with Jim O'Rourke producing. "Fluffer" provides fuzzed, numb, retro-pointing fun. It faces both the 1950s and 1980s. Their From This Side Of The Road EP deserves a firm recommendation. The Lonely Crowd make gritty, drizzled music to suggest that Thatcher crushed South East England rather than the rest of the U.K. "Sight of You" is a lovely, scarred and bittersweet anthem in the manner of Melys, Sleeper, and the Delgados. The ornate lyrical regret recalls Joe Pernice's novel about Meat Is Murder. The Rollison Affair admit to a Fall influence, and their material jitters correspondingly. Thankfully, good taste is supplemented by enough creativity to make for an interesting listen. "Frequency" has volumes of Devoto at its pulse. "Hanging Around" takes on the early Television Personalities' disparaged abstraction and a Gang of Four bounce.
Jocky Venkataraman hails from Glasgow and makes destitute, nostalgic songs to convalesce with frosted snacks and their distributors. With a delivery somewhere between Daniel Johnston, Billy Bragg and Irvine Welsh, his My Heart is In the Humber album oozes careworn optimism. "I Hurt Myself" sits somewhere between Hefner and Paul Heaton in spirit. "Sing For Fun" is quite the show stopper, rivalling the Beauty Shop and Simon Joyner's Room Temperature in the misery stakes. All this as the man's Kevin Rowland fixation emerges over a rummaging of Anti-Folk and genuinely well-intentioned liberalism.
I received a pleasant surprise last month when a guy resembling Gary Moore handed me a CD in my ex-workplace. John Hackett is the brother of Genesis guitarist Steve, and plays classical flute. His most recent collaboration with local Sheffield experimental musician Moodi Drury, Red Planet Rhythm, exudes very accessible retro ambience. Fans of Caribou and the turn of nineties Northern Lights compilations may find enjoyment here.
Lastly, but perhaps most emphatically, I'll give a shout to another capital act. Anglo Japanese trio Friends of the Bride represent some implausibly perfect missing link between the Rat Pack, Dave Brubeck, interesting British invasion stuff, and Kill Bill. "Buckle Up Sunshine" should be an enormous ghoul party anthem, complete with Dashiell Hammett candour and an iPod in toaster! Debut vinyl release "Want In" is out November 6th. It has the bubblegum beauty of best Small Faces and knowing hyperbole akin to John Favreau's finest. Alan McGee has already taken notice, and these gents have better outfits and tunes than plenty of the glue sniffing guitar clothes horses clogging up British MTV2 at present.
Stereo Test Kit
Please Dept
Pretty Flowers
The Chief Smiles
Cars and Trains
Redbeards
Natalie Rose Lebrecht
Muchos Perros
The Lonely Crowd
The Rollison Affair
Jocky Venkataraman
John Hackett
Friends of the Bride