Treble Holiday Gift Guide 2004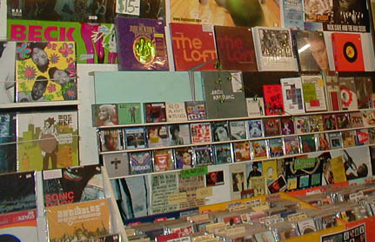 Thanks to a hotly contested election which left the blue states even bluer, the ramp-up to the biggest retail quarter of the year was subdued. Many items were delayed until after the vote to take advantage of better face-time in advertising, and some were lost in the shuffle of the two Elis squaring off against one another. And now, whether you're in a red state ready to celebrate by going holiday shopping, or in a blue state worrying about the state of the economy and need some helpful gift hints, we at Treble are here to help! Featured here are a myriad of gift ideas for the music lover in your family, or even as a little treat for yourself. The big six (the biggest six weeks in retail including Thanksgiving and Christmas) might be more packed and maddening than ever so we've decided to be nice people and help you out with the chores. Enjoy!
Books:
In many situations, it's hard to find that particular CD that the giftee doesn't already have, especially in this downloadable age. So what's the alternative? Books, of course! (Providing your music lover knows how to read, that is). This is one of the biggest seasons for music books that we've ever seen, with everything from legendary artists to the newest and most cutting edge, popular to indie, rock to rap to country and beyond.
Let's begin with the books for the broadest audience and then start narrowing down, shall we? First up is the New Rolling Stone Album Guide: Completely Revised and Updated 4th Edition (Fireside, $29.95). Here you'll find a myriad of album reviews penned since the magazine's inception and bound in 944 pages of ratings and descriptions. An interesting article in the front of the book details the changes in the music industry since the last edition was released in 1992. Hey, Rolling Stone, here's a suggestion: why don't you just put out a yearly addendum like Roger Ebert does featuring all of your reviews for the past year? A new edition every ten to twelve years is a little too long.
Need even more trainspotting fun? Then why not try Popstrology: The Art and Science of Reading the Popstars (Bloomsbury, $19.95). In this book you can look up your exact birth date and find out not only what song was number one on the charts that day, but what that song says about you as a person. Incidentally, mine was Rod Stewart's "Maggie May". I was too afraid to find out what that said about me. Maybe it says that when I turn fifty I'll start sounding more and more like Ella Fitzgerald.
Is your music lover also an artist? Then why not pick up a copy of Art of Modern Rock: The Poster Explosion (Chronicle, $60.00). From the man who brought you the book, The Art of Rock: Posters from Presley to Punk (Abbeville, $85.00) has come out with a second volume featuring poster art from modern bands large and small. Gig posters are getting more and more popular and very collectable. This book is a little pricey, but is the perfect coffee table book for the music and art fan.
Were you enrapt by VH-1's Hip-Hop Honors? Then And It Don't Stop: The Best American Hip-Hop Journalism of the Last 25 Years (Faber & Faber, $16.00) is the gift for you. Divided into decades, this book takes a look at the best hip-hop writing from the time of the Sugarhill Gang to Fitty Cent. It's the shiznit, yo.
One of our yearly favorites is the latest installment of the Da Capo Best Music Writing (Da Capo, $15.95) series. 2003's edition was edited by Matt Groening, creator of Life in Hell and The Simpsons and also curator of one of the All Tomorrow's Parties festivals. This year's tome was edited by Grateful Dead drummer and all around world music lover Mickey Hart. There are always some goldmine finds in these books and they can be read again and again. With Hart at the helm though, I wonder if there's any articles that are of the type, "Man, I should be writing this stuff done, we're so funny!"
Have a tech-savvy friend? The iPod Fan Book (O'Reilly, $14.95) is the book for them. Somewhat of a dummies book on the Apple product that is taking the world by storm, it is also a primer on how to get the most out of your iPod and how to use it as a fashion accessory. The book is already a bestseller in Japan. Hoodathunkit?
Getting into the gift books for the pickier music connoisseur, there are plenty of books with narrower topics. One of the biggest subjects for music books this year is Bob Dylan. On bestseller lists everywhere already is his long awaited memoir, Chronicles, Vol.1 (Simon & Schuster, $24.00). This is a must have book for every Dylan fan. I was hoping that the audio version of the book would be read by Dylan himself, but instead it is read by Sean Penn. Don't get me wrong, I love Sean Penn and particularly his narration of the Stacy Peralta film Dogtown and Z-Boys, but I would have wanted to hear the man himself. Hell, Bill Clinton found the time to read his hernia-causing life story, and Dylan's is only a third of the size! You'll also find Lyrics: 1962- 2001 (Simon & Schuster, $45.00) by the man once known as Robert Zimmerman. Every lyric to every Dylan song is included here. Another must have for those who find poetry in folk and pop lyrics. Other books such as Studio A: The Bob Dylan Reader (Norton, $24.95) and Bob Dylan: Performing Artist 1986-1990 and Beyond: Mind out of Time (Music Sales, $29.95) are also on bookstore shelves this season.
With the release of Brian Wilson's SMiLE, there is a new Beach Boys resurgence which is encapsulated in the books The Beach Boys: The Definitive Diary of America's Greatest Band on Stage and in the Studio (Backbeat Books, $29.95). Heck, why not put both the CD and the book together in a gift package?
Some of the more popular books this season on rock music artists include The Wilco Book (Picturebox, $29.95), yet another look at the band, but this time from the band's perspective, with photographs, personal anecdotes, an essay by Rick Moody, a piece by Henry Miller that the band members find moving, and a twelve-track CD with unreleased songs from the A Ghost is Born sessions. Also, to accompany their latest album, there's U2's coffee table book U2 Show (Riverhead, $35.00), featuring over 500 photographs from the band's twenty-five years of touring.
More of a fan of rockers with tattoos? Then there's Anthony Kiedis' tell all autobiography, Scar Tissue (Hyperion, $24.95) which deals frankly with his messed-up childhood, his bouts with drugs, and his myriad of famous girlfriends including Ione Skye, Sinead O'Connor, and Sofia Coppola. Or there's Tommy Lee's similarly themed book Tommyland (Atria, $26.00) featuring his thoughts on Pamela Anderson, Heather Locklear, Mötley Crüe, and the tabloids. In a more bizarre vein (pun intended) you'll find Dave Navarro's book Don't Try This at Home (Regan, $29.95), a book which chronicles a crazy year in the former Jane's Addiction and Red Hot Chili Peppers' guitarist. In 2001, Navarro was addicted to drugs, had a messy breakup, and turned his house into a carnival of visiting freaks, druggies, porn stars, and celebrities. He, of course, captured the whole thing with surveillance cameras and his infamous photo booth and has released it in book form.
There are artists that we have lost the past year as well and now there are books by which to remember them. First up is another look at Johnny Cash. Soon after the Man in Black's death, there were books put out by Rolling Stone amongst others as well as a repackaging of his autobiography Cash. But this latest book is different. Johnny Cash at Folsom Prison: The Making of a Masterpiece (Da Capo, $24.00) is a look at the recording of one of the most legendary and frank live albums ever to be recorded. Secrets are revealed, such as the fact that the whoops heard when Cash utters "I shot a man in Reno just to watch him die" were added post-production and that the inmates were relatively sedate and awed until the end of each song. Antonino D'Ambrosio collects essays and interviews in the book Let Fury Have the Hour: The Punk Rock Politics of Joe Strummer (Thunder's Mouth, $15.95). And finally, there's a book called Elliott Smith and the Big Nothing (Da Capo, $23.95), a somewhat small biography of the man and his music that gives little insight to the reasons for his mysterious and still under investigation murder / suicide.
Music:
Every holiday season there's always plenty of new albums and box sets to choose from and this holiday season is no exception. The question won't be what to buy but how to whittle down the choices as to what fits into the budget. This year features new releases from old friends, deluxe editions of past great albums, box sets of big time favorites, and some weird odds and ends.
U2 is back on the scene, and if you didn't know they had a new album on the horizon, you either don't watch TV, look at magazines, or leave the house. How to Dismantle an Atomic Bomb (Interscope, $13.98) will be one of this season's biggest sellers with not only a regular album version, but also a black iPod preloaded with the songs, and a collector's edition with a DVD featuring videos and b-roll from the studio, four acoustic songs, and a hardcover book.
Rufus Wainwright finally presents the sequel to Want One with Want Two (Geffen, $21.95) which also features a DVD. Frank Black has a double disc out called FrankBlackFrancis (spinART, $15.98) with one CD featuring acoustic performances of Pixies songs before they were recorded with the band, while the other features Black reworking Pixies favorites with a new sound. Neko Case also has a new album out called The Tigers Have Spoken (Anti, $13.98). One of my favorite underdog bands of the late eighties was The Ocean Blue who appealed to fans of U2, Aztec Camera, and The Trashcan Sinatras. After a long absence the band is back with a new EP called Waterworks (Ocean Tours, $8.98). Hooray!
If you're not too embarrassed to buy either of these next three albums, you'll be in for a treat. First there's the Music from the O.C.: Mix 2 (Warner Bros., $18.98) which features songs by the Killers, Death Cab for Cutie, Interpol, Patrick Park, Dios Malos (a.k.a. Dios), The Walkmen, Beulah, Keane, and the Album Leaf among others. There's also Music from the O.C.: Mix 3: Have a Merry Chrismukkah (Warner Bros., $11.98) with holiday songs by Jimmy Eat World, Rooney, Low, Ben Kweller, The Long Winters, and the Eels. Finally, there's the Spongebob Squarepants Movie soundtrack (Sire, $18.98), which looks hilarious, with songs by Wilco, The Shins, and the Flaming Lips.
If you're looking for reissues, there's a big slate of albums being reissued as deluxe packages this year. The Cure is reissuing every album in order beginning with Three Imaginary Boys (Rhino, $24.98), long out of print and never released on CD in the States. Extra songs abound on the album and on many other reissues such as Nine Inch Nails' The Downward Spiral (Nothing, $29.98), Franz Ferdinand's self-titled debut (Sony, $18.98), and Snow Patrol's Final Straw (Interscope, $18.98), all getting the double disc treatment. Legendary influential band Can is also on the reissue bandwagon, re-releasing their first four albums, Monster Movie, Soundtracks, Tago Mago, and Ege Bamyasi (all Mute, $15.98). Were you a Soul Coughing fan? Then you might want to check out the double whammy of M.Doughty's Skittish / Rockity Roll (Ato, $15.98), the frontman's two solo albums released in one tight package. Two of the biggest albums out this year will be John Lennon's Rock and Roll (Capitol, $18.98), his album of classic rock and roll covers, and Acoustic (Capitol, $18.98), his solo work done, well you can figure it out.
Greatest Hits packages always tend to glut the market in the last retail quarter and this year we find three British bands and one American band to fill the void. Travis, The Verve, and Placebo all have singles packages out for the Britpop fan while Pearl Jam has a double disc of their best called rearviewmirror: Greatest Hits 1991-2003 (Sony, $19.98) which features a few remixes as well as fan favorites and the rare "Yellow Ledbetter".
In the mood for something pricier? Then why not go for the double disc plus a DVD of Simon and Garfunkel's most recent recordings of their last tour, Old Friends Live on Stage (Warner Bros., $32.98), a package with all of your old favorite songs made new. Not pricey enough? How about the long awaited Nirvana Box Set, With the Lights Out (Geffen, $59.98)? With 81 songs on three discs and one DVD, this is one of the biggest releases of the year. Still want to break the bank? Then there's the Beatles' Capitol Albums, Vol.1 (Capitol, $69.98), which packages the first four American Beatles albums, never before released on CD. In the box you'll get Meet the Beatles!, The Beatles' Second Album, With the Beatles, and Beatles `65. What's more exciting than that? The fact that they specifically denoted that the package is volume one. Does that mean that there'll be more than one? Let's hope so.
Finally, for those kitschy freaks in your household or coffee klatch, there are a couple of releases that aren't for the masses by any means. First is William Shatner's Has Been (Shout! Factory, $18.98), the man known as Kirk's recent album release featuring his rendition of Pulp's "Common People". Wow. Then there's the really odd Pickin' on Modest Mouse: A Bluegrass Tribute (CMH, $16.98) which is exactly what you think it is. A bluegrass band covers "Float On", "Ocean Breathes Salty", "3rd Planet", and "Gravity Rides Everything" among other Brock penned favorites. Again, not for everyone, but worth a listen.
Well, I hope that we here at Treble were able to give you some ideas for stocking stuffers, tree stackers, Hanukkah gifts, or Kwanzaa offerings. (And a big psst to friends of Treble, publicists, labels, and publishers, if you want to send some of these things our way we wouldn't be mad at ya!) Happy Holidays!