Treble's Guide to Spotify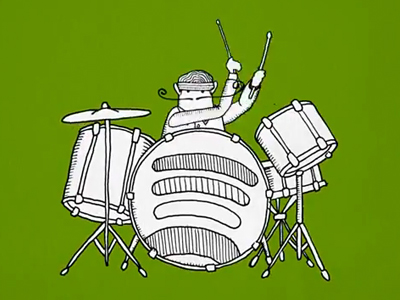 As professional music geeks, we make a lot of playlists, mixtapes and other assorted jumbles of songs on a regular basis. So imagine how thrilled we are now that online-streaming music service Spotify, having been enjoyed by British listeners for a few years, has arrived on American shores. Or ISPs, anyhow. Plenty of labels, musicians and publications have been getting in on the act, sharing their playlists and starting some parties from the comfort of their own laptops. And we couldn't help but follow suit and start our own account.
We've put together seven playlists (expect that number to keep growing), based on some of the biggest features we've put together over the years. So, sit back, check out our playlists revisit the features and enjoy!
What better way to start than with a playlist of tracks from our favorite records of the year? We recently compiled a list of favorites for 2011's halfway point just a few weeks ago, so this one's pretty fresh.
Featuring: Cut Copy, Destroyer, Fucked Up, PJ Harvey, The Pains of Being Pure at Heart, Shabazz Palaces, Kurt Vile and Wye Oak.
Treble's Top 200 Songs of the '80s
Earlier this year we ran one of our most sprawling and exhausting decade lists, our top 200 songs of the 1980s. And you can listen to most of them here, on this snazzy super extended playlist. Unfortunately there are no This Heat tracks available, but we got almost everything else!
Featuring: Joy Division, Pixies, Sonic Youth, Prince, Michael Jackson, Public Enemy and Fugazi.
The Top 150 Singles of the '00s
We did a round-up of our favorite singles from the '00s just last year, so this list is still pretty fresh in our minds, even if it's been a minute. Nonetheless, the jams hold up.
Featuring: Animal Collective, Outkast, Jay-Z, Hot Chip, LCD Soundsystem, M.I.A., Kanye West, The White Stripes, Grizzly Bear and Broadcast.
Treble's Top 100 Singles of the '90s
In retrospect, we left out some good stuff from the list of 1990s jams we ran back in 2007, but omissions aside, we can definitely agree that what made the list is solid, from alternative rock to West Coast hip-hop.
Featuring: Smashing Pumpkins, Radiohead, Weezer, Dr. Dre, Wu-Tang Clan, Hum, The Dismemberment Plan, Sleater-Kinney and PJ Harvey.
The 90 Minute Guide: Losing My Edge
James Murphy announced earlier this year that LCD Soundsystem was going into retirement, of sorts. So, in tribute to one of our favorite groups of the past decade, we assembled a mix based on first single "Losing My Edge."
Featuring: LCD Soundsystem, Beach Boys, Captain Beefheart, Can, Gil Scott-Heron, Scott Walker, Section 25 and Monks.
The 90 Minute Guide: Summer Hip-Hop
It is summer, after all, which is absolutely the best time to start breaking out the hip-hop jams, from party tracks to BBQ bangers. It's all here.
Featuring: Kanye West, Nas, Madvillain, Common, A Tribe Called Quest, Pete Rock and C.L. Smooth, Gang Starr and Mos Def.
The 90 Minute Guide: Post-Hardcore
To close out this playlist mania, we're offering up our abrasive post-hardcore primer, which is also, coincidentally, one of our most-read features of all time. Sadly, none of the Steve Albini-fronted bands (Shellac, Big Black) are available on Spotify at this time, but the mix still rocks, we guarantee it.
Featuring: The Nation of Ulysses, Q and Not U, Fugazi, Drive Like Jehu, The Jesus Lizard, Jawbox, At the Drive-In and The Monorchid.