Various Artists : Disco Not Disco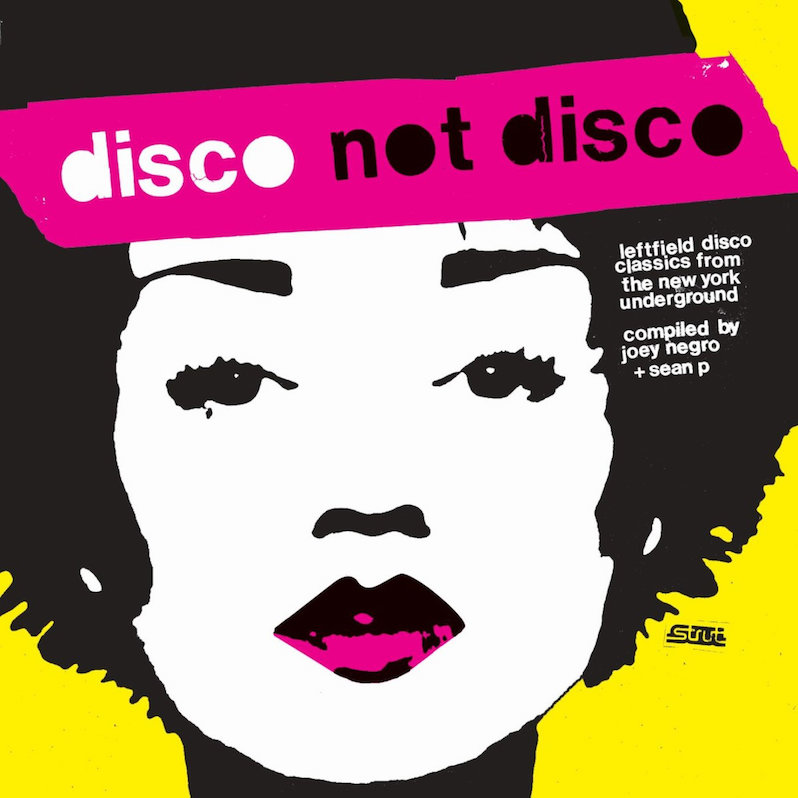 Of course this would happen. Almost 20 years after the first Disco Not Disco compilation in 2001, assembled by house producer Joey Negro and Kiss FM DJ Sean P, 2019 repress arrives on time for Generation Z's romantic fascination with the 1980s: Adoring the Spielbergian wonder of Stranger Things, whooping and guessing if the feminist agenda on GLOW is exploitative or empowering, and grimacing through the Richard Price unvarnished truth of The Deuce. This third and last season, filled with asymmetrical hair, dance clubs, and dick-deep porn sets compliment the awkward legitimacy cascading through this time-tested compilation from Strut Records.
It still got legs. That name, Disco Not Disco established as a byword for a whole genre of music often posturized by all-too-often vanilla DFA Records and The Rapture. The untamed intellect of producer Arthur Russell, who was behind Dinosaur's "Kiss Me Again" and "Tell You Today" by Loose Joints, inspired a decade worth of young upstarts to put down the guitar and pick up turntables.
Credit Spike Lee's 25th Hour from 2002, a masterclass rumination on the 9/11 attacks, for showing New Yorkers, Black and White, dealing much love, real fierce-like in a nightclub, to "Cavern" by Liquid Liquid. We get a grown-folk, sexy ass moment where bass, drums, and awkward-sung mutterings fashion Rosario Dawson's silver dress, with curves a-moving, to become slightly transparent. 2009's "Bail Me Out" by Trus'Me featuring Dâm-Funk, takes the frenetic Was (Not Was) "Wheel Me Out" melody, dilute it by cool points and make a sun-kissed, low slung, bass-centric jam ready for footwork.
The compilation, filled with oddball cultural dry runs from the post-punk era, was culled from playlists, mixed at one time on the fly by Larry Levan at his Paradise Garage. Frankie Crocker, DJ and Music Director of WBLS in New York, the largest Black-owned radio station on the globe during the late '70s and entire '80s, was literally begging, every damn night, for his documented set—song and artist, in the exact order it was played, so Crocker could run it back over the airwaves the next day, and sell some damn records. The labels became dependent on it.
Beyond impressed, he kept witnessing above-average music heads—who were Black, Brown, Asian, Gay, Straight, Trans and Caucasian folk—rearrange a dance floor into euphoric basement. This community of leftist alliances, not Studio 54 celebrities, seeking refuge from the encroaching Reagan conservatism, habitually got nourished by reformist thwack. As the title suggests, this Wild Wild West take on dance music blurs the line between punk viewpoint and dance cadence. But only one or two of the artists here could honestly be classified as post-punk.
Disco Not Disco digs big, real big, to move with uniqueness. Selections from the likes of pub rock icon Ian Dury's "Spasticus Autisticus," left field jazz legend Don Cherry's "I Walk," and Yoko Ono's "Walking on Thin Ice" keeps things moving with an inquisitive squint. "Voices Inside My Head," The Police cover by Common Sense delivers accessible groove from the jump, pushing out over wispy, mellow vocalizations that build a hypnotic anthem into some type of hymn for those who lost a loved one.
And trust, "Macho City" by The Steve Miller Band, is most definitely not post-punk. A nearly 17-minute magnum opus that Frankensteins together an exact critique of Municipal political malaise and then cruises in and out of late nite triptych foggy disco freak groove. Then slaps a bit of ASMR at the end with electric guitar flicking its strings, creating tones? Indescribable. Defying categorization. But I want the same shrooms the dude at the mixing board was fucking with, cause that shit works.
And that's the charm this comp still brings 20 years later, to the new ears looking for weird strains of brilliance. According to musician and grammy-winning producer Bill Laswell, who frequented the Garage to see IRT how records moved asses, Levan used a sub-harmonic synthesizer to enhance the low-end frequencies. Giving dancers a thick byway to connect the disparate elements of disco and rock. "Over and Over," a prog-rock pearl designed for jacking, by Laswell's group Material features the atonal Nona Hendryx giving directives, while riff-oriented bass runs keep the funk spry. The overall victory resides in the training of the Gen Z ear. Unlike earlier generations, when the notion of an '80s Spotify playlist comes to mind, their grasp is a bit more diverse and informed.
Similar Albums: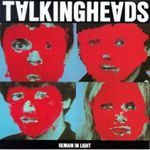 Talking Heads – Remain In Light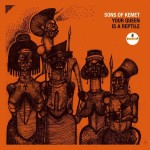 Sons of Kemet – Your Queen is a Reptile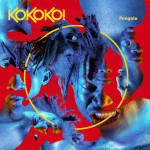 Kokoko! – Fongola
John-Paul Shiver
John-Paul Shiver has been contributing to Treble since 2018. His work as an experienced music journalist and pop culture commentator has appeared in The Wire, 48 Hills, Resident Advisor, SF Weekly, Bandcamp Daily, PulpLab, AFROPUNK and Drowned In Sound.